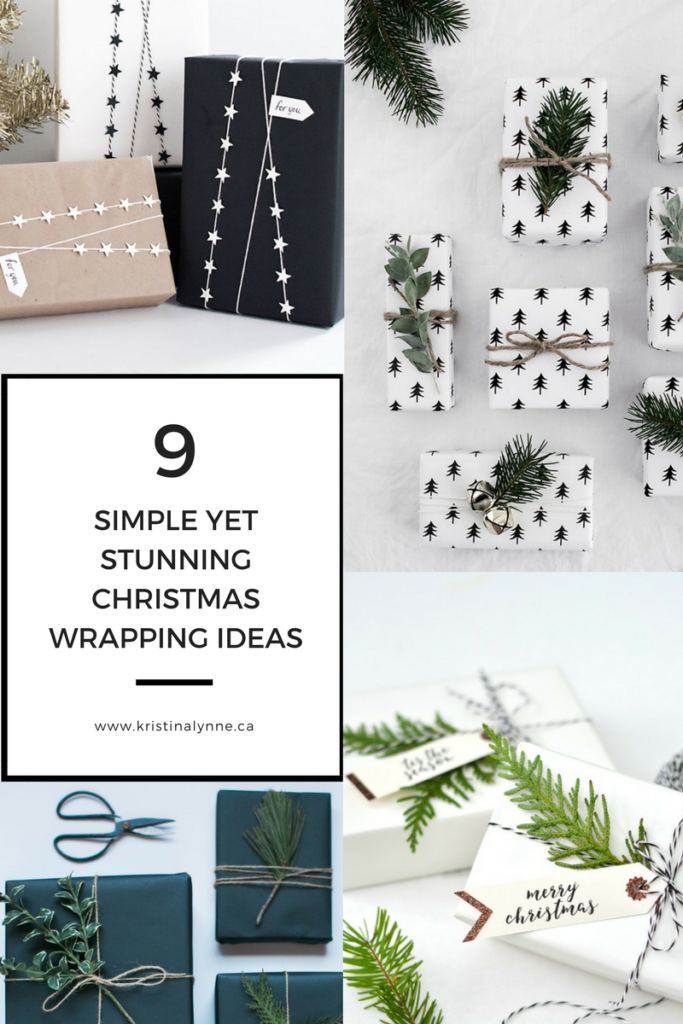 Hopefully, you have all of your presents bought and now, all that's left to do is some serious wrapping. Rather than show you mine this year, I thought I would round up some seriously simple, yet stunning, Christmas wrapping ideas to inspire you. (PS – I went with a combo of #7 and #9!)
 1. Spruce it Up
My favourite Christmas wrapping this year is the matte black. It looks so chic and modern. Adding just a sprig of spruce or another piece of green is all you really need to take it to the next level too.
2. Simple Stars
An easy star cutout is all you need for this one. I love how the wrapping is kept monochromatic to really let the stars shine and really anyone can do this DIY – simple but stunning!
3. Tags Take Centre Stage
Another option is to, once again, keep the wrapping really simple and let the tags themselves be the focus. There is no limit to how creative you can get or how simple you can stay. All you really need is some cardstock and ribbon! But if you're penmanship isn't quite up to par then maybe go with some free printables like these or these
4. Personal Touches
Do you ever complain that people never print photos anymore? Well this might be the perfect time of year to get a few favourite snaps printed out to act as gift tags. I absolutely love how personal this gift wrapping is!
5. Perfect Printables
Nowadays, you don't even need to go buy wrapping paper in store for a stylish option. You can find a sweet printables online to wrap those presents! I love this one with the adorable trees, but check out this one too. Love!
6. Wonderful White
I'm a big fan of the all white look. So clean and minimal. You can also grab these gift tags here.
7. Bold Black and White
This idea is too beautiful not to share. I love the bold contrasting look of the black and white, then adding a pop of green here or there. Use twine to tie on a Christmas object or just keep it simple with a thick black or white ribbon.
8. Kraft Paper and Foliage
Probably the most popular minimalistic Christmas wrapping idea is to take plain old kraft paper, twine/ribbon and a bundle of green. There's a reason we still see this every year – it's gorgeous and easy to do!
9. Not So Basic Black
And finally, I have to bring it back to black one last time. Another option is to buy a chalk pen or use a gold or silver Sharpie to create personalized drawings or messages to your receiver. It's unique and personal each time.
Happy Wrapping Everyone! xo