It feels like it's been a long time since I did a book round up (Spring 2018 to be exact!). With a fresh year upon us, there's no better time to get back on the horse. I feel compelled to mention that I have been reading a lot – my hold list is long at our local library, trust me! – it's finding the time to blog that's the trickier part. Regardless, today I have rounded up some reads that have intrigued me, some that I missed picking up in 2018 and some anticipated new releases. Looking forward to diving in! Here are my 10 winter reads.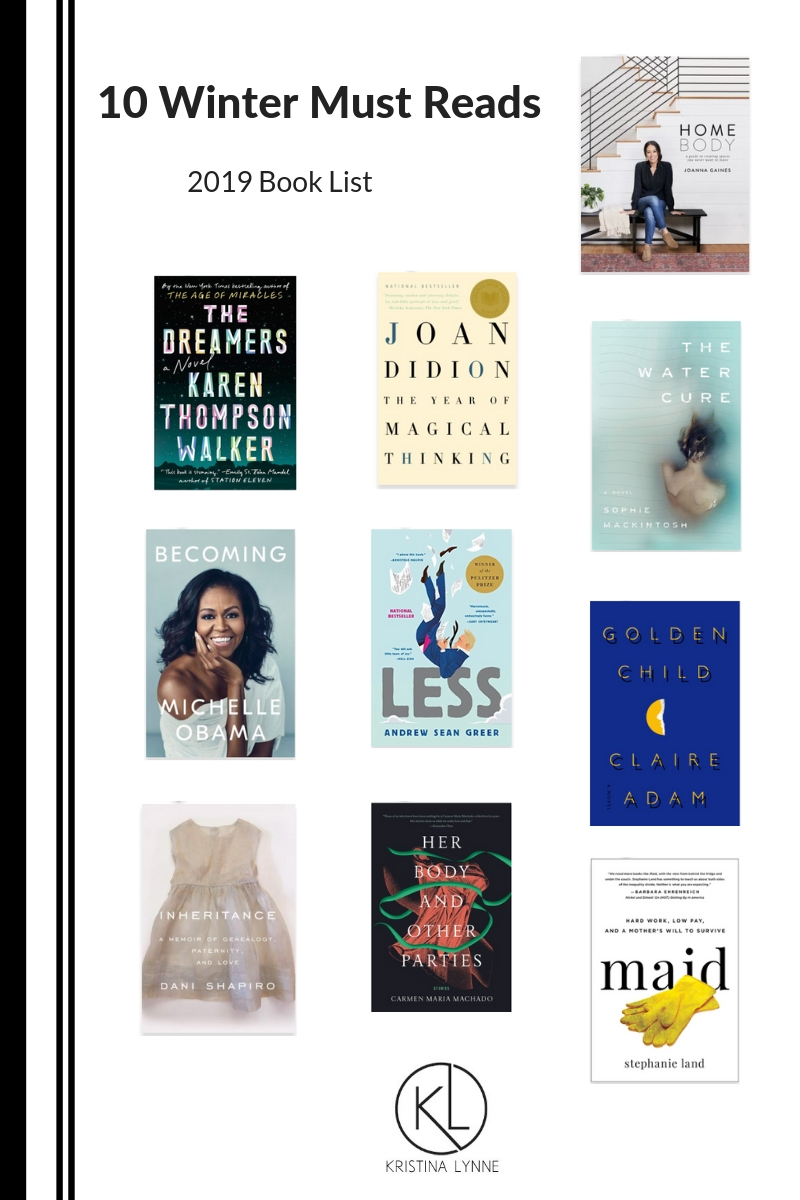 Homebody
I would be remiss not to include a design related book and I think every human on the planet loves Joanna Gaines. Since this particular read didn't make its way into my stocking at Christmas, it's definitely going on my winter list!
The Dreamers
When a disease starts affecting a college town causing unstoppable sleep and vividly strange dreams, chaos ensues, transforming the lives of ordinary people. I'm intrigued by one sentence – this new release seems like it will be an immediate success.
The Year of Magical Thinking
This is not a new release but when it popped up on a recommended list, I had to include it. Anyone who has lost some close to them, and everyone who knows that sooner or later this experience will be a part of one's own life, will treasure and be moved by Joan Didion's personal story. At its very core it reminds us that every day is a gift. A good reminder at the outset of a new year.
The Water Cure
There's a mixed bag of reviews on this one and whether or not a feminist dystopia is an accurate description. Regardless, Margaret Atwood gave it a thumbs so that's enough for me! The premise: A father removes his three daughters and wife from civilization, living on a remote beach. He suddenly disappears leaving the women to confront some new male visitors, who they've been taught to fear.
Becoming
In her memoir, a work of deep reflection and mesmerizing storytelling, Michelle Obama invites readers into her world, chronicling the experiences that have shaped her—from her childhood on the South Side of Chicago to her years as an executive balancing the demands of motherhood and work, to her time spent at the world's most famous address.
Less
I know this isn't a new release but I stumbled upon it at Powell's Books on our last trip to Portland. I don't think it got as much exposure in Canada and so I'm adding it to my winter list. With a Pulitzer under its belt, Less tells the tale of a struggling novelist who travels the world to avoid an awkward wedding, not expecting it to change his own world.
Golden Child
A new novel from Sarah Jessica Parker's imprint, SJP for Hogarth: A deeply affecting debut novel set in Trinidad, following the lives of a family as they navigate impossible choices about scarcity, loyalty, and love. A human story that we could all benefit from.
Inheritance
For the memoir lovers: The acclaimed and beloved author of Hourglass now gives us a new memoir about identity, paternity, and family secrets—a real-time exploration of the staggering discovery she recently made about her father, and her struggle to piece together the hidden story of her own life.
Her Body and Other Parties
Again, not a new release, but one that may resonate even more with the current climate. Earthy and otherworldly, antic and sexy, queer and caustic, comic and deadly serious, Her Body and Other Parties swings from horrific violence to the most exquisite sentiment.
Maid
Maid explores the underbelly of upper-middle class America and the reality of what it's like to be in service to them.  As Stephanie begins to discover more about her clients' lives-their sadness and love, too-she begins to find hope in her own path.
Which winter reads are on your list?! Share with me so I can add them to my library hold queue!! lol 
Happy Reading Everyone!