I don't know about you but I am constantly shopping on Etsy. It's a goldmine for independent furniture designers, custom pillows, and vintage rugs among many other items. But searching through it all can be so daunting when there are thousands of shops! So, just in time for Christmas, I've rounded up some of my all time favourite home decor Etsy shops. They may just be what you're needing for that design lover on your list…or hey, yourself too 😉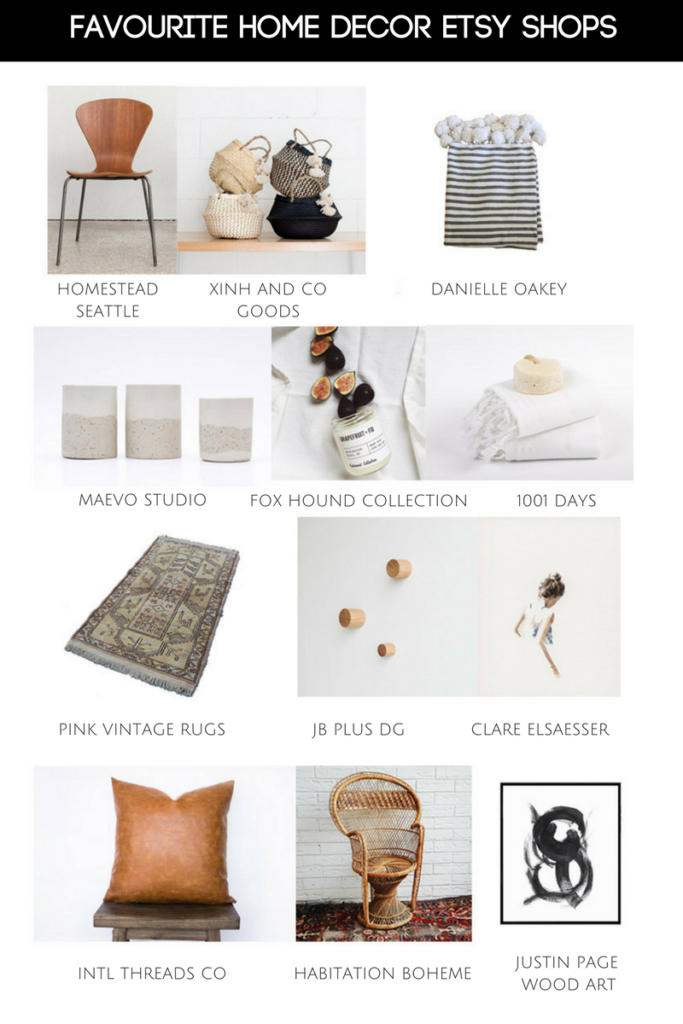 Homestead Seattle – this shop has a bit of everything, and so it's easy to get lost in all its beauty. From furniture, to textiles, to rugs, it's hard not to find something here.
Xinh and co Goods – in need of some great baskets? This shop has so many to choose from – even weekender style for those trips to the beach or farmer's market. I love when an item can pull double duty!
Danielle Oakey Shop – I have several cushions from Danielle and I love them all. She recently started selling some gorgeous blankets though and I'm obsessed!
Maevo Studio – lately I've really been loving handmade vases and this shop has some truly pretty ones. I love when there's a bit of speckling detail
Fox Hound Collection – everyone can use some beautiful candles and this shop has some delightful ones! Love the simple packaging too
1001 Days – affordable Turkish towels? Yes please! This shop has almost too many options – but what I especially love is that they come in multiples for a great price and have several uses (one can be used as a hand towel or baby's towel, blanket, etc.)
Pink Vintage Rugs – shopping for antique rugs is overwhelming and deserves its own post altogether. But I do love this shop for its wide variety and seemingly better pricing than some. Rugs get pricey people!!
JB Plus DG – I ordered some wall hooks from these guys for Jack's nursery and they customized them perfectly. They also have other beautiful wall hangings and wood objects for sale. Plus, they're Canadian! Woo!
Clare Elsaesser – one of my favourite art shops – her prints are magical. I linked to one in my last Friday Favourites too…
Intl Threads Co – there are a lot of wonderful pillow shops on Etsy but after nabbing a leather lumbar one from here, it's become a serious favourite.
Habitation Boheme – this shop has such a great mix of one of kind found items, perfect pillows and other pretty home goods. They even have some beautiful Christmas decor, which I will have to share more of in my holiday decorating post soon!
Justin Page Wood Art – if you ever need a good, minimalistic print for a gallery wall, this is the right shop to jump over to. You can never go wrong with abstract black and white
Do you have any other amazing home decor Etsy shops on your radar? I'd love if you'd share them with me so I can get my Xmas shopping on 🙂
PS – Pop by my Instagram today and enter to win a GC to one of these amazing shops!!
Shop the Post: