For most people, this week was the first full week back after the holidays. So I'm sure it felt long! Thankfully, we all made it to Friday and the weekend will be here before you know it!
Here in Edmonton, it has been ridiculously cold. Which has made going outside very difficult for this mama to be. I didn't end up finding a winter coat that could do up over my belly, so I basically freeze when I go out and try to layer up as much as possible. Whoever said that winter pregnancies are easier than summer was a bit bonkers if you ask me.
So with the frigid temperatures as inspiration, I rounded up some lovely things for another Friday Favourites. These items all have one thing in common – they are must haves to get through the long winter nights (and days!).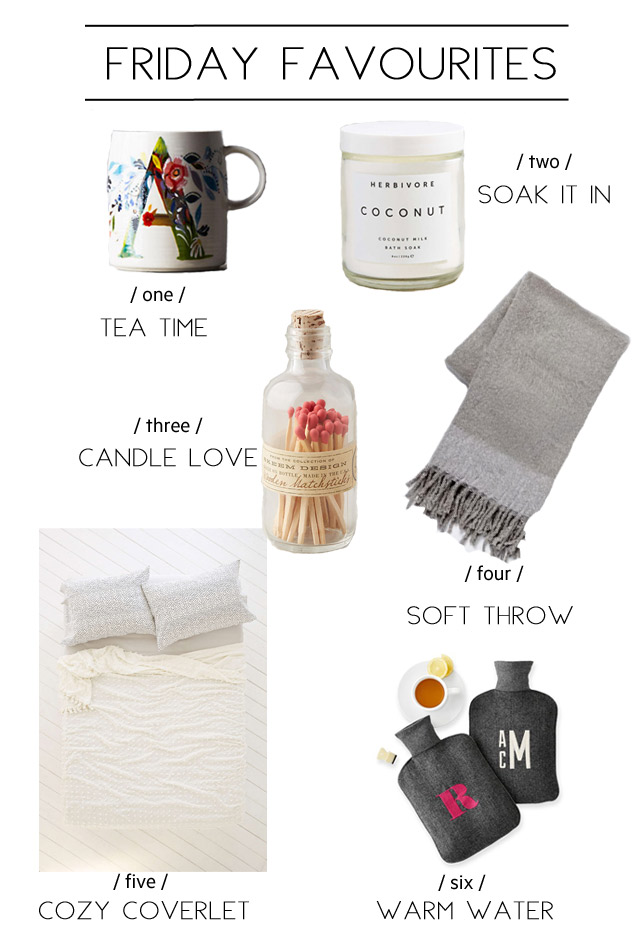 one // I've been making more tea at night to help warm me up (caffeine free of course) and the details on this mug are just too pretty to pass up. I bought a couple as Xmas gifts and now I'm thinking I need a K one for myself.
two // Baths have been my life saver over here! And this is still one of my favourite soaks. Add a little epsom salts too and you are golden.
three // I tend to burn way more candles when it's cold out, so having matches nearby is handy. Plus, in the little apothecary jar, these ones look cute styled on a shelf or a bath caddy too.
four // I mean, can you ever have too many soft throws in the winter? Plus, this one is currently on sale!!
five // I really want to add a bit more texture to our master bed and this coverlet would do just that. I think it's the perfect bed topper, and it adds a bit more warmth too.
six // Ok, so this item is my ultimate favourite thing right now. I picked up one of the Xmas themed ones on sale at Chapters because, not only do I feel super chilled these days, but this preggers' needs a bit of help with a sore crotch lol. I know, I know, too much information! But this baby is making me uncomfortable and this warm water bottle is helping so much! Even if you aren't pregnant though, this mini heater is delightful!
Happy Friday Everyone! Stay warm! xo