Happy Friday everyone!! Not going to lie, I haven't done much with myself this week. I waddled my way around a bit but rarely left the house. I know that's typical and I need to get my rest, but it's also a struggle for someone who likes to be busy.
Thankfully, this lap top of mine has kept me preoccupied when I'm not soaking in the tub or reading. I managed to round up some more home decor finds for my Friday favourites and I'm really loving these items. They are definitely on the more fun side, rather than practical. But hey, decorating is supposed to be fun!
Let's check out these home decor steals shall we?!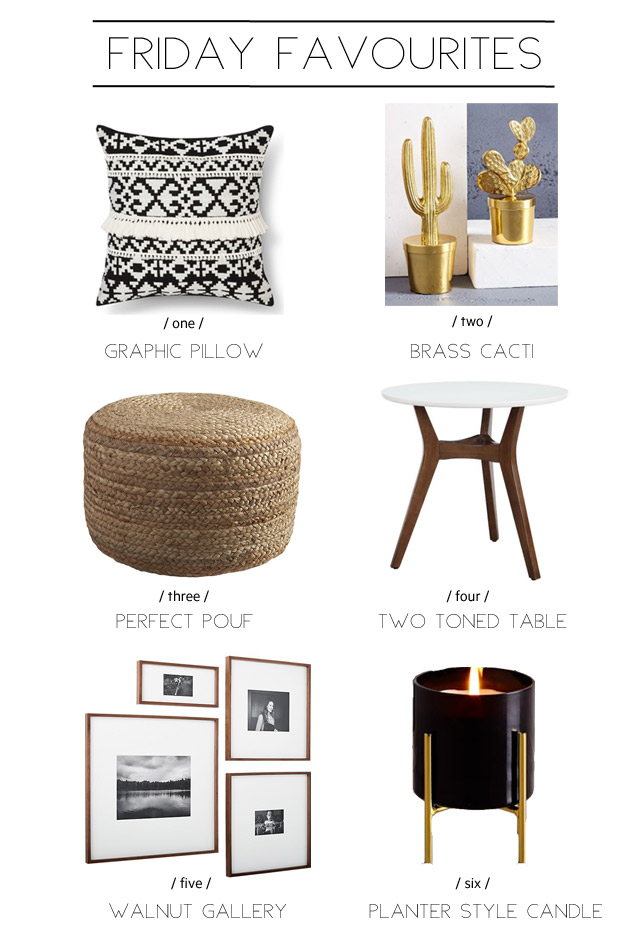 one // I have a bit of a pillow obsession it's true. And I love me some graphic black and white. This baby is a steal at only 34.00 and it has a fun tassel!
two // Truth time: I kill plants. It's something I'm working on. When I saw these adorable brass cacti I got excited. They're playful, trendy and something I can't kill.
three // The texture of this braided pouf is perfection. It can work in multiple spaces, with many different styles. It's nice and sturdy to sit on or to top off with a tray.
four // I've had my eye on some side table options for our living room. I'm loving the two toned option of this mid century table. It pulls in a bit of wood, but the white top keeps it light and bright.
five // I usually mix up my frames when designing a gallery wall. But there's something really beautiful about having strictly walnut. I love these sleek frames with the oversized matting. Gorgeous!
six // The stand of these candles reminds me of my favourite Modernica planters. I love the look of them so much, I know I would use the glass vessel and stand long after the candle is burned down.
Shop the Post