It's Friday!! I say that as if I actually can keep track of the passing week, but realistically, I'm usually the one asking what day it is. Having a baby does that to you…I seem to have lost track of time, the ability to hold a conversation or do any sort of multitasking. Gone are those days lol. But anyways, in honour of another week gone by, I thought I would round up some home decor finds for another Friday Favourites.
It's been awhile since I did one of these posts, so I got pretty excited to do a scour of the web and see what was new and trending. After feeling very much over this winter weather, I thought it best to let some cheerful colour guide the way. I know what you're thinking…colour?! Kristina?! But yes, I've definitely been coming around to some, albeit small, hits of colour in my home decor, especially with spring on the horizon. So, for today's home decor Friday Favourites I've included some simple colour additions that will brighten any space.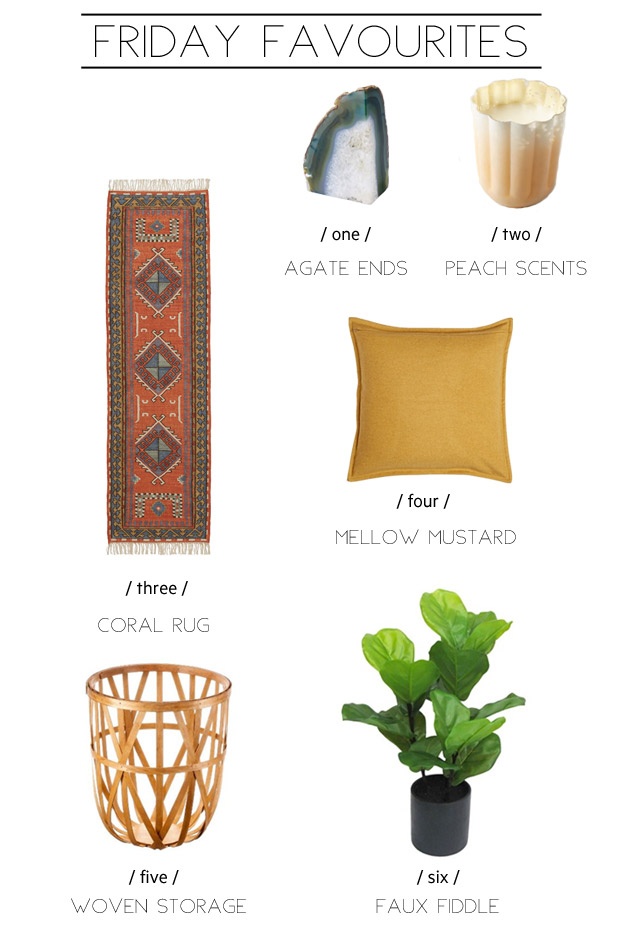 / one / I actually already own this subtle agate book end and I love the small punch of blue and green it brings to my shelf.
/ two / A gal can never have too many candles. Just a small hint of peachy colour in this mercury holder is soft and understated. I would absolutely utilize it after the candle is gone too.
/ three / Normally I gravitate to rugs that have richer tones but there's something really beautiful about this coral one. It would look amazing in the kitchen, hallway or even a bathroom.
/ four / My current colour obsession is definitely green. But after staging the Glenora house and using a bit of mustard yellow, I am really starting to love it. I wouldn't plaster it all over the walls but this pillow is a great option for adding just a hint of it.
/ five / Maybe not the most colourful option in the mix, but I thought I would include a light brown woven basket. This one is really affordable and I love the pattern of it.
/ six / As my attention is 100% on the babe, I definitely cannot keep a plant alive too. I just picked up a faux fiddle leaf from Michaels but this one is also a really great price. Plus, I can't kill it!
Have a great weekend everyone!
Shop the Post