There aren't many summer weekends left! I can't believe how fast it has flown by. I feel like I'm a bit torn…I'm not ready for summer to be over but, on the other hand, my FAVOURITE time of year is fall. I'm also already thinking about the Fall One Room Challenge and about potentially tackling the front entry (which was the space I almost did for the Spring challenge). And so, this edition of Friday Favourites is inspired by the fact that I've started shopping/envisioning/planning for that. They're all home decor items I'd love to see in my front entry…though, they'd look great elsewhere too. Here's what I'm loving currently: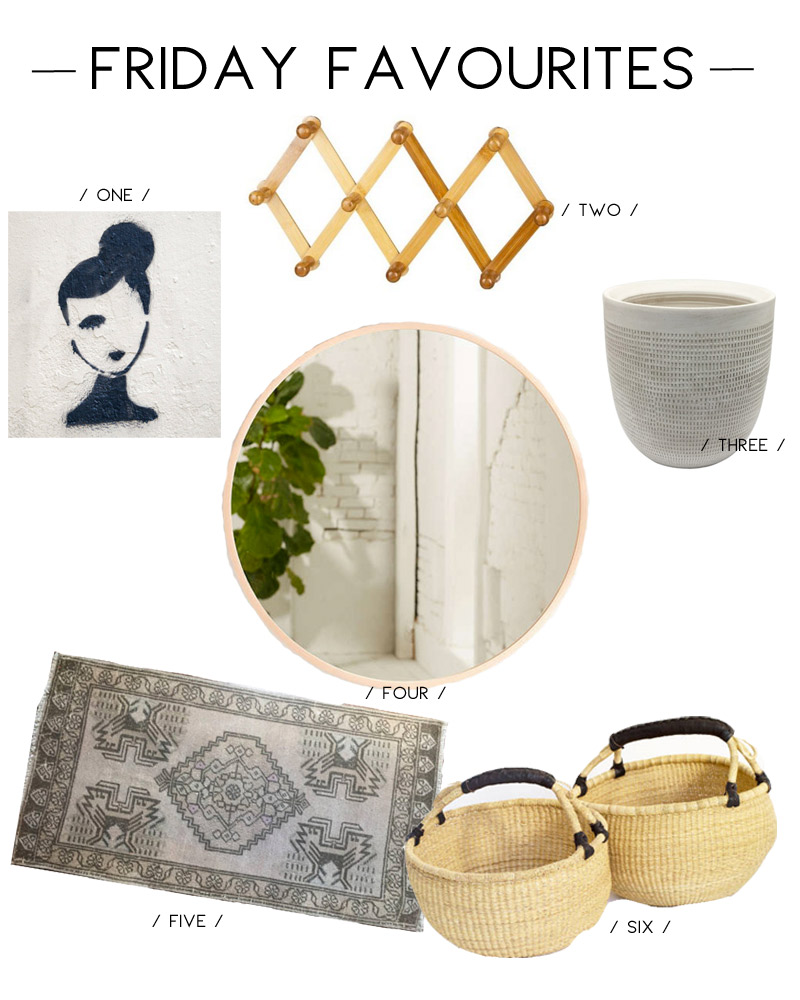 / one / A sweet little print of a graffiti'd woman on a Parisian street.
/ two / I've wanted an accordion hanger for so long now (and thanks to our local Oak Closet, I finally nabbed one).
/ three / A textured white ceramic planter at a great price. Having a pop of green in the entry is a must!
/ four / Normally I'd opt for a darker finish, but I'm really loving the softness of the pink trim on this mirror.
/ five / I could look at vintage rugs all day. This one is a great size and the darker tones will disguise the muck nicely.
/ six / Baskets in every space (insert the raised hands emoji here). Great storage, and always in grabbing distance when we head out to the farmer's market.
What home decor items are you currently loving?! I hope you have a very happy weekend!!