It's DECEMBER!!!! And only 25 more days to get your shop on!
Ok, I know we just came off a big shopping weekend last week, but if you're anything like me, you haven't actually bought a lot of Christmas presents yet. I am the queen of holiday procrastination…unless we're talking about decorating!! That tree is always up the first chance I get!! lol. But in all honesty, I typically finish shopping for my gifts the week OF Christmas.
So, in an effort to get moving on my own shopping, I thought today would be the perfect day to kick off my annual gift guide series. For the next few days, I'll be sharing all my favourite gift ideas for the various people in your life. From the dedicated reader to the ultimate hostess, I've got you covered! And, for the most part, I've tried to keep within a pretty strict budget. Most of the items I've included won't break the holiday budget this year. Woo hoo!! Today, my gift guide features awesome ideas for that trendy lady in your life, whether that's your best friend, sister, niece…whoever!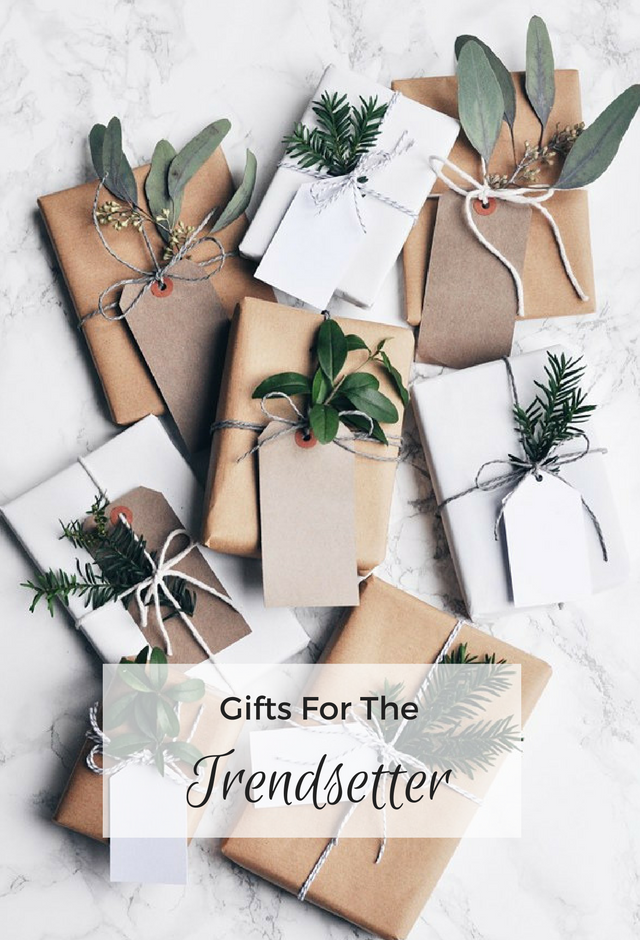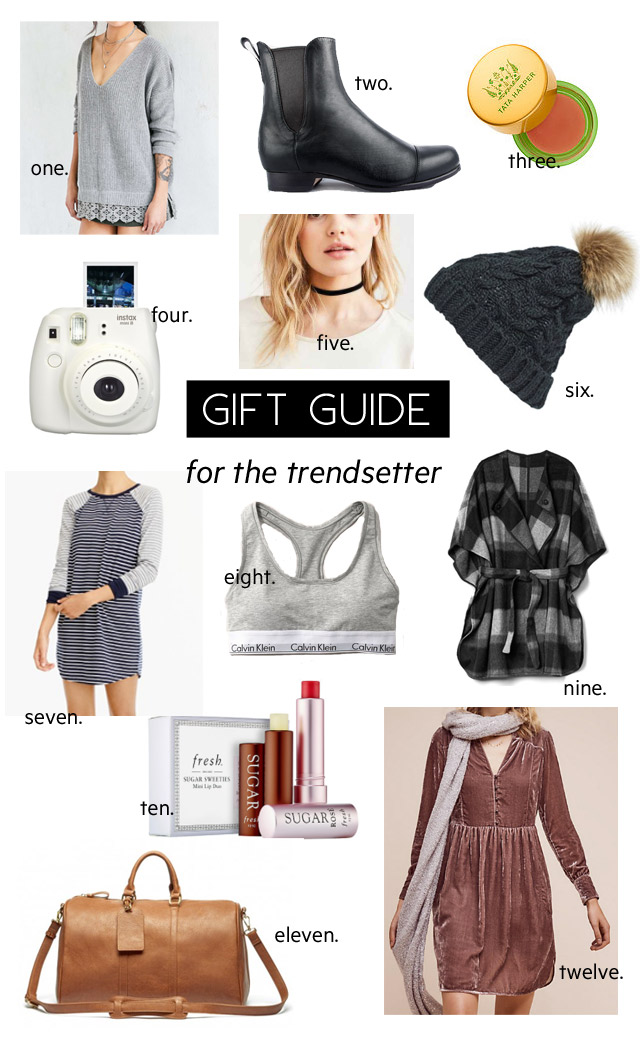 one // This is still, hands down, my favourite sweater. You cannot go wrong with a nice neutral, cozy pullover this Christmas – it comes in various colours, black and my fave, heather grey.
two // If I could only wear one pair of boots for the entire winter season, it would be a pair of Chelsea Boots…and you can never go wrong buying a pair of Poppy Barleys. Out of your price range? Look at these or these instead.
three // Lately, I'm all about cutting down my makeup routine. This lip and cheek stain covers two applications in one, and it is such a gorgeous product. Even if your gal doesn't wear a lot of makeup, this is still a great option!
four // Yes, Instagram still dominates the photography world, but any girl would love to play around with an instax camera!
five // Need to find something small for the fashionista in your life? The choker is on trend and sure to please. I really love this velvet one and it's a steal.
six // Unless you live in the Bahamas, a knit beanie is the perfect addition to your shopping list. I'm especially loving the look of the black beanie with the contrasting pom on top.
seven // Comfortable clothing is on my radar this year being pregnant and all. I love this oversized nightshirt and also, I'm hoping to nab some of Jillian Harris' amazing PJ pants! They always sell out too, so watch for them!
eight // I recently bought this Calvin Klein bralette and it's official – I'm in love. So comfortable!
nine // I love the cape look, but this one is especially great because you can cinch it with the belt. Also the black and grey plaid is beautiful!
ten // I love my Fresh Sugar balm (I have the nude colour). This set is great because it comes with a hydrating lip balm and then another one to add just a tint of colour. Pretty!
eleven // Sole Society has a ton of great purses and bags but this one is hands down the best overnight bag. It's stylish, practical and a really great price. Santa, please put this under the tree for me 😉
twelve // One of the bigger fashion trends for the season is velvet. I've even been seeing it pop up in decor too. I spotted this simple shirtdress in velvet and thought it would be the perfect addition to any trendsetters wardrobe. It would even be perfect to wear for New Years!!

And there you have it! The first gift guide round up! Check back tomorrow for my gifts for the design enthusiast. And, if you're needing more inspiration, head on up to my shop section – closet & beauty,  or maternity & baby.
XO
Top Image from These Four Walls