With the Grand Glenora now passed on to a happy new home owner, we've been going full tilt at the Heights House. I feel like I've been rather quiet about it and it's simply because I've been so preoccupied with other things (meaning mostly Jack!). Today though (finally!!), I thought I would share some inspiration and my plans for our minimalist kitchen design. After going so, well, grand at the Glenora project, the Heights House is much less complicated and I really want the design of the kitchen (and rest of the home) to reflect that. It needs to be clean, simple and modern. Here's what I'm envisioning: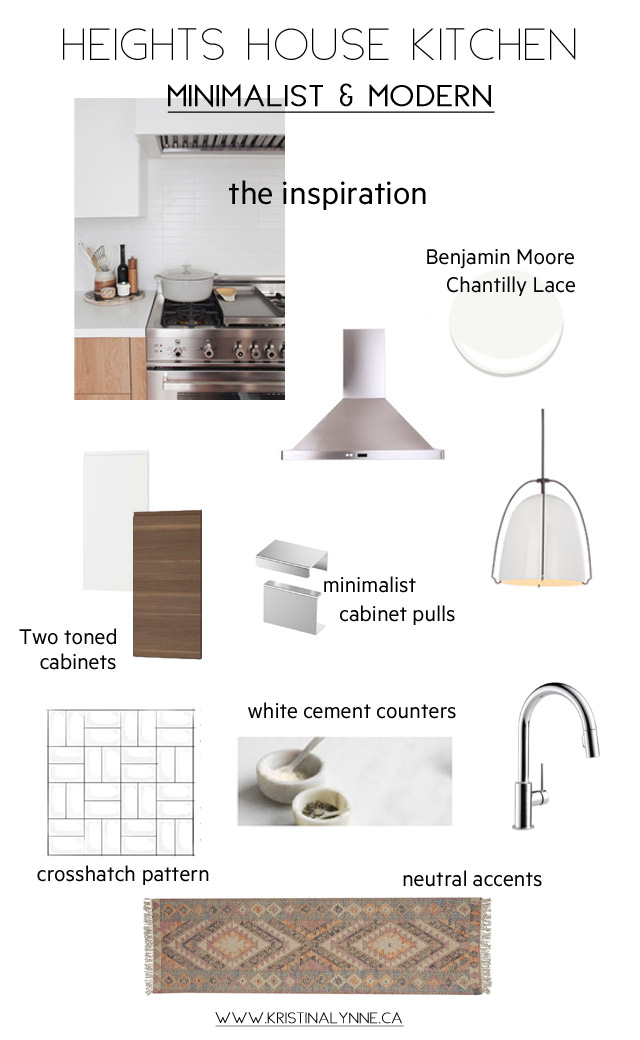 As you can see from my inspiration photo (the gorgeous kitchen renovation from Almost Makes Perfect), I'm going with a combo of sleek white uppers and light wood base cabinets. Minimalist steel cabinet pulls are unobtrusive but functional at the same time. To keep costs down I decided on subway tiles, but to add a bit of a graphic punch we'll install a crosshatch pattern. I think this will look killer as a backsplash next to a soft white concrete countertop.
I'm already loving the mixture of textures in this kitchen, don't you?! And, since it is a galley style kitchen, I'd choose a gorgeous runner like this one above to anchor the space and add in a bit more softness. Lastly, we're covering all the walls in Chantilly Lace. It's one of my favourite white paints (see why here).
What do you think of this minimalist kitchen design? Do you like the modern look?!
PS – How killer is that pendant?! I love it!!!