Just in case this wasn't totally clear or you haven't read my bio, I am married to a pretty stellar guy who is pretty damn talented. He started his own renovation and contracting business years ago and called it Revive Contracting. When we started flipping houses and working together, the company shifted slightly and we renamed as Revive Developments. Now, some people think that flipping is all we do, but we actually have renovations going on at the same time. And recently, Ryan and his team finished off one of our best renovation projects to date!
Jenelle and her husband purchased a fixer upper in the Laurier Heights area in the summer and approached Ryan to handle the majority of the revamp. They also got a hand from my lovely friend Candace, designing the new kitchen layout (see Candace's post on that process here). So even though I had absolutely nothing to do with this renovation, other than the occasional pop in and chat with Jenelle, I am really excited to showcase the before and after transformation. This main floor looks incredible and I am really proud of the work Ryan and his team did here.
Check out a little glimpse of the before…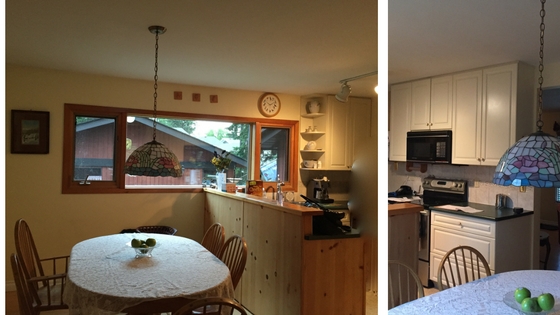 You can imagine from this what the rest of the floor looked like…dated, shabby and a tad dingy. Here's what it looks like now!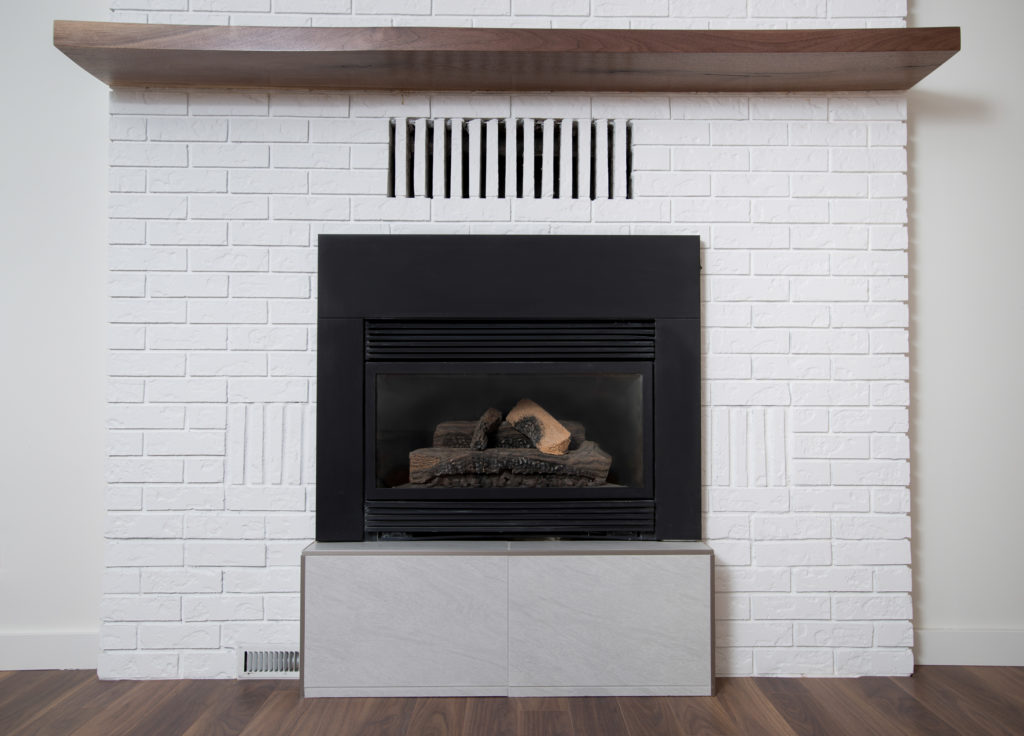 The fireplace got a facelift with a new coat of paint on the original brick, a touch of new tile and a gorgeous walnut mantel. It's now the perfect focal point in the living room.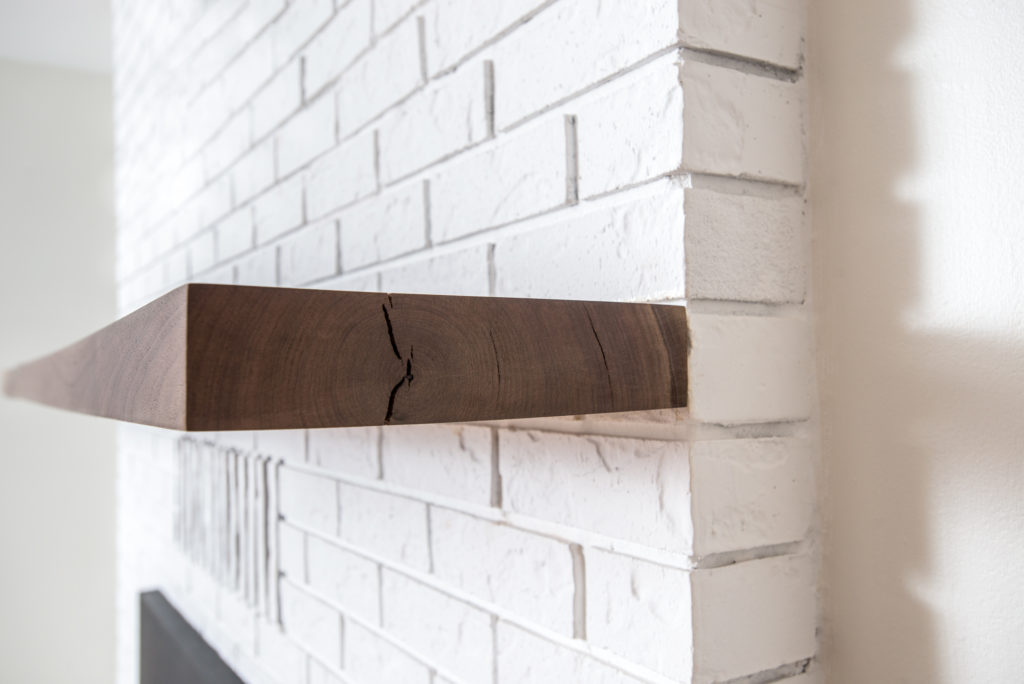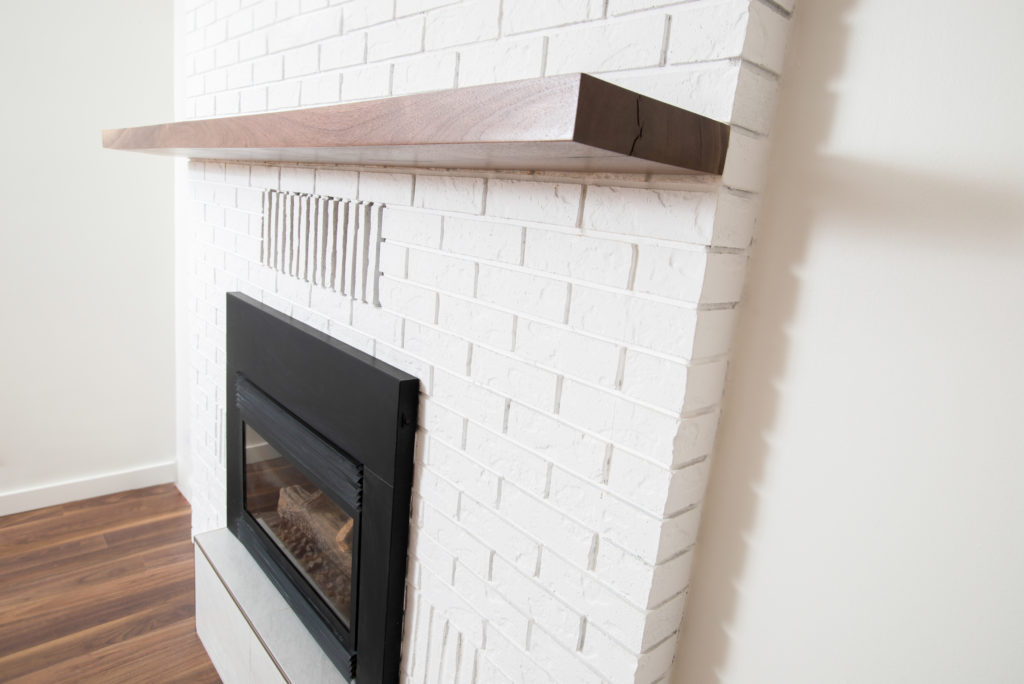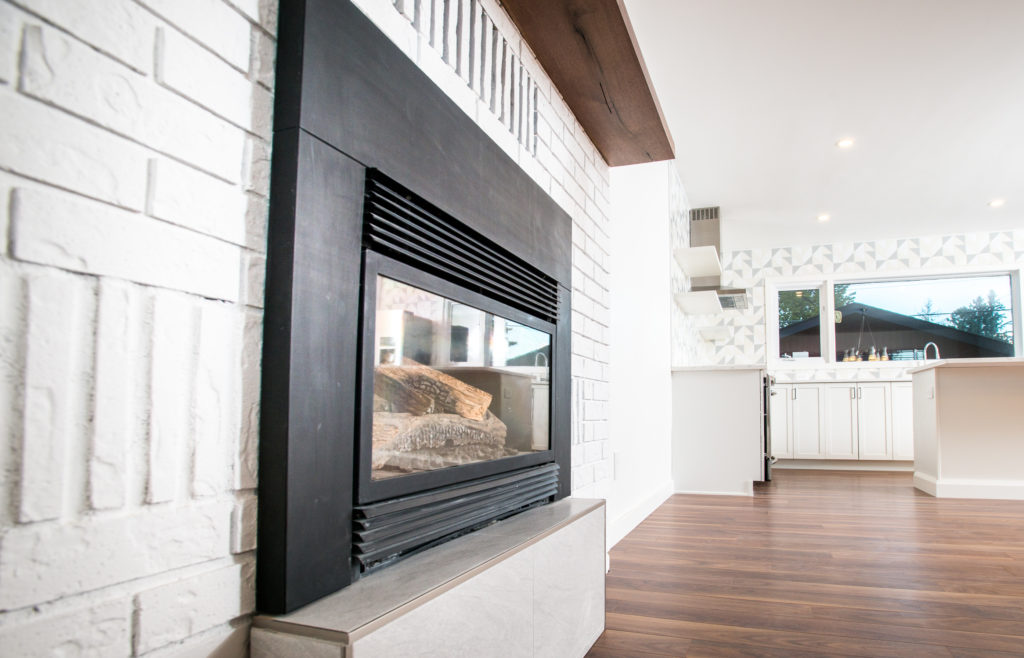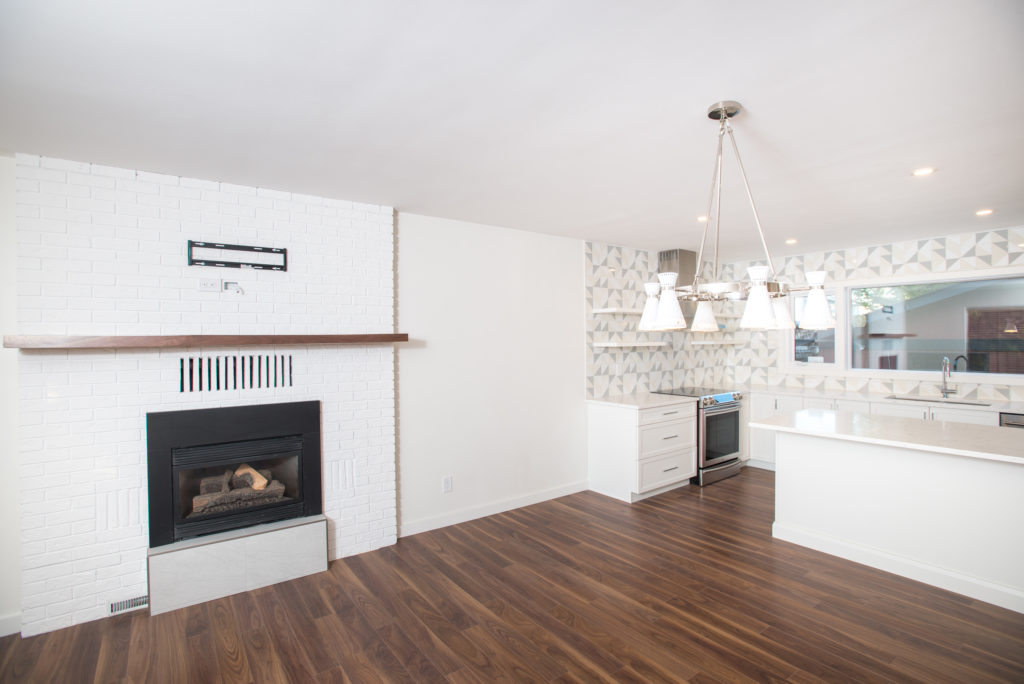 New flooring makes a huge difference, especially as it's continuous in the now open layout from living room to kitchen. I absolutely love the Jonathan Adler chandelier Jenelle chose for above her dining space. It adds just the right amount of drama.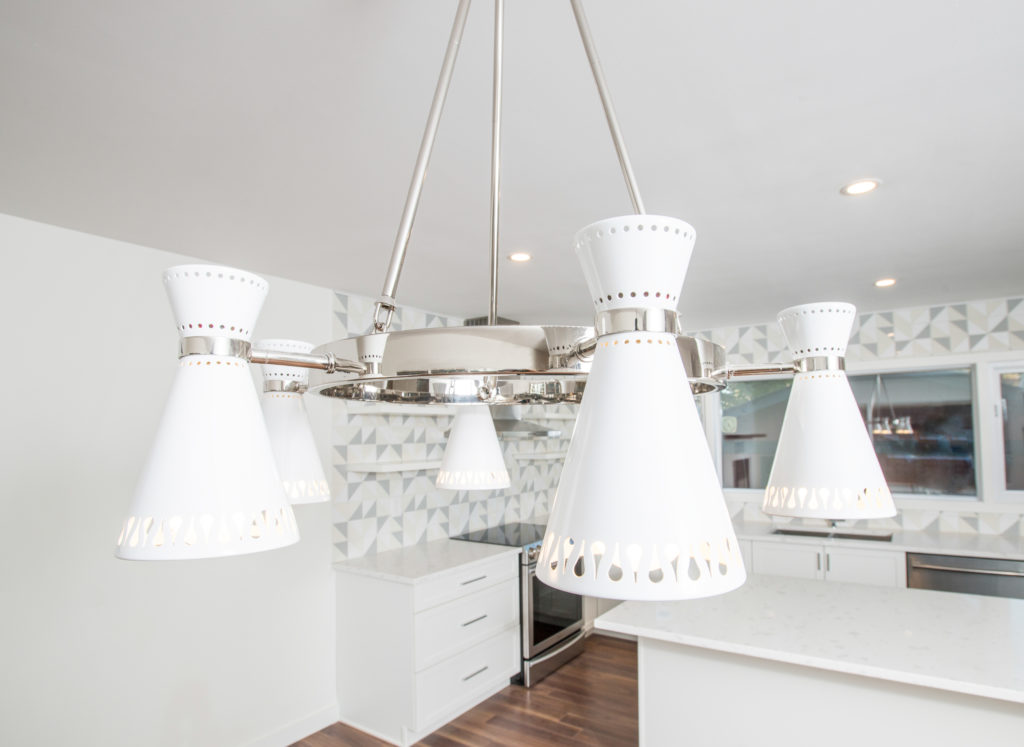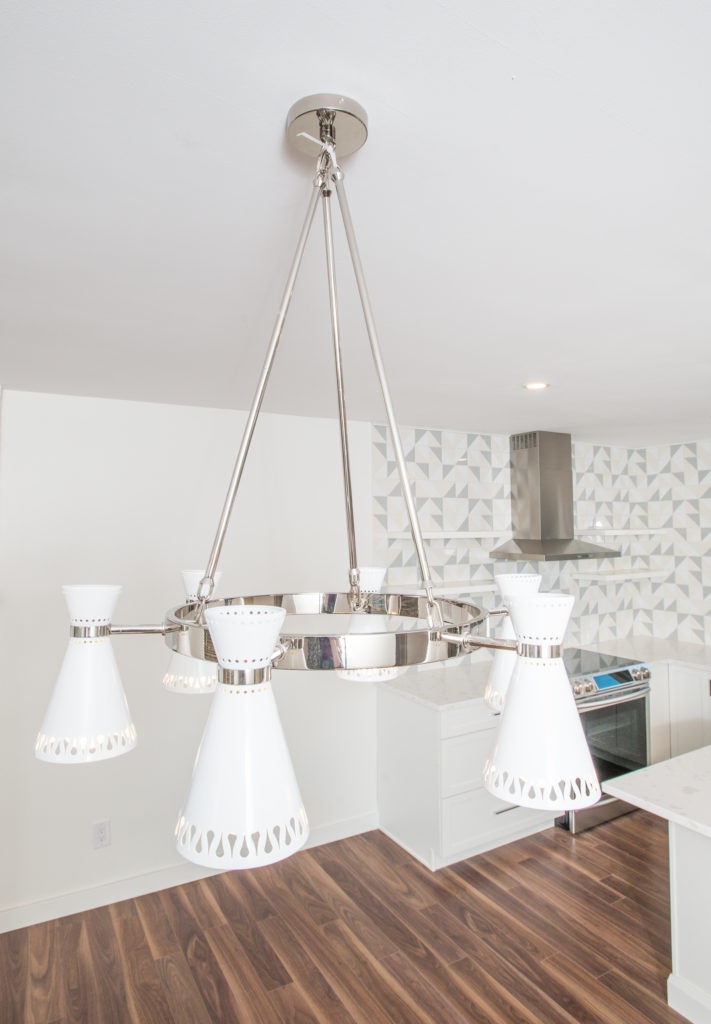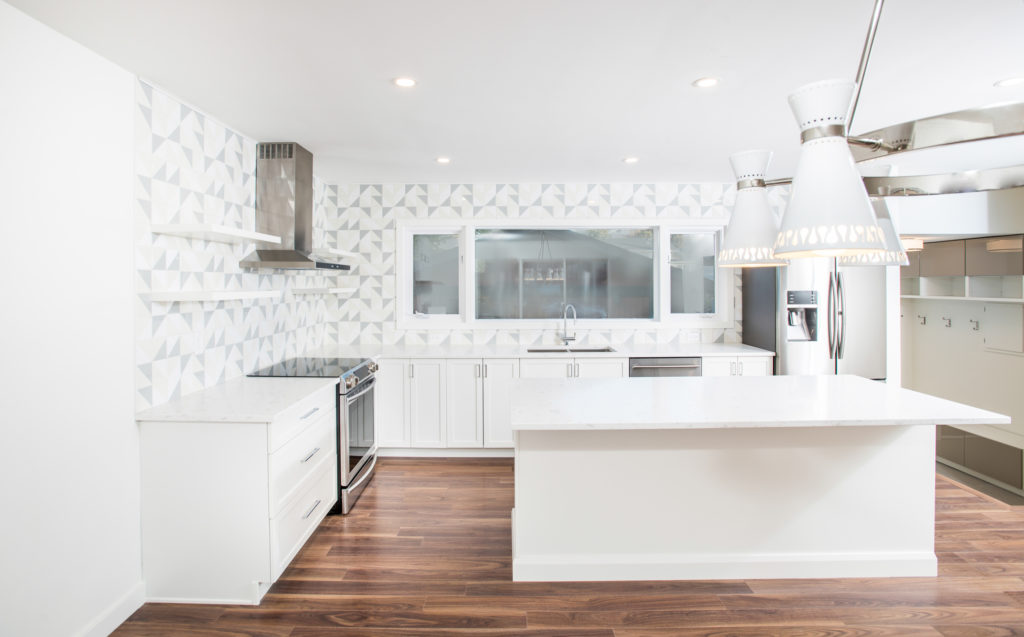 The kitchen has seen the biggest transformation. By removing the wall in between the living room and changing the placement of the appliances, the new kitchen space is so much more open and functional. Plus, Jenelle now has a massive island. Who doesn't want more prep space!!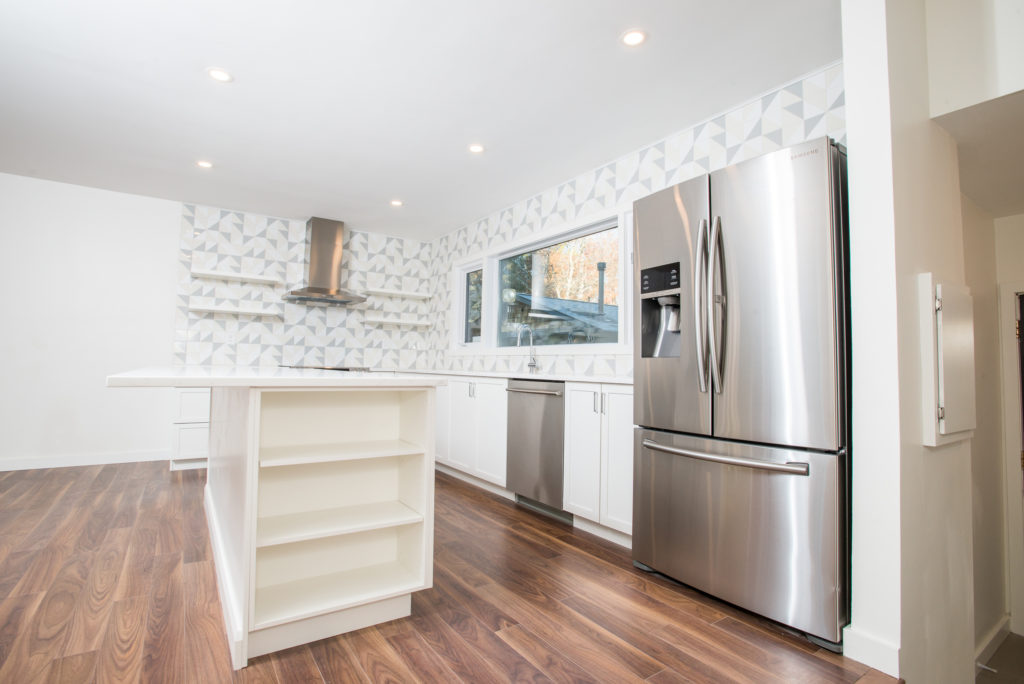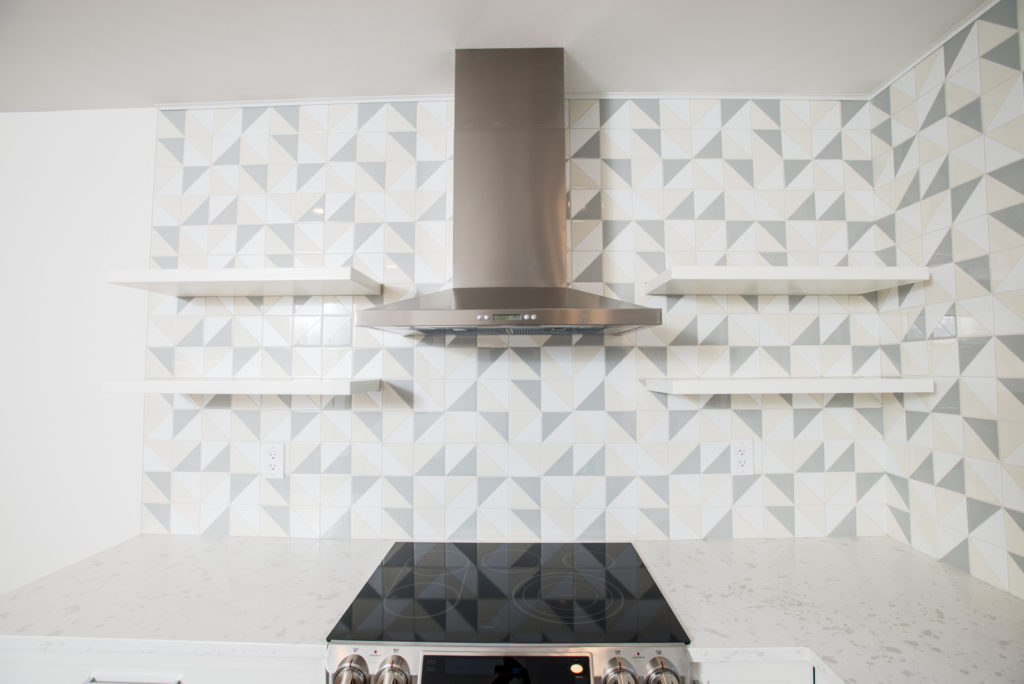 Obviously, the show stopper of the kitchen is the backsplash. I was JUST talking about finding alternatives to subway tile and this is the perfect example of how a little bit of creativity can go a long way. Jenelle visited one of my favourite tile shops here in Edmonton and chose 3 basic square tiles in different colours. Cut in half on a diagonal and arranged in a specific repeat pattern (yes, there is a method to the madness), Jenelle has a custom backsplash that is modern, incredibly unique and memorable. Our worker Jager deserves a huge pat on the back for this master tile installation! Amazing!!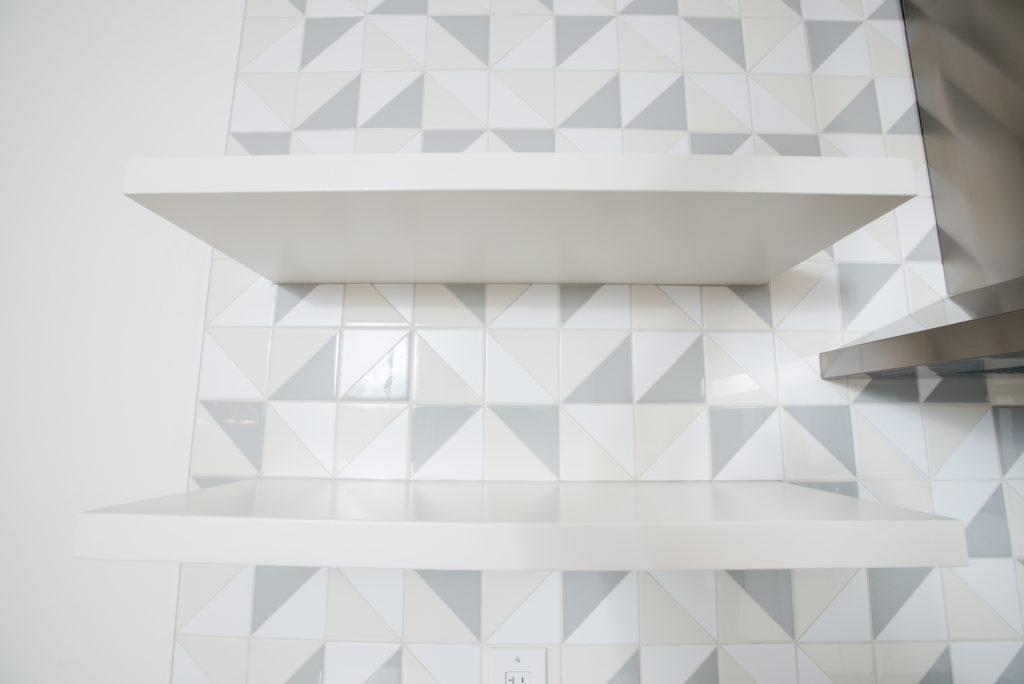 I also love that Jenelle decided to forgo traditional uppers. All she needed was a few open shelves to display some kitchen essentials – so on trend!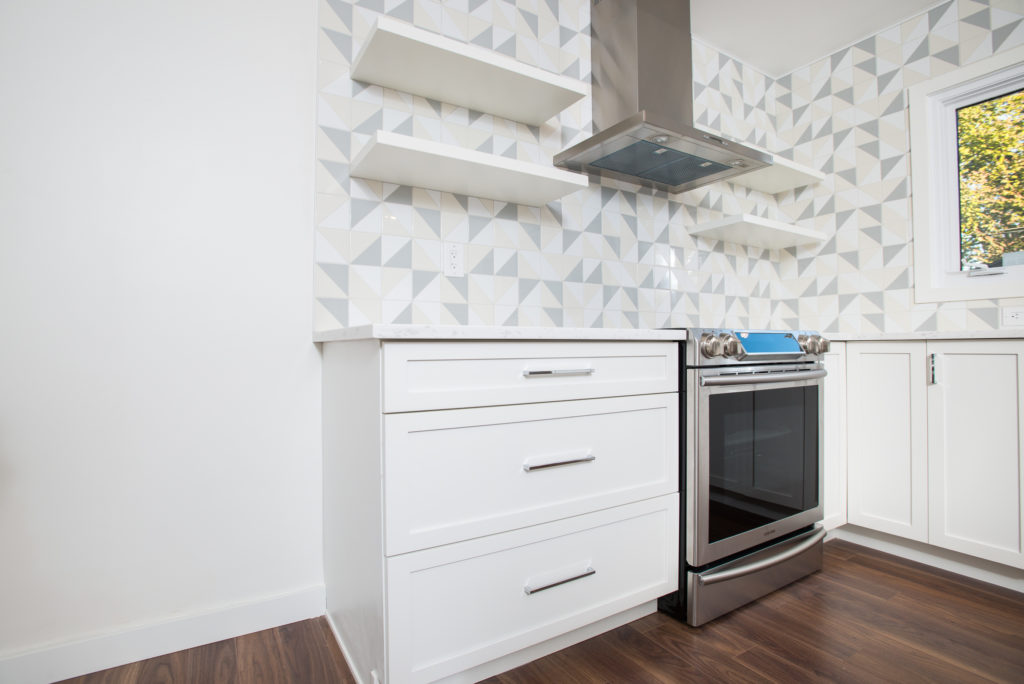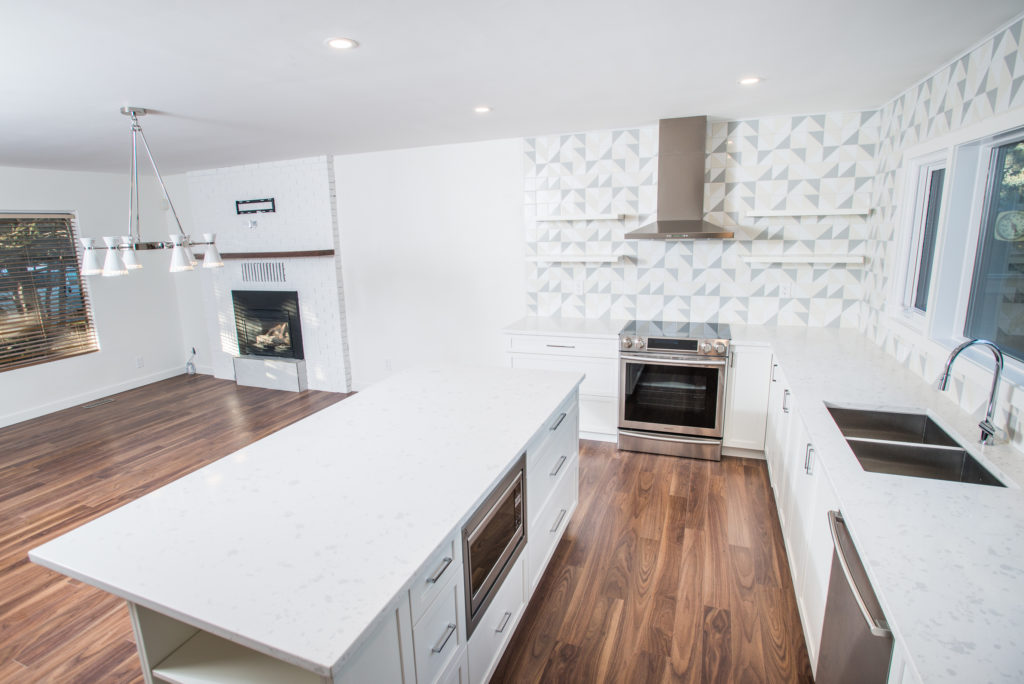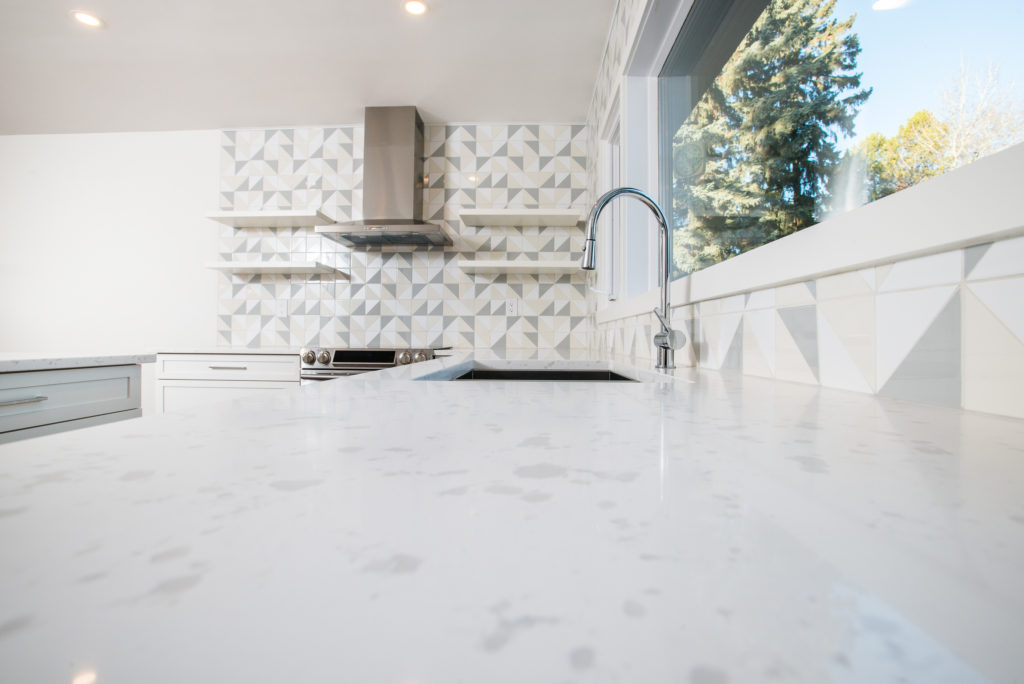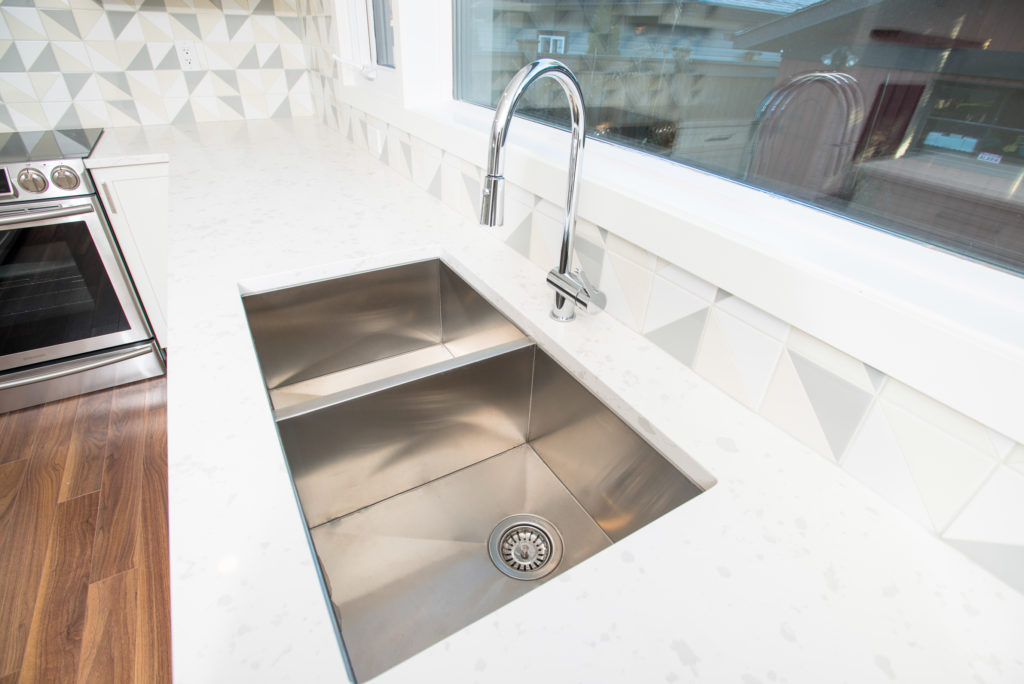 The next part of the main floor renovation showcases the back door and new landing area. Ryan added new storage for Jenelle and her family, and grey tile keeps the space easy to maintain. I also love the dark accent of the door!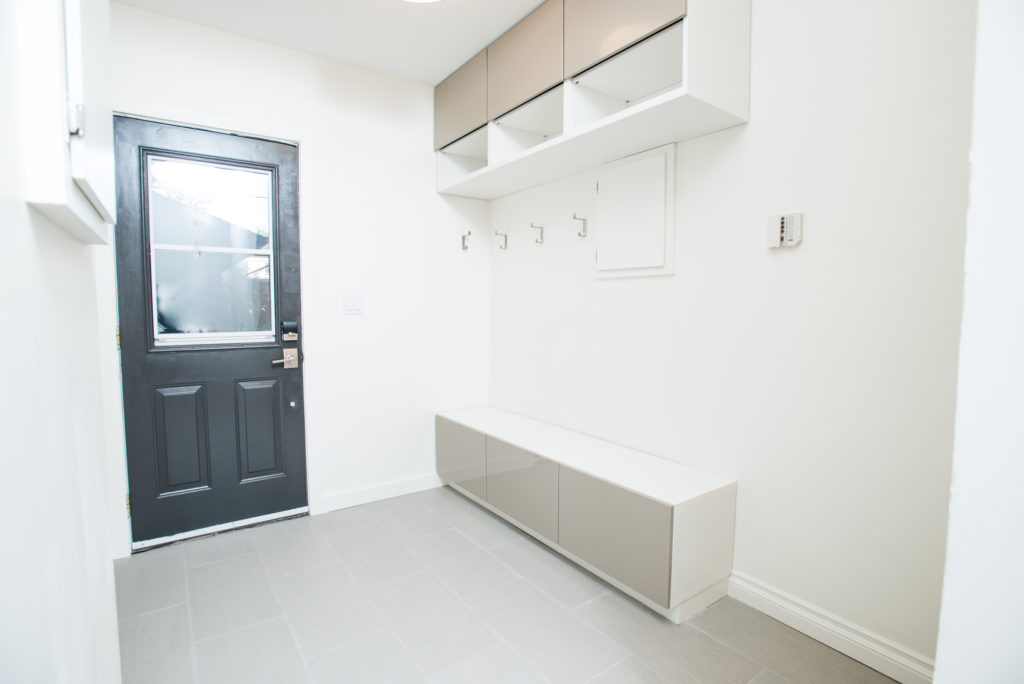 And finally, the main bathroom was completely gutted and transformed into a beautiful new space. With such a white backdrop, Jenelle will be able to add some accessories and pops of colour, while still keeping the space nice and neutral for resale. My favourite part of this design? The curved edges of the Restoration Hardware mirror coupled with those amazing sconces. I would have chosen the same finishes!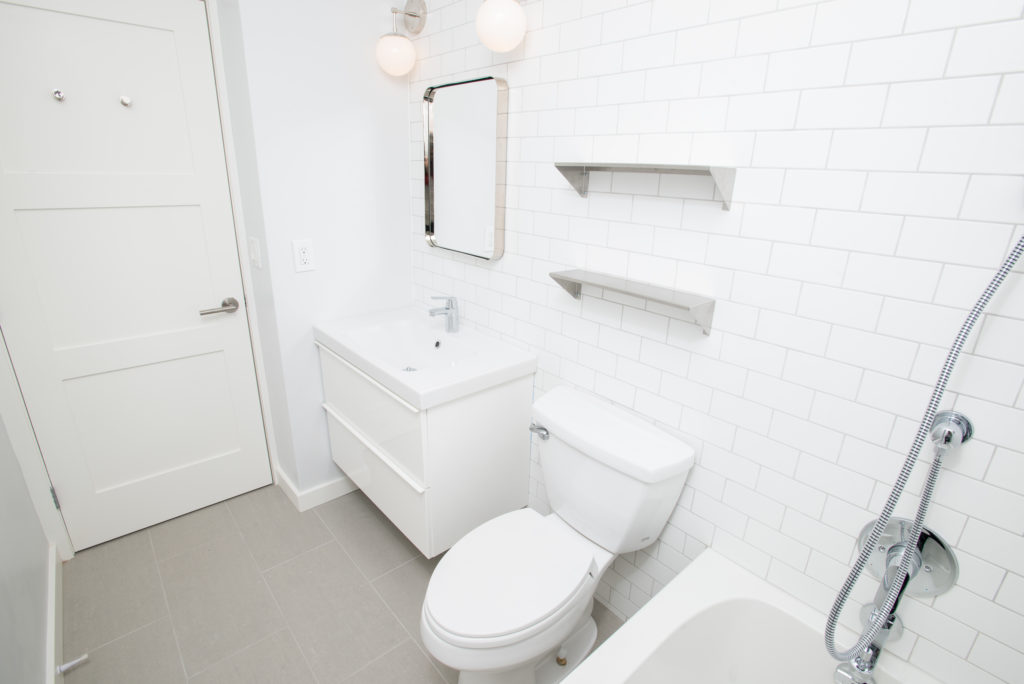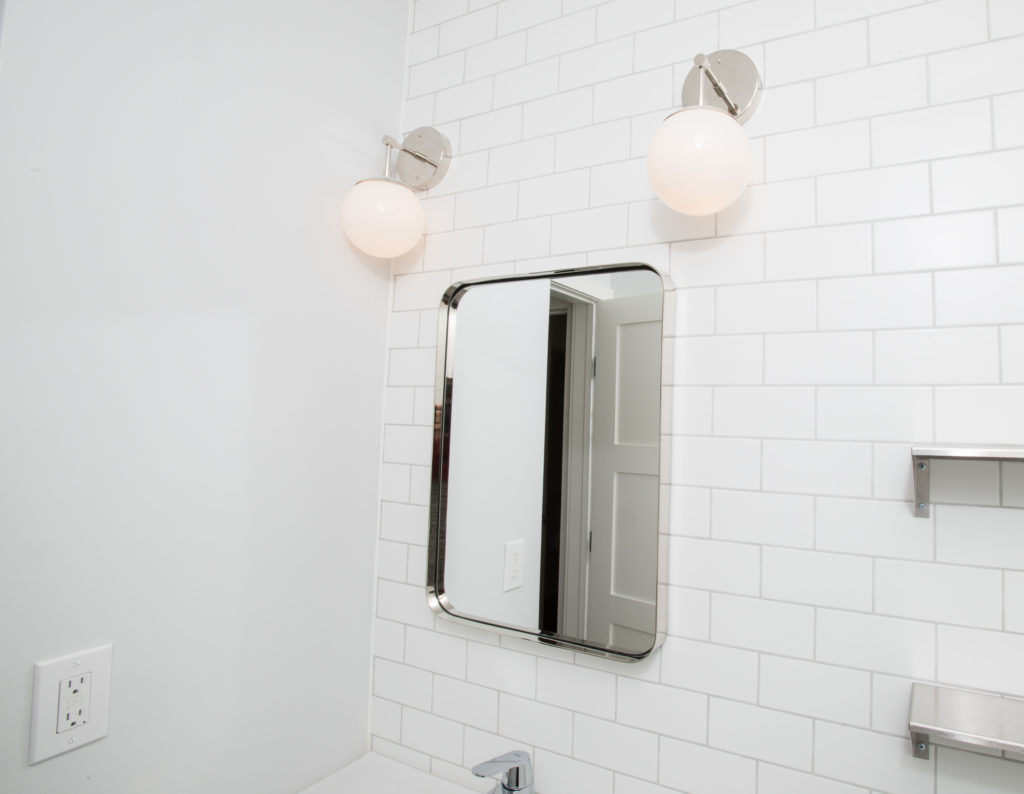 And that completes the full before and after! I know there is more to tackle in the future on other floors, but for now, I think it's safe to say they have a gorgeous new home. I'm so happy that we were able to connect with Jenelle and make this renovation happen for her and her beautiful family. And I'm really proud of our Revive team – what a renovation!!
If you have any questions or want to inquire about your own renovation, please leave a comment or pop by our Revive website for more information! We've got some openings in the New Year!!
Thank you Jenelle for sharing these amazing photos, and for being the best client ever 😉