As we hit Jack's six week mark, I'm finally starting to feel a bit more confident in my mom skills. Part of that confidence has come from finding the right baby items that work for us. Being a first time mom, I probably bought way too many things, not knowing what we would need or use consistently. But now, as we ease into a routine, I'm learning which products are absolutely essential for my (and Jack's) survival. Every baby is so different and moms will ultimately find what works for them but, regardless, I thought I would share my must have items that got Jack and I through the first couple of months…these are my newborn essentials!!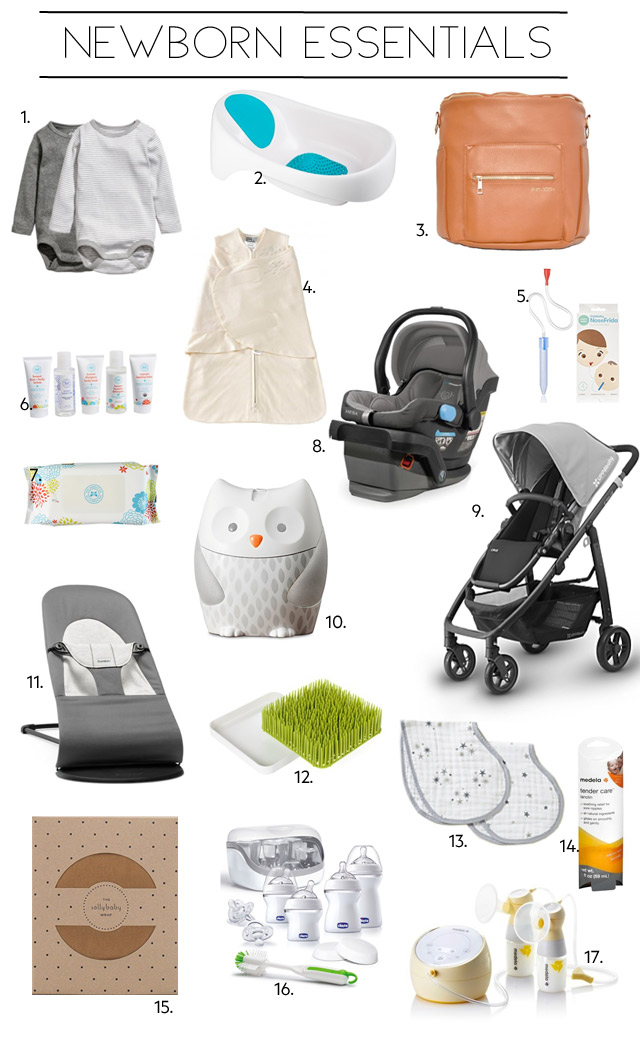 1 / 2 / 3 / 4 / 5 / 6 / 7 / 8 / 9 / 10 / 11 / 12 / 13 / 14 / 15 / 16 / 17
The Diaper Bag
I can't say enough good things about the Fawn Diaper bag. I really wanted something that fit my style since it basically replaced my purse and this one was by far the best option out there. I love that it can be a cross body bag and a backpack, it's leather so it cleans easily and has great compartments to keep me organized. It doesn't come with a change pad but I got a small one that fits easily inside. This may be my favourite item so far!
More Travel
Since I have arthritis, it was essential that I find a carseat and stroller that I could use without too much difficulty. After testing out a couple of options, I was sold on the UPPAbaby Mesa carseat and the Vista Cruz stroller. First off, you don't need an adapter…the carseat clips in so easily which makes the transition a breeze. Also, the stroller isn't heavy and unfolds in a snap. Bonus that it's got a sleek design too!
Clothing
Obviously having a lot of onesies for the first few months is essential. I didn't realize how much laundry I'd be doing – babies are messy!! So the more neutral onesies you have on hand, the better. I also keep a few in my diaper bag for when those blow outs happen on the go. PS – I really like the kimono style onesie since these ones don't have to go over the head!
Bath time
We went with the BOON soak tub and really love it. I also love the Honest Company products. The bath soap smells lovely and the cream is essential for our dry climate and newborn skin.
Sleeping
Jack was a big squirmer and kicker from the start so we had to abandon the traditional swaddle a lot earlier. The sleep sack became our staple and we've tried a couple, though the best options for Jack are the ones that allow for his arms to be out or in. I'm also going to try this one which is supposed to be good for self soothing. Another staple in our bed time routine is the Owl noise machine. It's too early to be sleep training, yet having the white noise already established will help once we start. Plus, I actually like the sound too!
Feeding
I already talked about how beneficial the lanolin cream was in my previous post and it seriously is an essential. I also decided to introduce a bottle a couple of weeks ago, once we were established in our breastfeeding routine. I got the Chicco bottle set with the sanitizer and so far, those are the bottles that have been the most successful. I've used the slowest release nipple, one that's good for gassy babes like mine. Once I sanitize the bottles, I use the Boon Lawn drying rack, which has been good for pacifiers and other items I need to wash too. Other essentials have been my breast pump and having a ton of burp bibs on hand for the spit up.
Gear
One of my friends lent us a MamaRoo and that's been such a gift to have. Jack also loves his bouncer since it puts him at a good angle for dealing with gas. I love the BabyBjorn one because you can put it in several different positions, can easily take it with you and it will still accommodate him when he gets older.
Solly Baby Wrap
In my opinion, the Solly baby wrap is a must have! Jack loves being next to me and on me at all times, so this allows me to get things done around the house. I've even taken him in it for walks outside with the dogs when it has been warm enough. Love it!
Nose Frida
And finally, as gross as this thing is, it is important to have on hand. I've found the other products that claim to clear the nose don't really work as well. When you have a stuffy baby like we do, this thing seriously grabs it all!
And there you have it! Some of my must have newborn essentials! If you have any other products you've found really helpful, I would love to hear in the comments below.
XO Kristina