We've been in our beloved Ravine House for over a year now, and it's safe to say that with each completed room, I love it more and more. I don't know if you remember, but we bought this house as a "long term" flip, something we could live in for a few years and then sell. But, in my mind, it's becoming a more permanent home. Yes, we will outgrow it eventually but I'm ok if that day takes its time to arrive.
Now, you've seen glimpses of the living room before (the fireplace remodel, our staircase reveal and my piano nook too!) but it's technically never been done top to bottom. I've been struggling with those last few touches…and, it seems, in no rush to finish. But with fireplace season upon us, I've had a sudden push, feeling excited to check another space off the list! Here's my living room design plan and vision: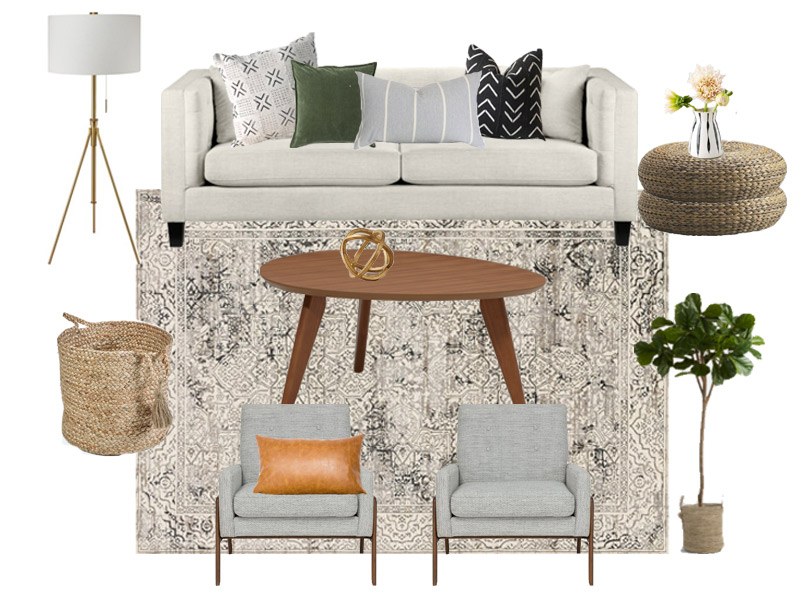 With a big black fireplace stealing most of the attention, I'm balancing the space with a lot of neutrals and textures. I usually start with the sofa and rug pairing and these work really well together. The area rug is mainly grey and ivory, but it also has some hits of black in it, which really anchors the room (and ties in the fireplace).
I've had this particular coffee table for awhile and I think it will still work in here and be a good option for Jack (rounded corners for the win!). Then, I nabbed two gorgeous Nord accent chairs from Article that will tie into the rug so well. Plus they're the perfect scale and shape for the space.
Since we use the den more than the living room, I don't think I'll need extra end tables besides my stacked woven stools (yay texture) that can move around as we need. Instead, I'm looking for a simple floor lamp for the corner. And it's been the biggest source of frustration yet. I can't tell you how many I've saved and plunked into this mood board and I'm still not a 100% sure. Seriously, designing for myself is so much harder than for others…I'm so picky! Anyways, what I have here is a brass tripod floor lamp and I think I like it for two reasons. 1. I can adjust the height and 2. it gives me a bit of metal texture, which I don't have a lot of. Before, I had this gorgeous wood one, but thought I was going overboard with wood tones…thoughts?!
Lastly, I've got some lovely accessories planned with a mix of pillows (like the leather one! fun!!) and some greenery. I'm even adding a touch of colour in the decor…but nothing too crazy, it's still me after all 🙂
What do you think of my final living room design plan? What type of floor lamp is your favourite?? I'd love some suggestions and ideas!!