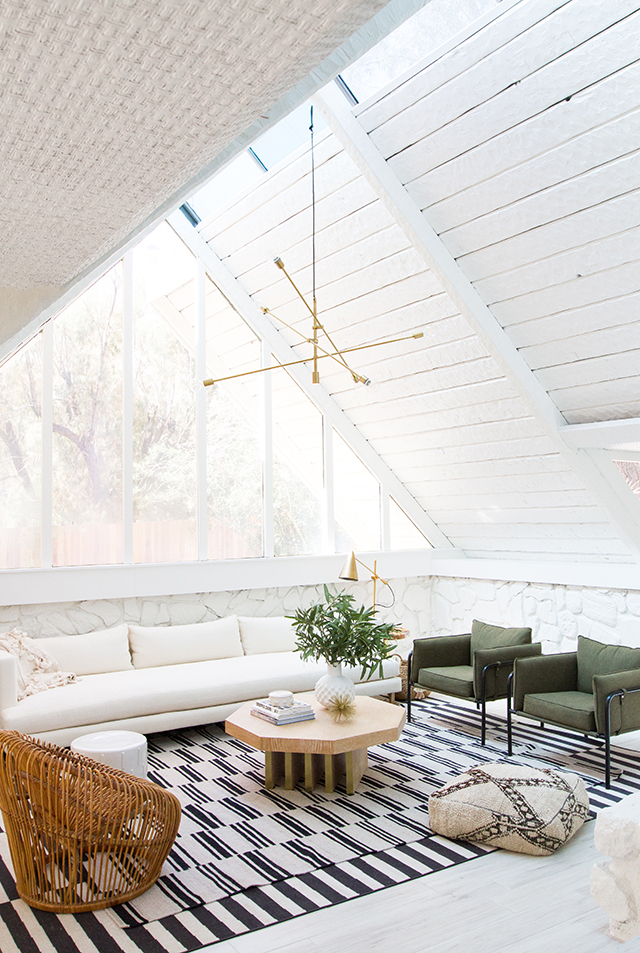 I don't know if you've heard of the lovely Sarah Sherman Samuel but she is kind of a design goddess in my books. It honestly seems like everything she touches turns to gold. In fact, I've been following the progress on her A-frame renovation, getting excited with each new post. But it was the living room reveal that really stopped me in my tracks. It's the perfect combo of California modern and laid back bohemian. It's serene, cozy and incredibly refreshing. Plus, how can you not gape at those stunning green chairs!!! And so, I couldn't wait to do a little digging and steal this desert oasis style. Here's how we can pull off a similar living room look: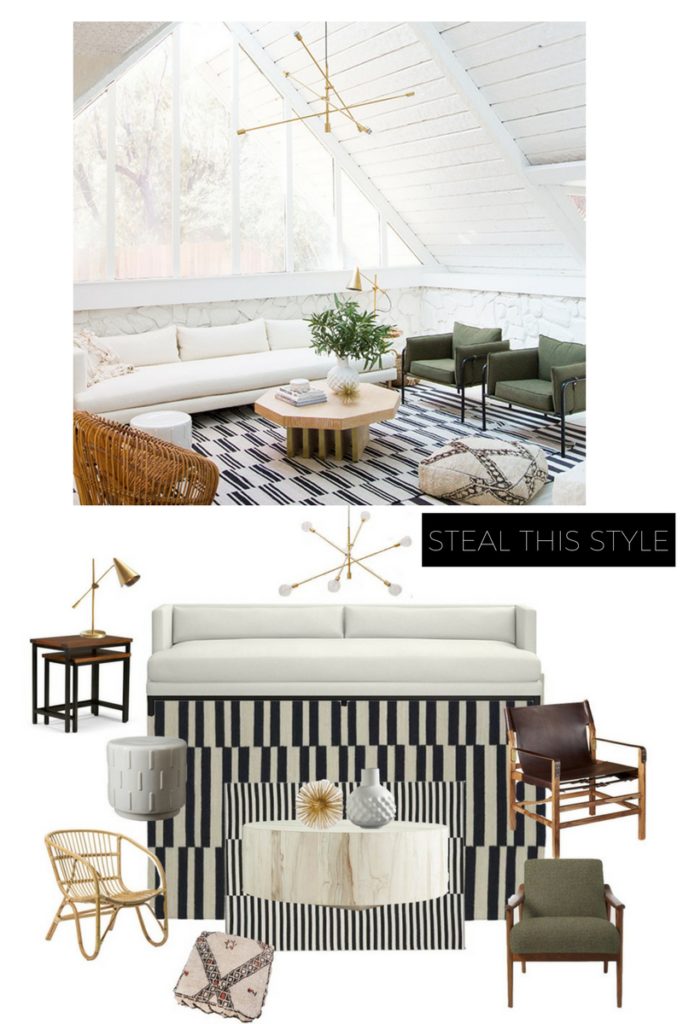 // Sarah has spoken in the past about starting off a design with the sofa and rug first. I love the deep seated, crisp white sofa she chose, especially next to the graphic black and white rug combo. So often we layer say a plain jute or sisal rug under a more bold pattern but I love that she mixed two very similar styles. They really anchor the space //
// Now let's talk about these accent chairs!! Mixing a bit of vintage with new is heavenly and if you can find something similar second hand then fantastic!! I spotted this rattan chair that had a similar shape and tone. Then I went on the hunt for some green safari chairs since the ones she purchased are all long gone (insert poop emoji here!). I didn't find any that were a perfect match but I did find a mid century modern option in olive green that at least gives that perfect pop of colour. Otherwise, a leather safari chair comes in close second //
// An oversized round wood coffee table works so well in this layout, while breaking up the many straight lines. The texture is also fantastic. Plus, it becomes the perfect place to add a large vase stuffed with greenery //
// The pops of brass in the lighting and accessories adds a modern touch and a bit of warmth next to all the white. Having a beautiful chandelier like this West Elm one that we all know and love draws the eye up and really showcases the ceiling height and A-frame //
// A desert oasis just wouldn't be complete without some plush accents like a moroccan floor pillow and large tassel throw. Some simple additions that instantly up the cozy factor! //
PS – I also love that Sarah decided to paint all of the stone walls white, rather than leaving them as is, or ripping it all out. I think I may need to write a whole post on this because I see so many people with dated stone in their homes…what do you think?!
So there you have it! A calming desert oasis, right?! What are your thoughts on this living room design? Would you steal any elements from it?
Shop the Post