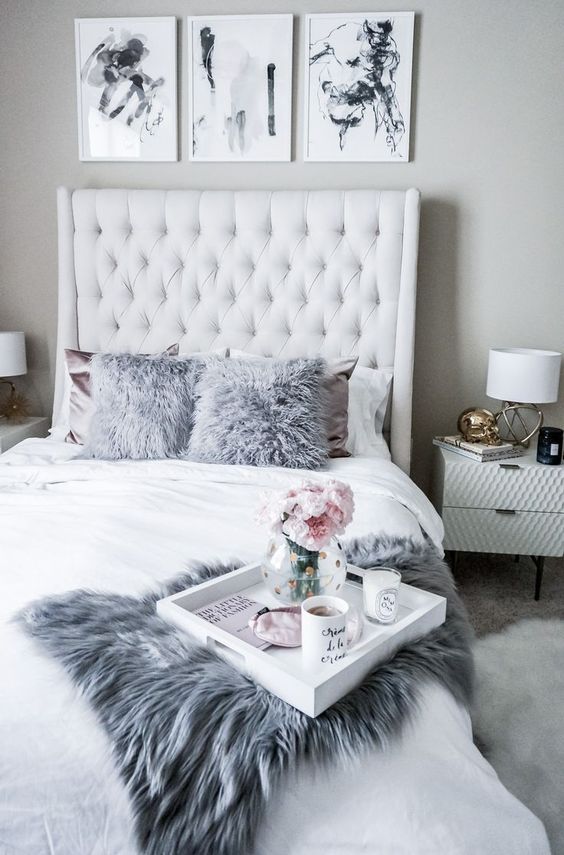 Sponsored by Minted
If walls could talk…we've heard that before right? Well, in the design world, they can and do tell a story. When I go into someone's house, the artwork on their walls acts like a window into their past, showcasing their interests, their personality, their passions. Art can be fun and playful, dramatic and eye catching or even deeply personal. Whichever approach, one thing is certain – art transforms your home. That's why, even with a small budget, changing around your existing artwork or adding in some new or vintage pieces, can make an enormous impact.
Today, with the help of one of my favourite art sources – Minted Art, I wanted to share some ideas and divulge some tips on transforming your home with art.
Mood Matters
Before you start buying artwork ask yourself, what are you trying to feel? Do you want your home to feel peaceful and calming or vibrant and eclectic. These decisions set the mood of the space. Think about your life and interests and start by choosing pieces that correlate. At the end of the day, you want your artwork to be personal! If you select things you love, it will always work.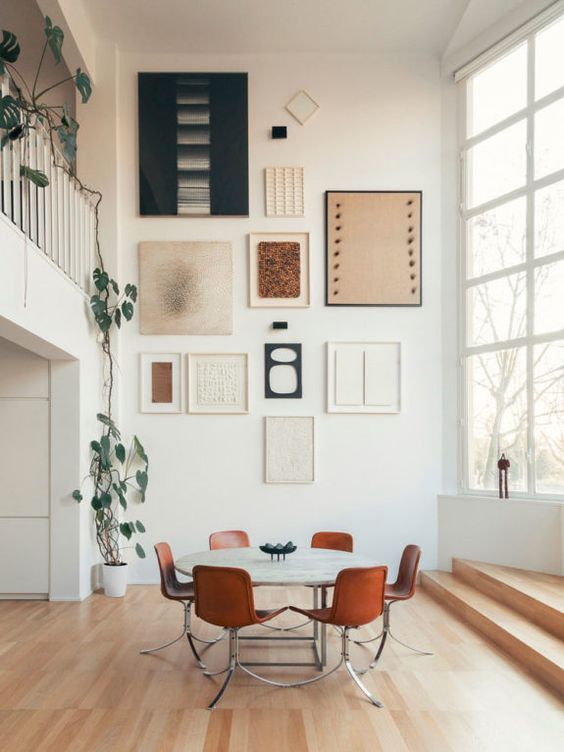 Collecting Takes Time
My favourite spaces are the ones that feel like they've been pulled together over time. The same thing applies to artwork. Don't feel like you need to have everything selected all at once. Visit antique shops and second hand stores. Pull out old travel mementos, postcards, pages from magazines or books, old family treasures…anything can be art. You can of course create your own or find really affordable printables (my gal Bre had a great round up!). And then, of course, you can shop online. One thing I love about Minted is that I can view one artist's full collection and even Limited Edition Art pieces. With a larger budget, consider commissioning an original!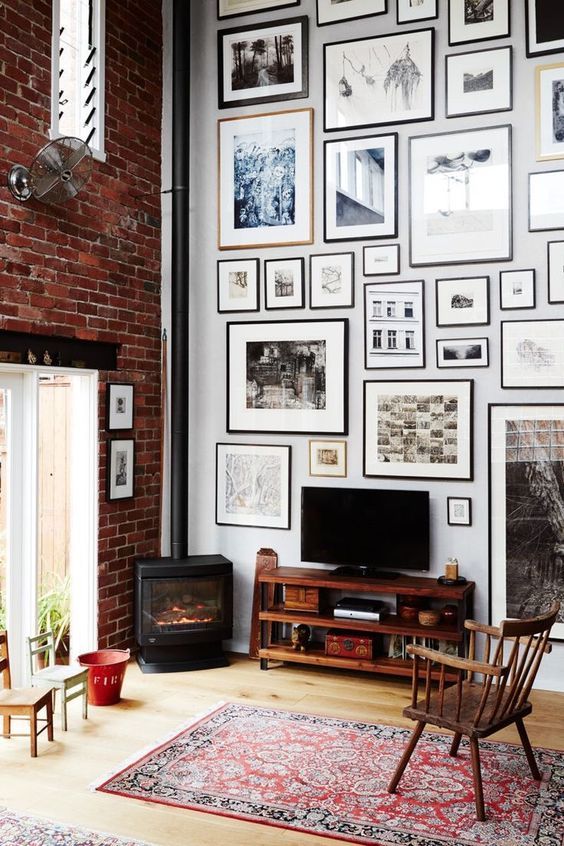 Mix it Up
It's important to assemble a variety of art because if you only have one medium, groupings tend to feel a bit flat. Consider photography, prints, watercolours, abstracts, canvases, drawings and even vintage pieces to create a collection that has depth and interest. And don't be afraid to mix it up over the year too. Rotate your pieces with the change of seasons or if you're feeling like a change would be refreshing!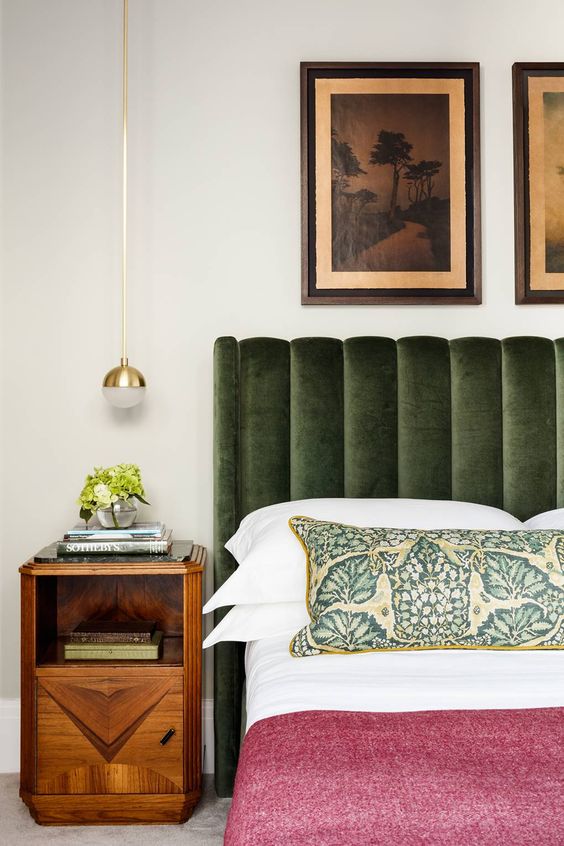 Placement is Key
Dispersing artwork on every wall can overwhelm a space. Decide where you want the focus to land and create a statement there. It can be one large piece, two side by side or a full blown gallery wall (and let's be honest, if you have a lot of artwork you want to display it's better to do one large grouping then spreading them out everywhere). In my living room, I had a lot of negative space around the piano but I ultimately decided on a picture ledge above to feature a few new favourites, keeping the surrounding walls blank so the eye has somewhere to rest.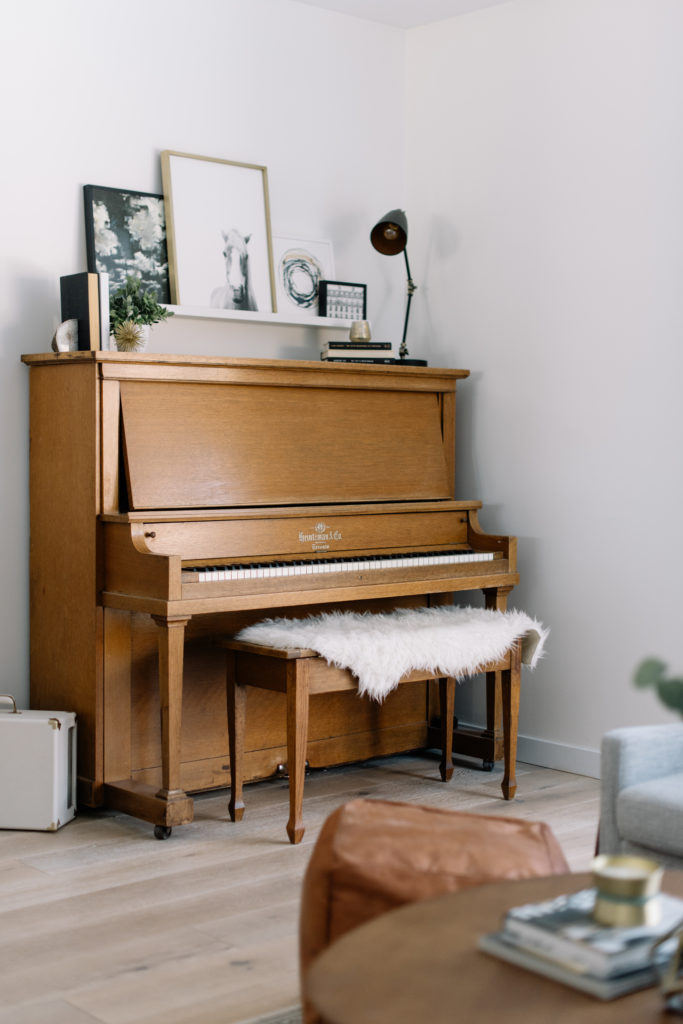 Let's Talk Framing
Some pieces are destined for a pre-fab, really affordable frame but others deserve something more custom. Look at finding that balance. In terms of colour and material, frames can add a lot of variety to your walls but you want to be careful that it remains cohesive. I tend to either match completely (monochromatic look) or mix 2-3 different finishes but no more than that. And lastly, play with the actual style of frame (and matting!!) too. You can have: framed to the edge, matted, floated or shadow boxed. A white mat is always classy and can help give the wall some breathing room.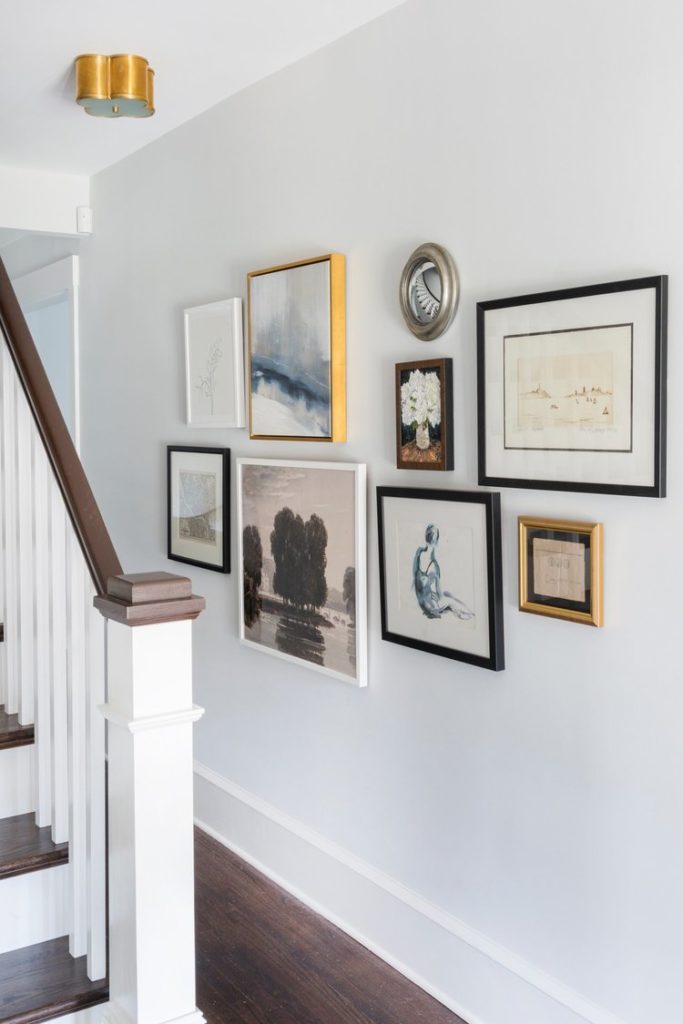 Last Look…Hang it Up
I don't think I could explain it any better than if I pointed towards a pro: check out Shea's tips for hanging artwork (which just so happens to be one of the most common design mistakes!).
Finally, I couldn't finish this post without sharing some of my current art favourites, some of which you will be seeing in my bedroom revamp veerrrrry soon! I cannot begin to explain how just switching out some of our old artwork has completely changed the space. So excited to show you!
(not clickable in the photo above – 1 |9 | 14 )
Have any favourites?! Coming soon…our bedroom revamp, complete with new artwork 🙂