We went back and forth for awhile trying to decide on a good travel destination for Jack's first trip. We wanted somewhere that we would really enjoy, and would accommodate a small baby. When Ryan suggested Tofino B.C., we both agreed that it would be the perfect first family trip. Travelling with a baby has some challenges but that wasn't going to dissuade us from planning something special. We travelled so much before Jack came along and we always said we would continue to make it a priority. Today, I wanted to share our first family trip with you and give you some suggestions for travelling to Tofino with a baby.
First a few reasons why Tofino is the perfect destination ANYTIME and for ANYONE:
there's no bad season to go and there's always a lot to do
it's incredibly peaceful and relaxing for those that want to do absolutely nothing
the sea and scenery is stunning
the town is adorable with everything you could ask for
it isn't overrun with people like other spots in BC/Alberta
Getting There:
We opted to fly into Nanaimo, since the flights were nice and short. It was the perfect way to introduce us to the whole "flying with an infant" process. I was actually really surprised just how smoothly it all went. Jack was such a trooper and even had flight attendants picking him up and taking him for walks. Does this happen to everyone?! I was so impressed with how the airports and flight attendants handled travelling with a baby, but hey, maybe we just got lucky!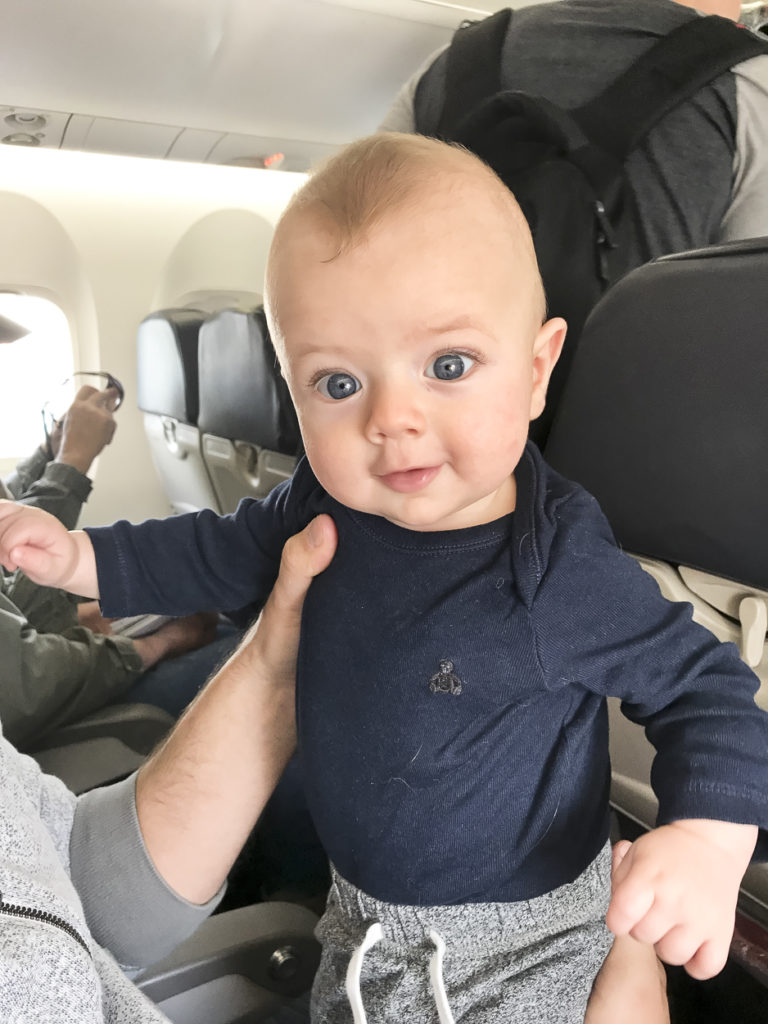 We then drove the scenic 2 hours and 45 minutes to Tofino. This long drive may deter some people, especially with a baby, but we broke it up into easy chunks. On the way there, we stopped for a long lunch in Port Alberni. On the way back, we did the small trail walk through the beautiful trees in Cathedral Grove (not to miss!) and we had so much fun at the Old Country Market, eating lunch under the goats on the roof. We even strolled along the waterfront in Nanaimo. To me, these pit stops make the trip so much fun and the drive really enjoyable. A word to those who get car sick – the last stretch into Tofino is really winding but also so beautiful!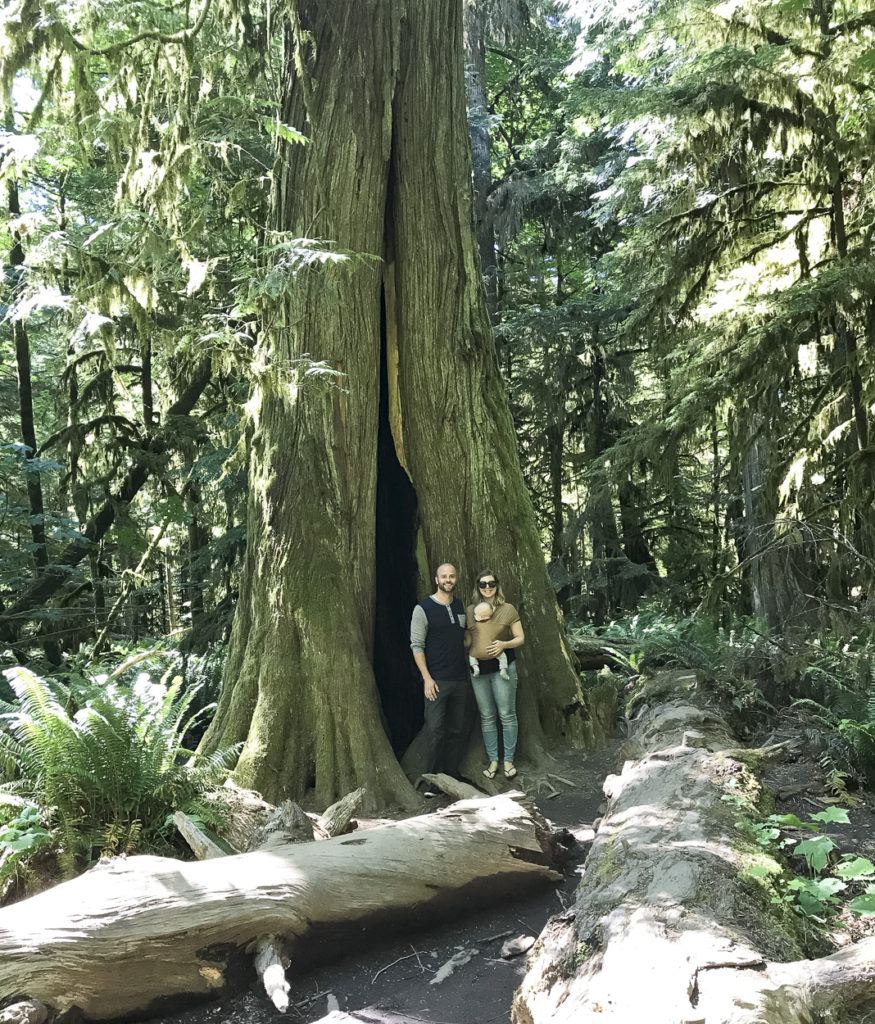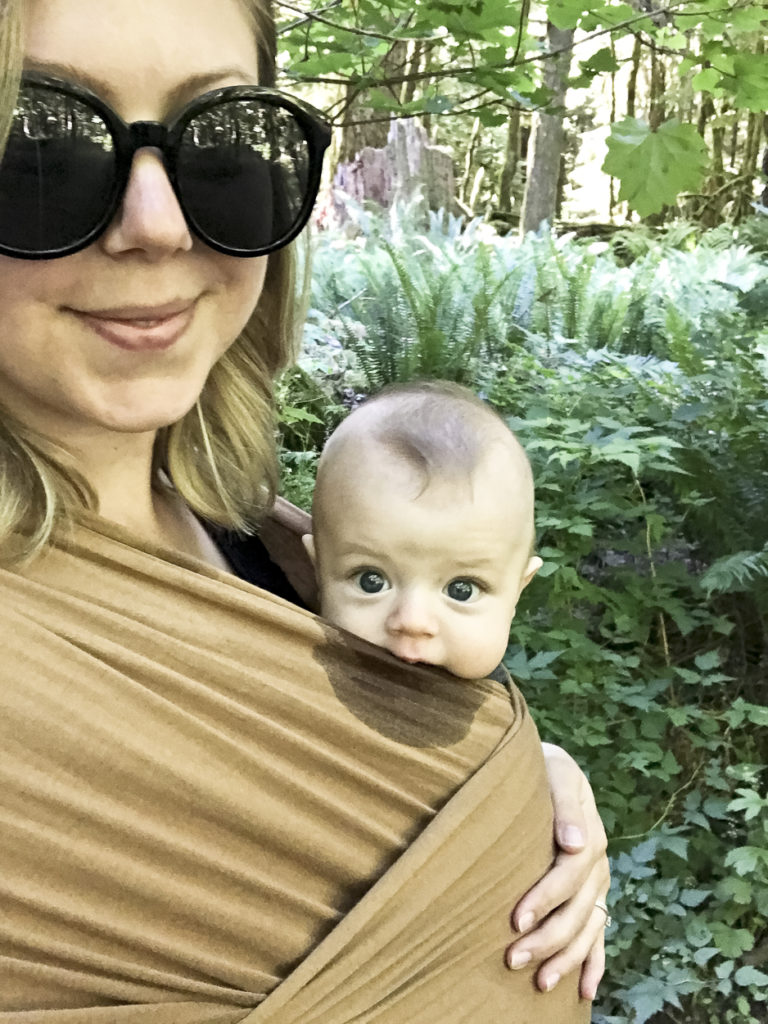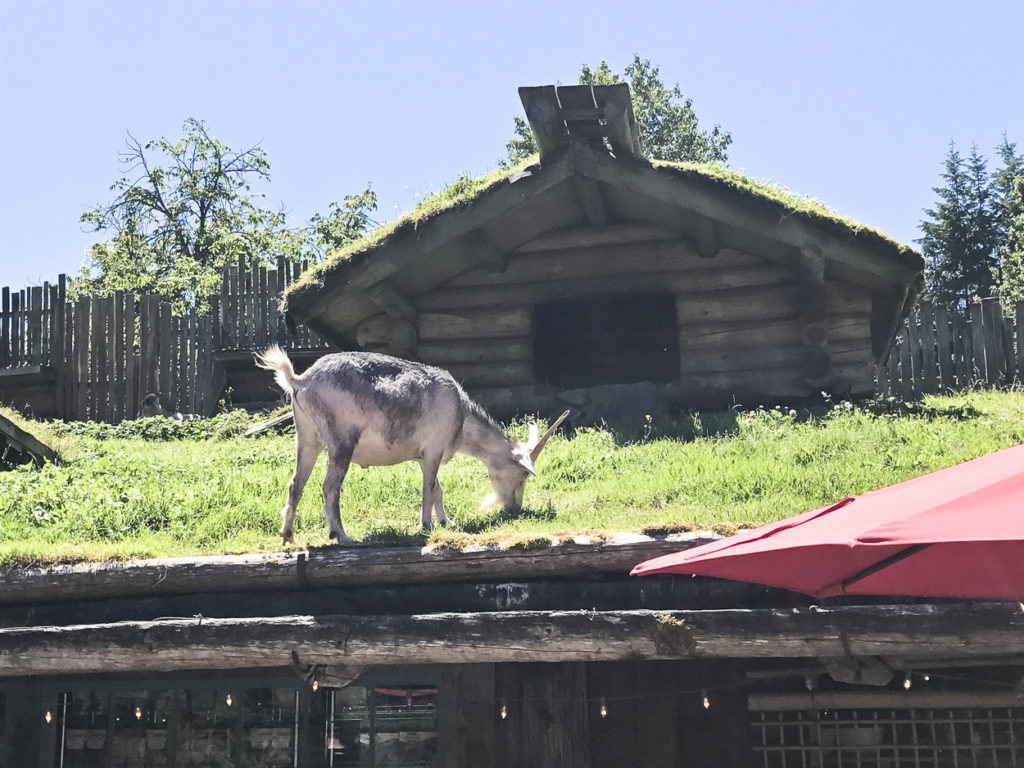 Where To Stay:
Truthfully, any place you pick will be really family friendly in Tofino. We chose to stay at Pacific Sands Beach Resort. They are absolutely amazing here – great staff, beautiful beach houses and a killer location that's just outside Tofino. We were originally going to stay in a Lighthouse suite but last minute, they bumped us up to a beach house so we would be more comfortable with Jack (so thoughtful!). They even provided a pack and play which helped with keeping his sleep schedule!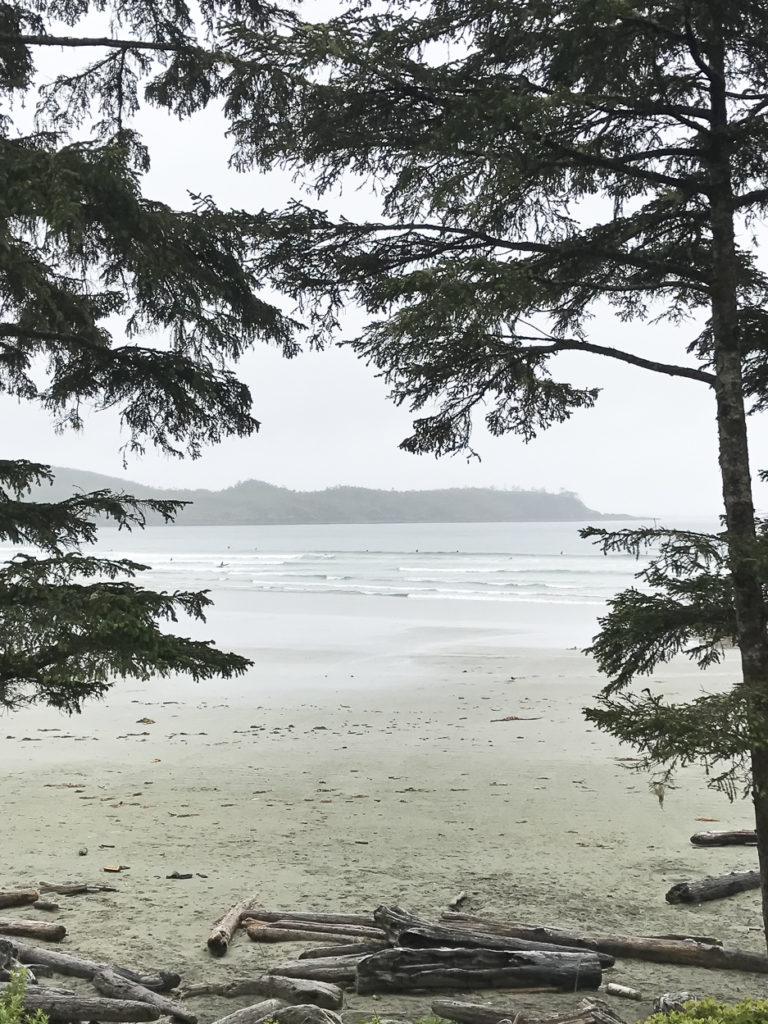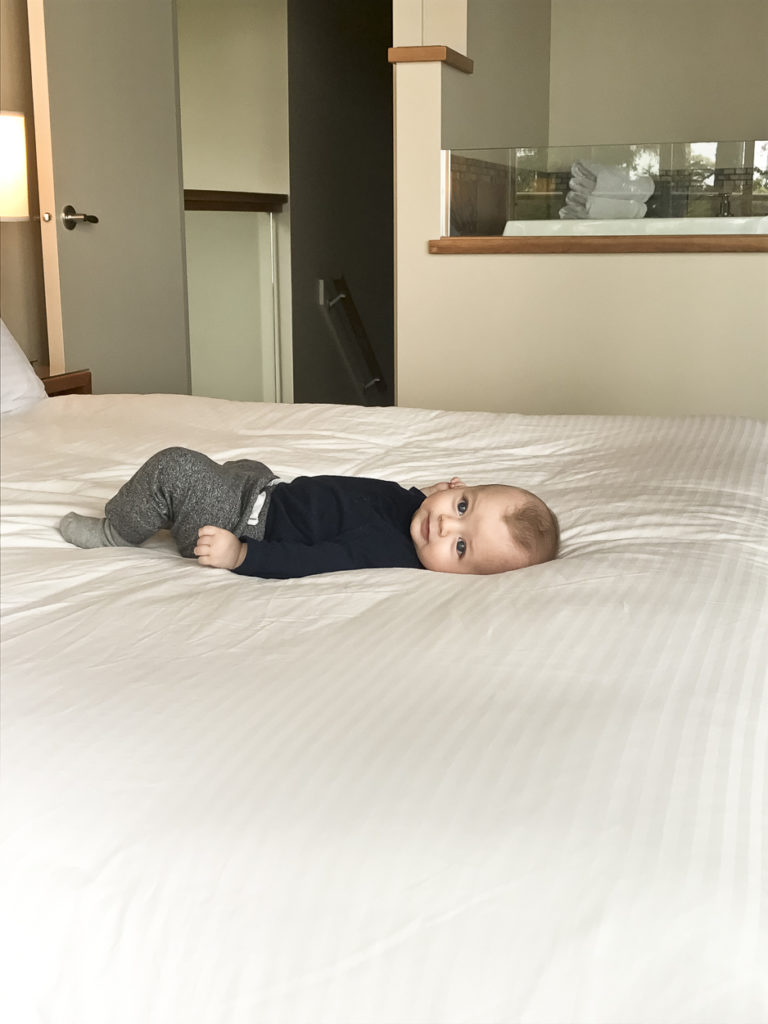 I was blown away by the oceanfront views and sweeping beach! Every night Ryan and I would sit on our porch with a glass of wine and watch the waves and all the surfers coming and going. Plus, waking up to the sound of the ocean cannot be beat!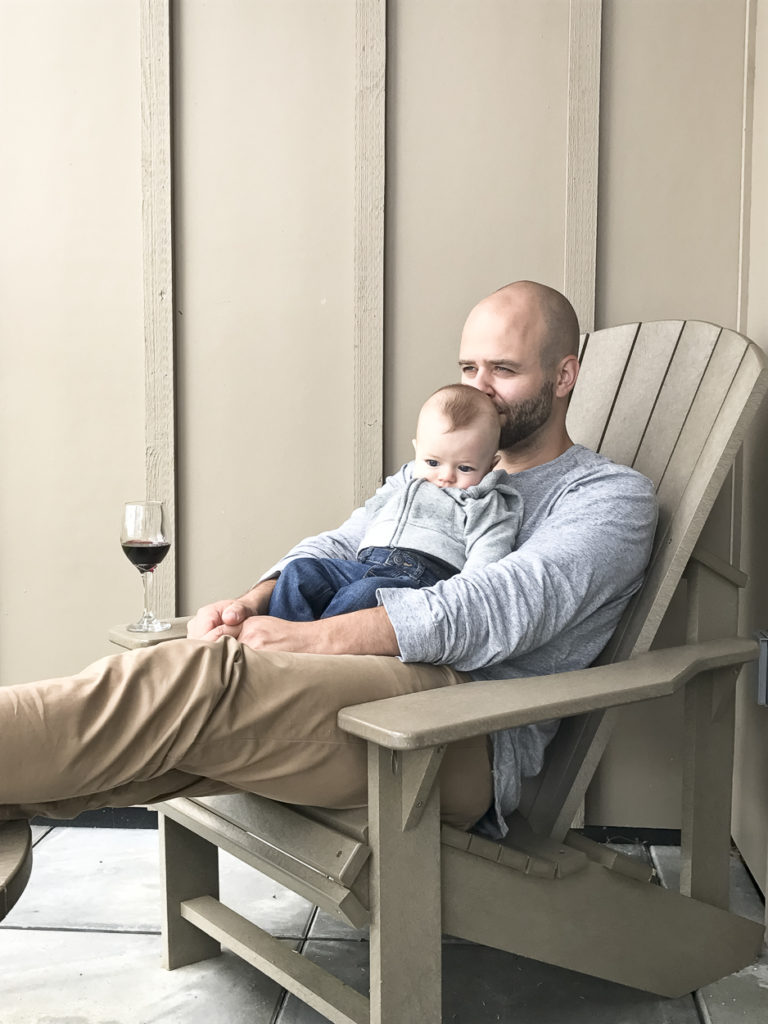 Pacific Sands has a delicious food shack for any cravings you have, and we also walked down the beach to the Long Beach Lodge, where we had the best breakfasts!
What To Do:
There are certain things that you could do without baby like surf or go to the spa, but since we had Jack, we needed to keep things pretty simple. You can:
Have a beach day or walk one of the many beautiful beaches. My faves are Cox Bay, Long Beach, and Chesterman's Beach. We saw a lot of families put up small tents for shade which was a great idea! The ocean is pretty cold, so it's not the best for swimming but there are definitely other beach activities you could try with your family!
Go for a hike or trail walk. There are so many to choose from and all the maps are great at describing each one so you can make the right decision for your family. Jack does really well in his carrier so we went on a few different hikes and each one was easy to navigate. Plus, you're in the middle of a rainforest and then all of a sudden on the side of a cliff or on a beach…how can you not love that!
Head out fishing or whale watching. We might have been a little bold in taking Jack whale watching at his age but hey, we went for it! And it paid off when we saw a beautiful humpback whale! I would suggest trying to go on a day that isn't too windy. Our ride was a bit too choppy for my liking but at least we were inside and didn't get wet! (I believe infants can only go in the covered boats anyway!)
Bike along the beach or the paved path into town. We rented bikes at Pacific Sands but there are many other spots to grab a couple of bikes and an infant carrier.
Stroll in town and stop in at the quaint boutique shops!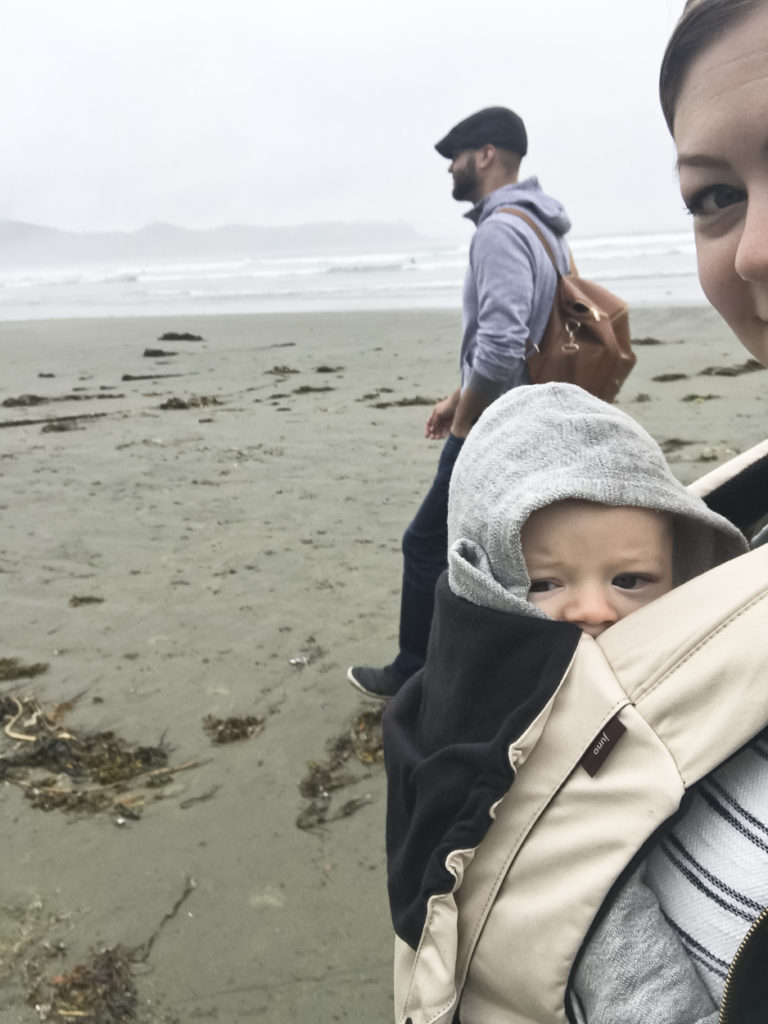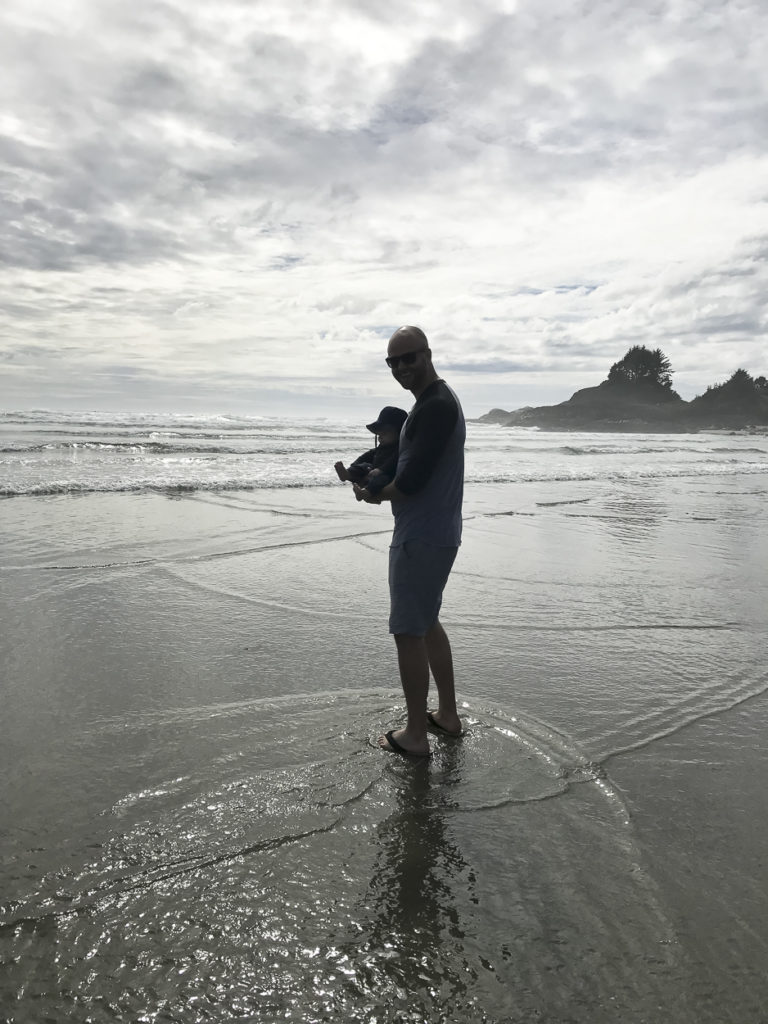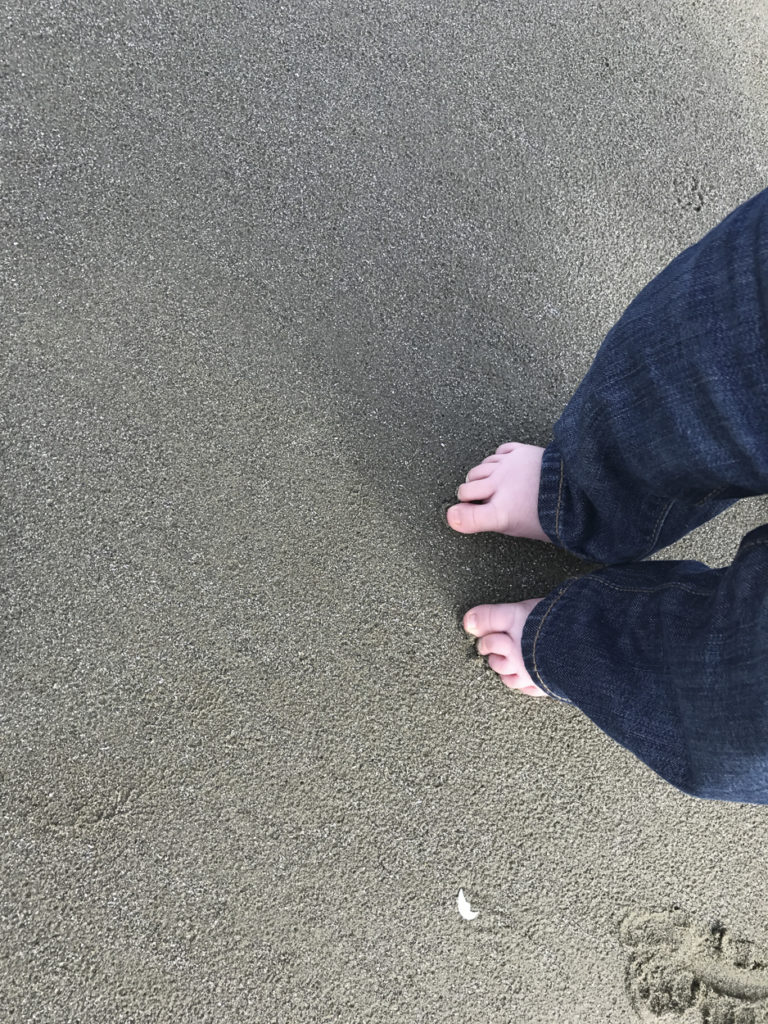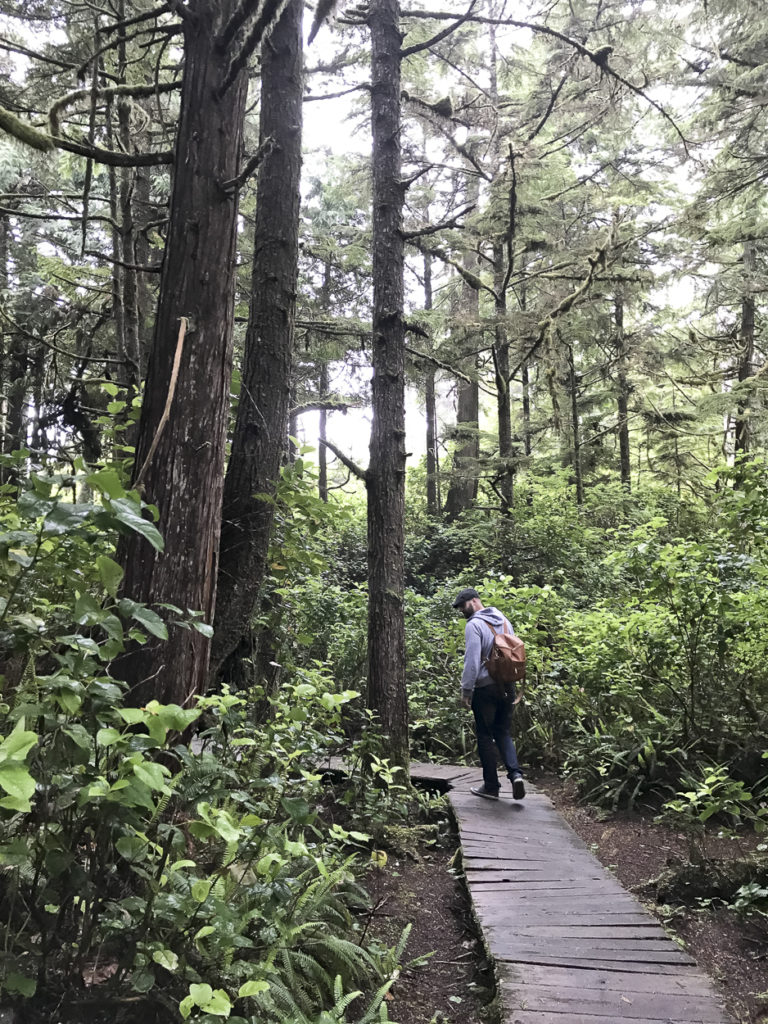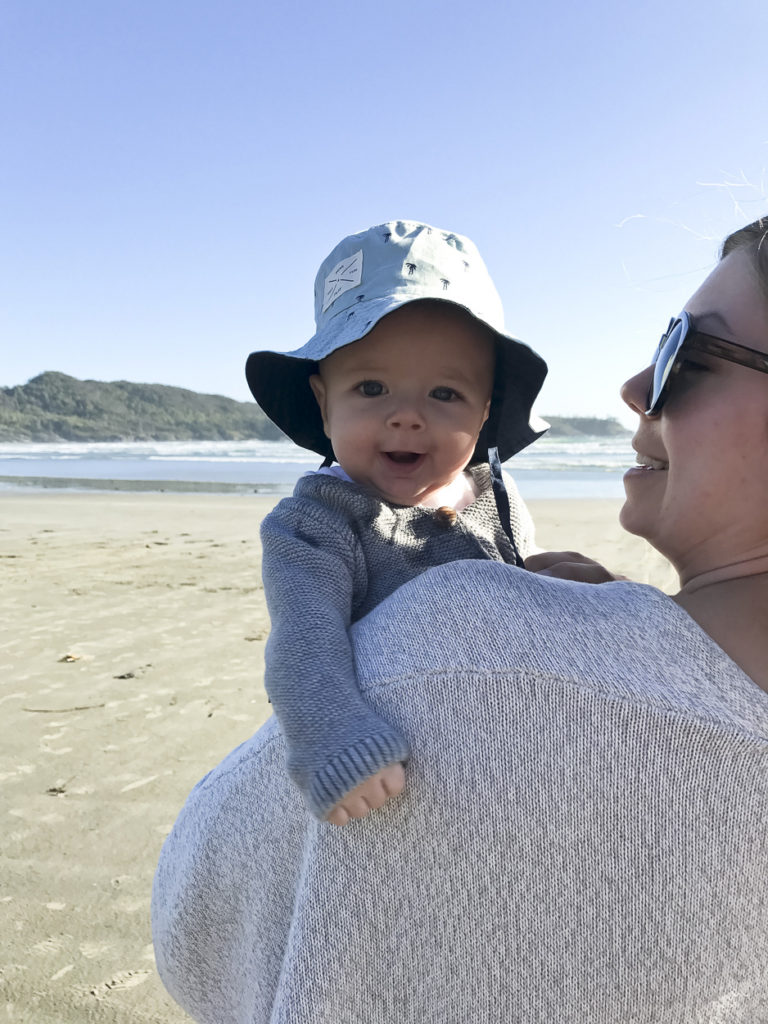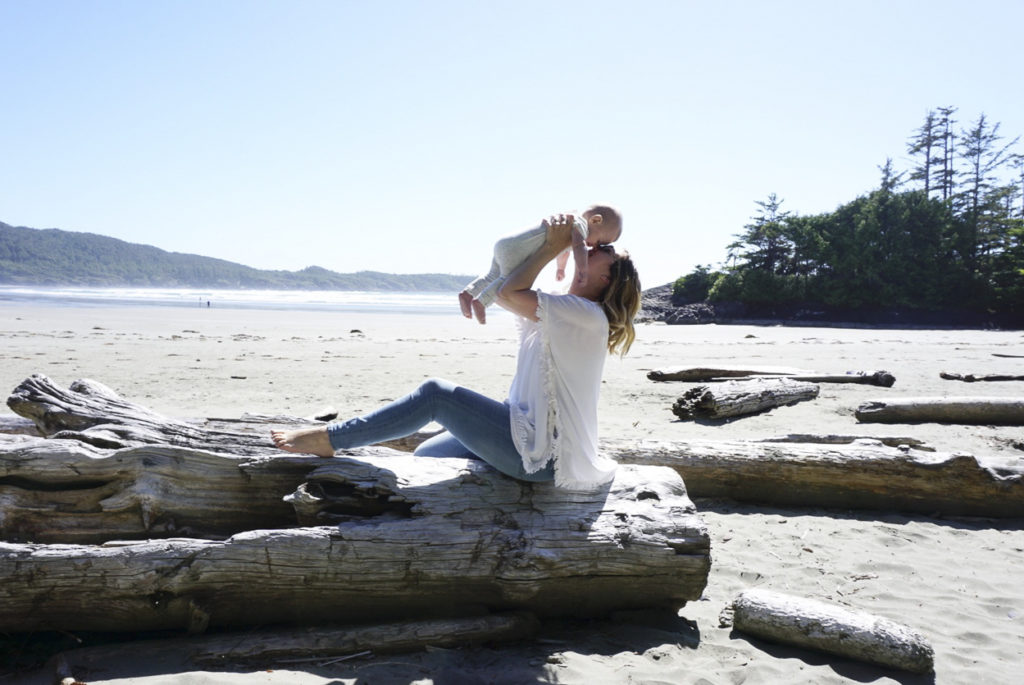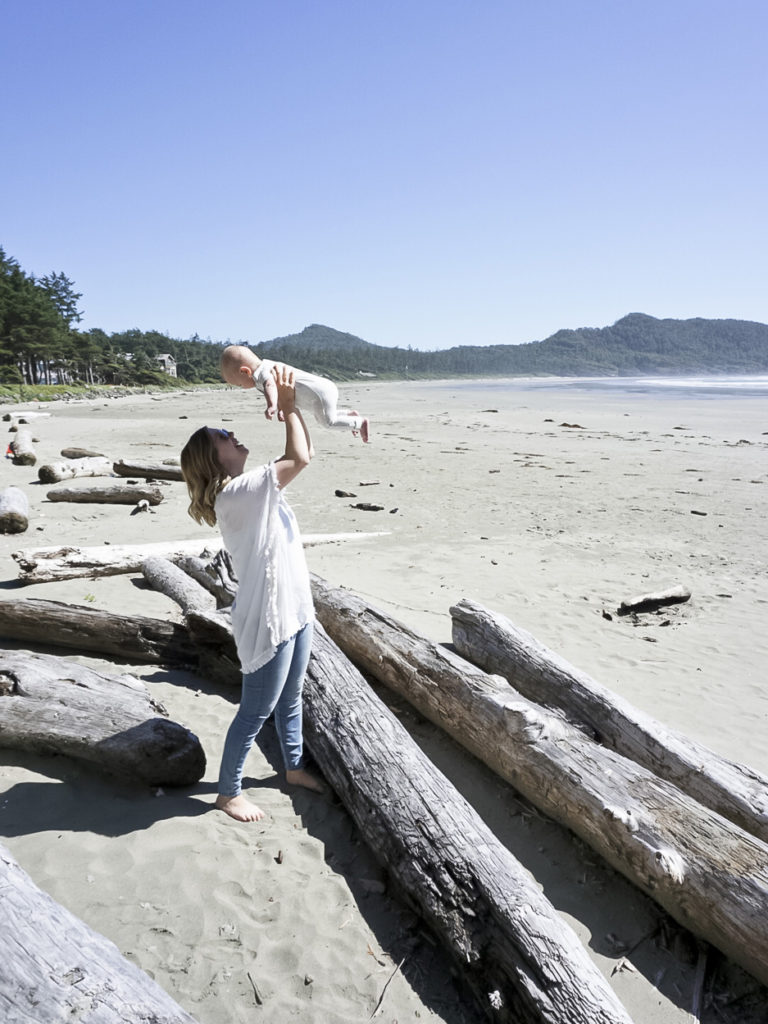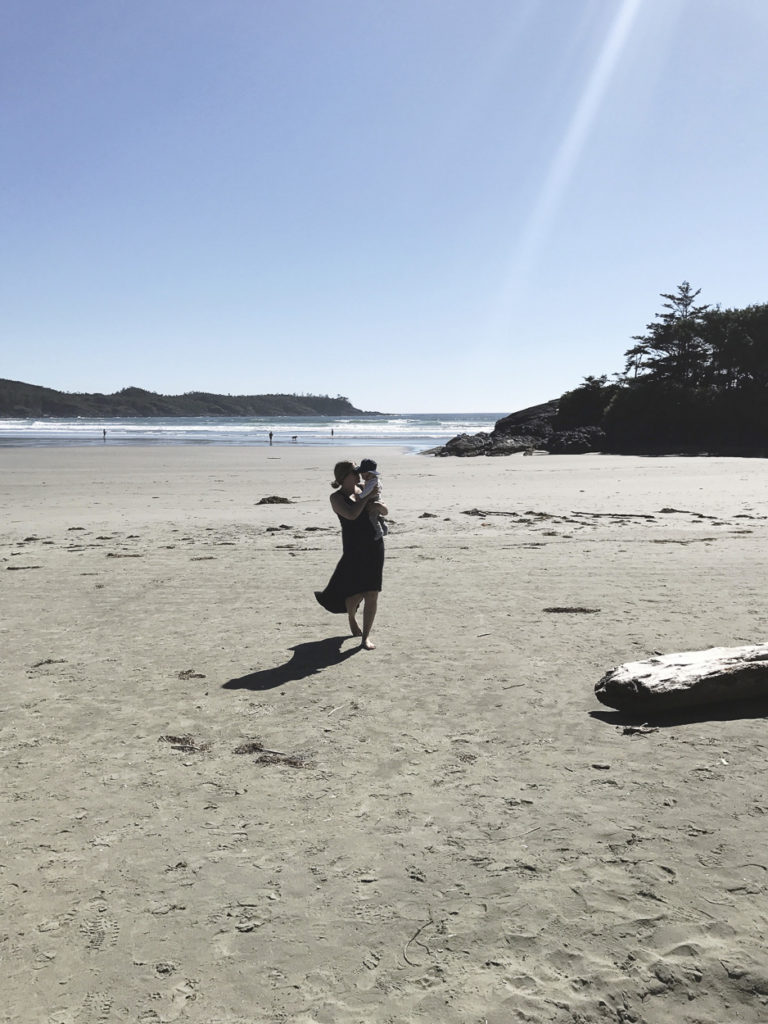 Where To Eat:
You honestly cannot go wrong with food in Tofino. Everything is fresh and a lot of places are all about supporting local, which is awesome. We did not have a bad meal our entire trip and wished we had time to go back for seconds! Our favourites: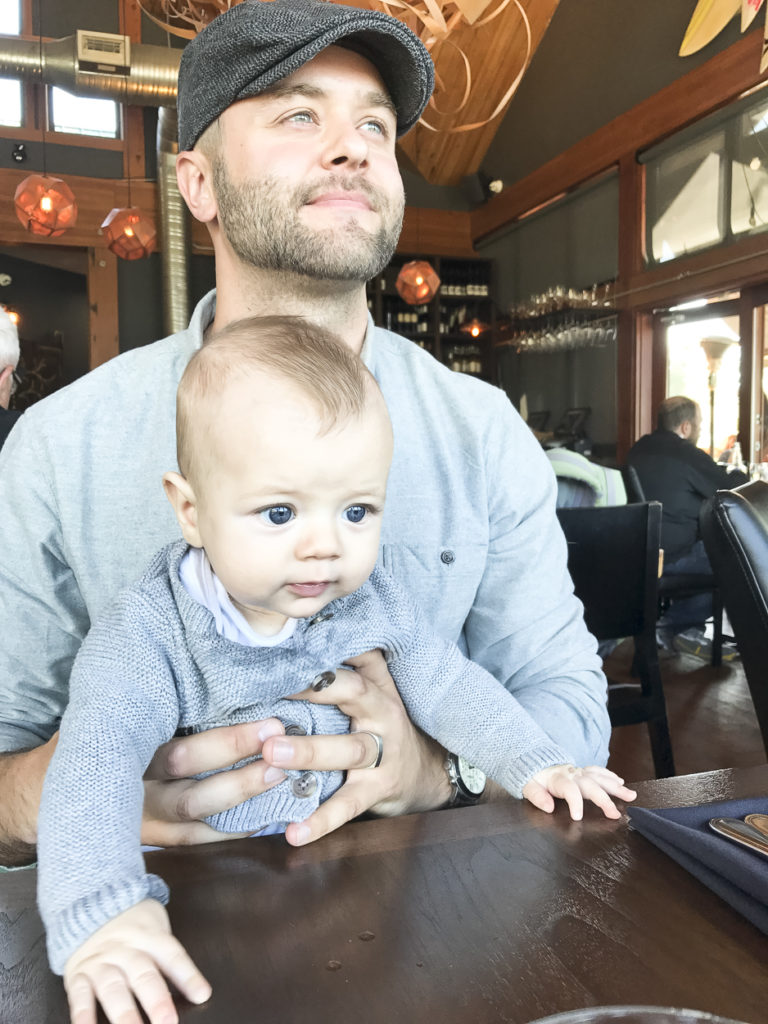 We had such an incredible time travelling to Tofino, I will definitely be going back again! And it could not have been a better destination for bringing baby!
Have you been?! What are some of your favourite things to see and do?! Have another great baby friendly travel spot to suggest?! I'd love to hear them and maybe start planning another getaway! xx