There are a LOT of baby toys out there. It's so easy to accumulate a lot of them too, which becomes overwhelming. I absolutely hate having too much stuff, so I've been somewhat choosy about which toys come home with us, especially when Jack is more than happy to bang on some tupperware! But in all honesty, there are some specific items that I am so happy we purchased. I thought I would share them here today – the top baby toys that Jack loves!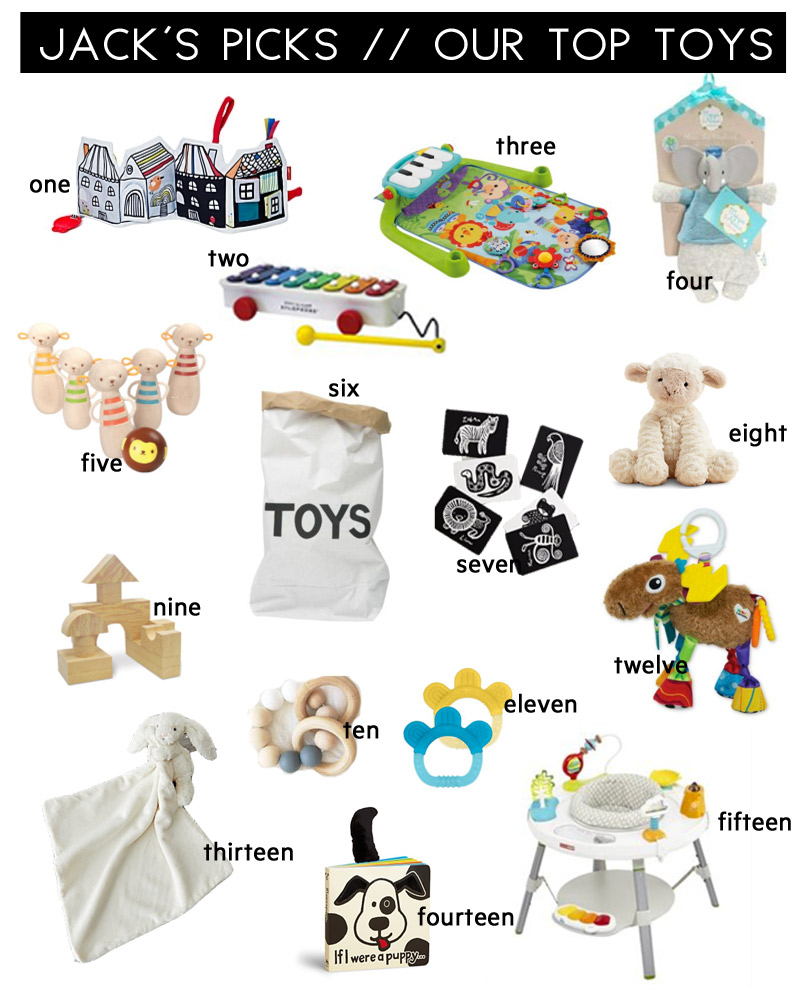 one – Baby's are all about the black and white, especially when they're really little. I liked being able to open this activity book and have it beside him to look at while on the ground. It's also a standup playhouse too and so easy for him to grab!
two – Can't go wrong with a classic! He's just getting to the age where he likes to hit things so this will come in handy.
three – Probably one of our most used items, I would put Jack underneath the hanging toys and he'd keep himself entertained for so long. Plus, he loved kicking the piano keys and making the music play. Now that he moves more, he'll lay on his tummy and push the buttons with his hands. It's honestly been such a good toy that's lasted for so many stages!
four – I know most people go for Sophie the Giraffe and while Jack does have that one too, he really loves Alvin the Elephant. I think because it has two textures – a rubbery head and a soft body.
five – I picked up this wooden bowling set thinking he wouldn't take much interest in it for awhile. But he loves to hold the little animals and use them as teethers. Then when he's older, I can see us bowling down the hallways upstairs 🙂
six – Ok not so much Jack's pick but this little paper storage bin has been such a great purchase. It keeps me sane by corralling all his toys in one spot. And it looks cute in our living room too!
seven – I've seen people use these black and white cards for mobiles but I would line them up in Jack's crib for play time. It was important that he saw his crib as a happy place while we were sleep training, so these were great for that. Plus the flash cards will be great for when he's older too and learning his animals.
eight – We have a few stuffies and love the Jellycat ones. I mean how can you not have a cute plush lamb in the nursery right??
nine – I'm all about wood toys – it's the old soul in me! We got Jack some basic blocks and he's already starting to play with them. Well suck on them mostly but hey! We also have some great wood teethers that he and I both love!
ten – Ok so speaking of teethers, I know it's not quite a "toy" but when they are this young, it goes hand in hand. Jack loves the ones that combine a bit of wood and rubber like this one.
eleven – We also love these ones. They are super easy to grab with tiny fingers and have great ridges for teething. I've put them in the freezer too for when he's really pushing those teeth through!
twelve – We call this guy Spruce Moose. He's our travel buddy, making car rides extra fun 🙂
thirteen – One of the best things I ever purchased for Jack is his lovey. He sleeps with him everyday.
fourteen – We have a pretty good collection of books going (that's for a separate post!) and so I had to include one in today's round up. Jellycat has these touch and feel ones though that are pretty fun!
fifteen – And finally, another item that we have used SO much. Jack will play in this activity centre for a pretty long time, which lets me get some things done! And it converts to a table top when he's older and able to stand. Love that!
Do you have any favourite baby toys? What about some suggestions as he gets a bit older now? I'd love to hear your thoughts!
Also…I've updated Jack's Picks in the Shop section. Check out some more of our favourite things!