One room I feel like I really want to finish as soon as possible is our guest bedroom. Ideally, this sweet little space will be complete BEFORE the baby arrives, but I won't hold my breath on that. You see, with the nursery done (the big reveal coming very soon, I promise!), the master bedroom totally transformed and the completed master bathroom, this is literally the last piece of the upstairs Ravine House design puzzle. After it's finished, I can sign off on the entire floor. And, man would that feel good!
So, in my effort to start 2017 off right, I am getting my butt in gear and starting this modern guest bedroom design now. Originally, Ryan and I thought we would use the room as an office space, but neither of us have really been going up there – even with our old desk setup from the Hazeldean home. Another factor was that I've become a bit of a snorer in my pregnancy, resulting in many a sleepless night for my husband. I can only imagine the nights will get trickier once the baby comes. So, it would be nice for Ryan to have a bed to climb into when he needs to escape all the commotion.
I want the room to feel very serene and cozy. It's already painted Decorator's White and we installed the same hardwood as the rest of the main floor. Here's what I'm thinking for the rest: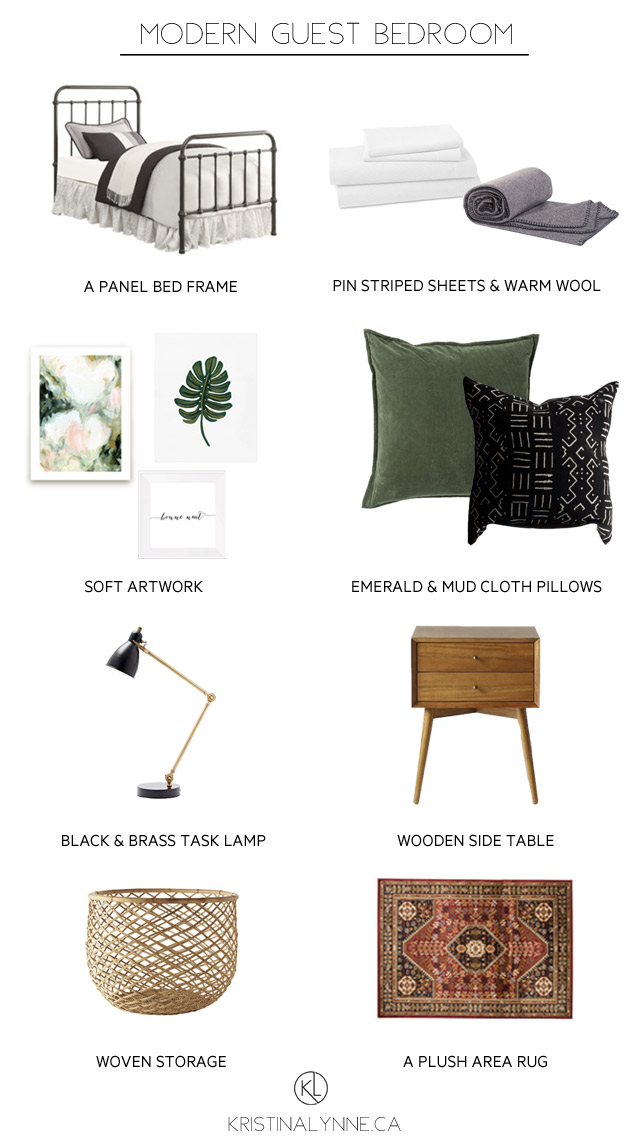 I am in love with the look of black panel bed frames and I think this will actually be a great option for when the baby isn't such a baby anymore. Instead of putting on a massive duvet, I'm thinking I'll pick up some pinstriped sheets and a cozy wool blanket for the winter months. My current colour obsession (in small doses of course) is a soft emerald green, so that's what I'll utilize for the accent colour in a velvet pillow and the artwork. Couple that with a punch of rich red in the area rug  and I've got a beautiful contrast going on! And, as always, I'll focus on some raw textures like woven baskets, a wood side table and a metal lamp to add a bit of depth.
What do you think of this initial look? It's simple, of course, but I think it will be perfect for this small guest bedroom. I'd love to hear your thoughts!
Sources: Panel Bed Frame / Striped Sheets / Wool Blanket / Bonne Nuit Print / Leaf Print / Abstract Print / Green Pillow / Mudcloth Pillow / Lamp / Side Table / Basket / Rug