A little while back, I posted about my master bedroom design dilemma. I wasn't exactly sure where to spend my hard earned money, but I was in need of a new dresser option. I tend to be drawn towards more expensive items (that's because I have good taste right?!), but even though I loved the dressers I was finding on say, West Elm, I knew they were slightly out of my reach. So instead of dolling out a ton of money, I thought I could create something similar. I wanted a modern white dresser similar to this one, and after seeing what my girl Janna had done with the Ikea pine dresser that's always in stock, I rolled up my sleeves and got to work on my own West Elm inspired Ikea hack!




The Modern White Dresser Hack: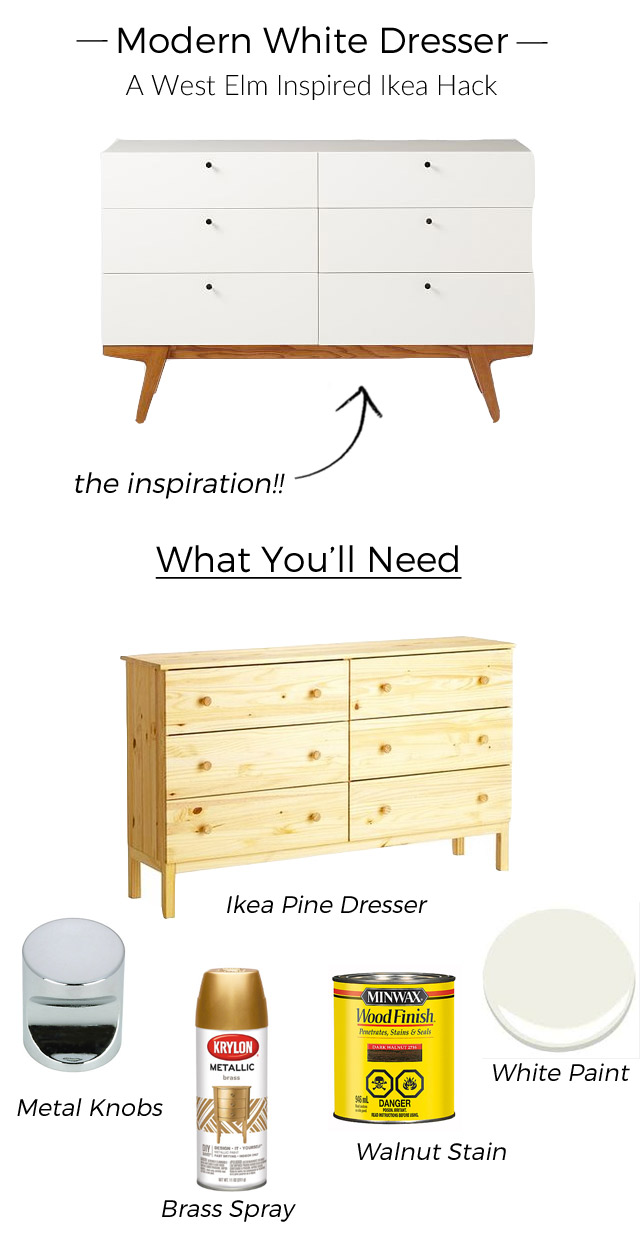 I started with the Ikea pine dresser…building it took a little bit of time, let me tell you! There are six drawers people!! But before I attached the base, Ryan trimmed down the legs for a more mid century modern look (it was a bit tricky because the pieces are smaller – so be careful!! I had a pro do it!). Then I stained the entire base section using Minwax 70012 1 Quart Wood Finish Interior Wood Stain, Dark Walnut. I really like this stain, in lots of finishes but this one worked great for this project.
Next, I painted the entire dresser (excluding the base) a basic white paint. Honestly, I just used the trim paint we already had on hand from Home Depot but I would also recommend a white like Simply White from Benjamin Moore.
Instead of black or chrome knobs, I loved the look of the brass. Janna had found these perfect sized Richelieu Metal Knobs so I copied her and grabbed a bunch myself. A quick sanding and a coat of spray paint changed the look completely! I have brass in the graphic above but I actually used a gold one because I liked the look of it better – had more of a pop.
Want to see the finished product?
What do you think of the dresser and my Ikea hack?! Check out the rest of my bedroom here – the full before and after transformation! xo
Shop the room: Basket | Rug | Planter | Gold Box | Knobs (no diy required)