Well that week flew by! Plus it was a short one for us Canadians! But we've actually made a LOT of progress – though it wouldn't necessarily look like it since this is all the behind the scenes stuff.
In case you missed the first week – don't worry, you can catch up here with Week 1 (the before photos and design plan!). 
______________________
This week I'll focus a little more on the demo, repair work and some of the bumps we've hit along the way. Also, I would love to tell you a little bit more about the layout and why we made some of the main design decisions we did.
Demo is always interesting to say the least…you never know what you'll discover (like that one time we found an old bomb in the wall of one of our flips…true story). Ryan and I were expecting some ducting and electrical in a couple of the walls we wanted to remove to get a more open concept kitchen. What we were always curious about was why our corner pantry was angled off, leaving all this unused space at the back. Well we got our answer as soon as the cabinets came out…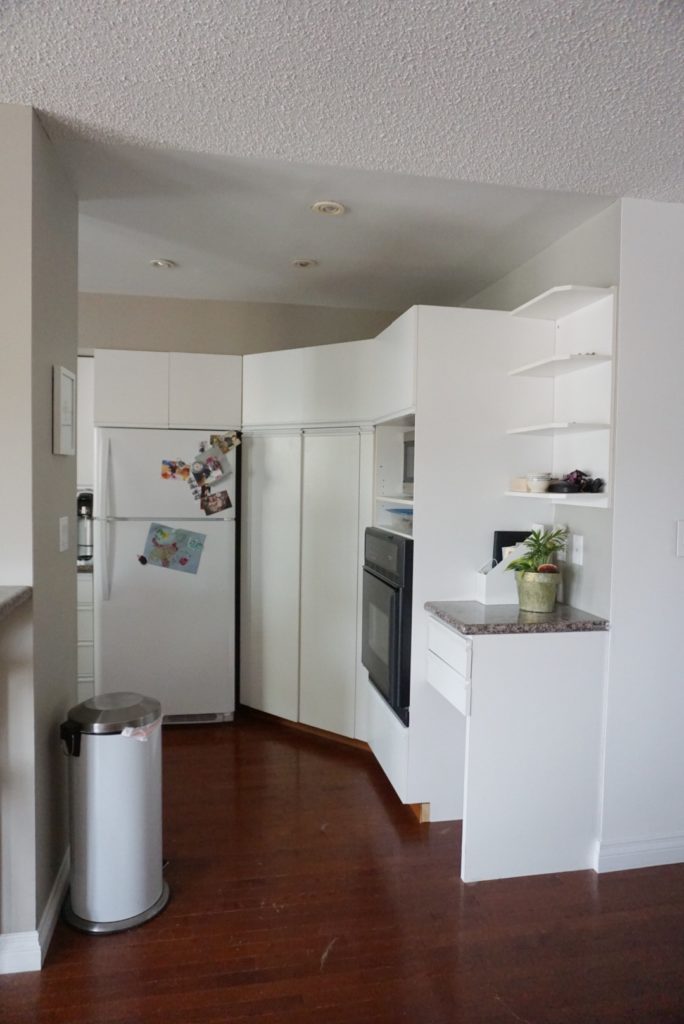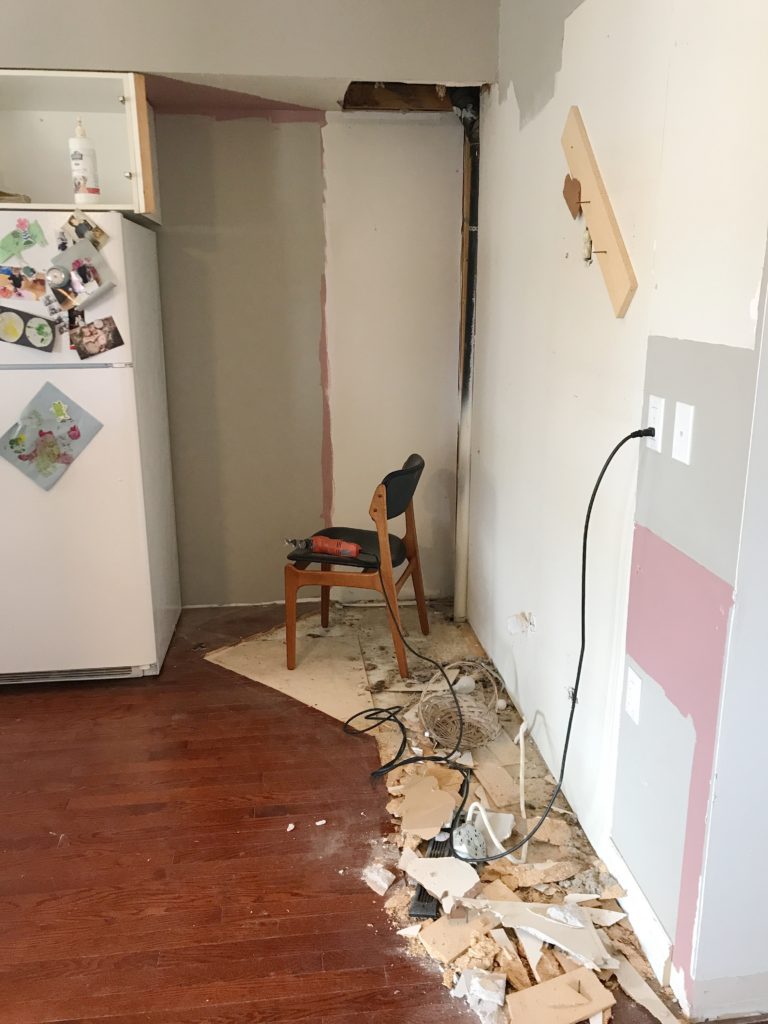 You can see here a major plumbing stack nestled into the corner which would not be able to stay with our new configuration. Luckily we have a really great plumber who could help us navigate this hiccup. That was problem #1 we encountered in this demo week.
After the plumbing set back, we had a lot of electrical and ducting to tackle. There wasn't necessarily any issues with these items but it was super time consuming. And then we encountered problem #2 and #3 back to back.
Ryan and I had decided to stay at my mom's for a week while the messiest part of the reno was going on and so we weren't home when a small leak from our dishwasher hose started to trickle into our suite below. Janna, who is our lovely neighbour, was out until late and by the time she arrived home, there was a huge puddle and quite a bit of damage. Not pleasant whatsoever. On top of that, while our subfloor was completely exposed, one of our workers fell off a ladder and punched a boot sized hole in her ceiling.
It wasn't a fun setback in the least, but after some repair work, cleaning and a few extra days and dollars, everything was put back into place. This is an example of those unexpected hiccups that tend to come up in a renovation. We also tend to have bad luck sometimes but anyways, moving on to some better topics…
A quick reminder of our new layout plan, which I originally designed in sketch up: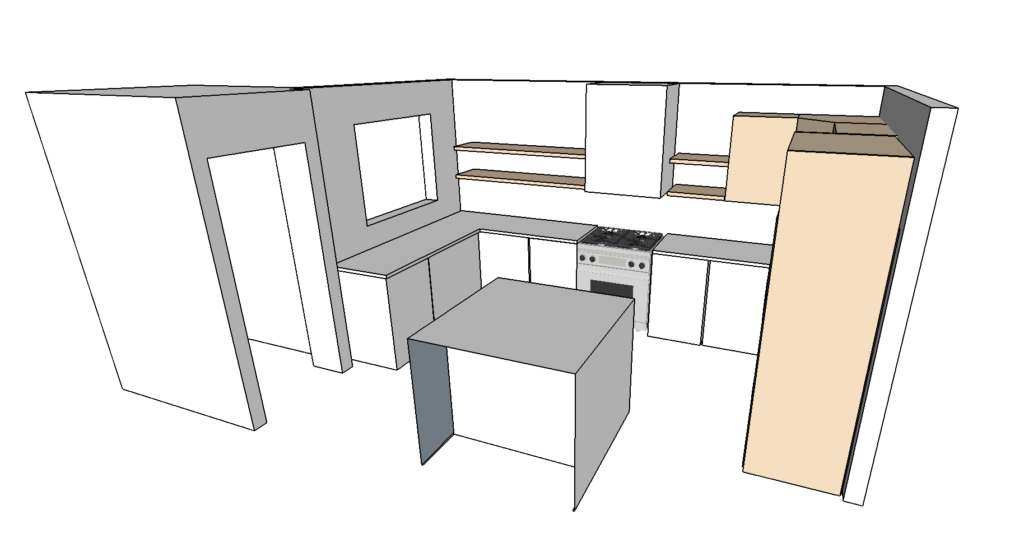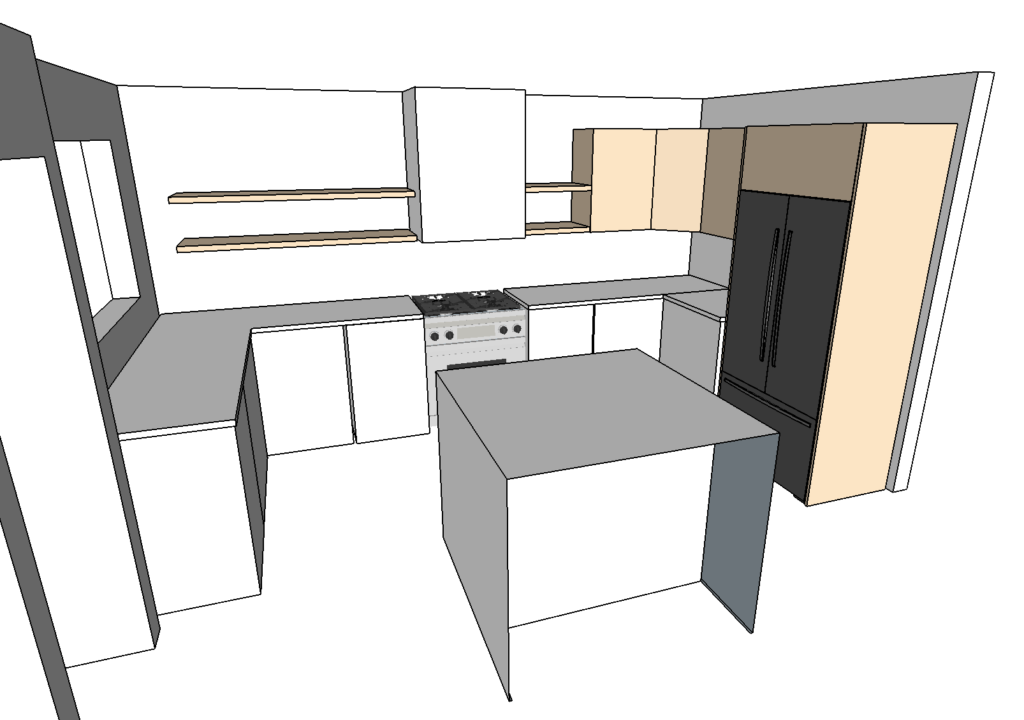 Then, Ryan and I decided to complete the cabinetry design in the same way as our past two full house projects and do a combination of Ikea and Kitch. The reason I love this method is because, as most of you know, Ikea is great for many reasons but it's more limited in design selection. I had a very specific wood and white combination in my brain and that was where Kitch came in. The beauty of Kitch, is that we can still use the Ikea cabinet system but then have tailor made fronts, sides, etc. So this gal gets the finishes she wants without having to install a completely custom kitchen ($$$).
Though I could have gone in a few directions, I settled on a white oak for the uppers and open shelving and a nice matte white for the base and island. And though I won't get to see these cabinets in action for a little while yet, I am crazy excited to see it come together!!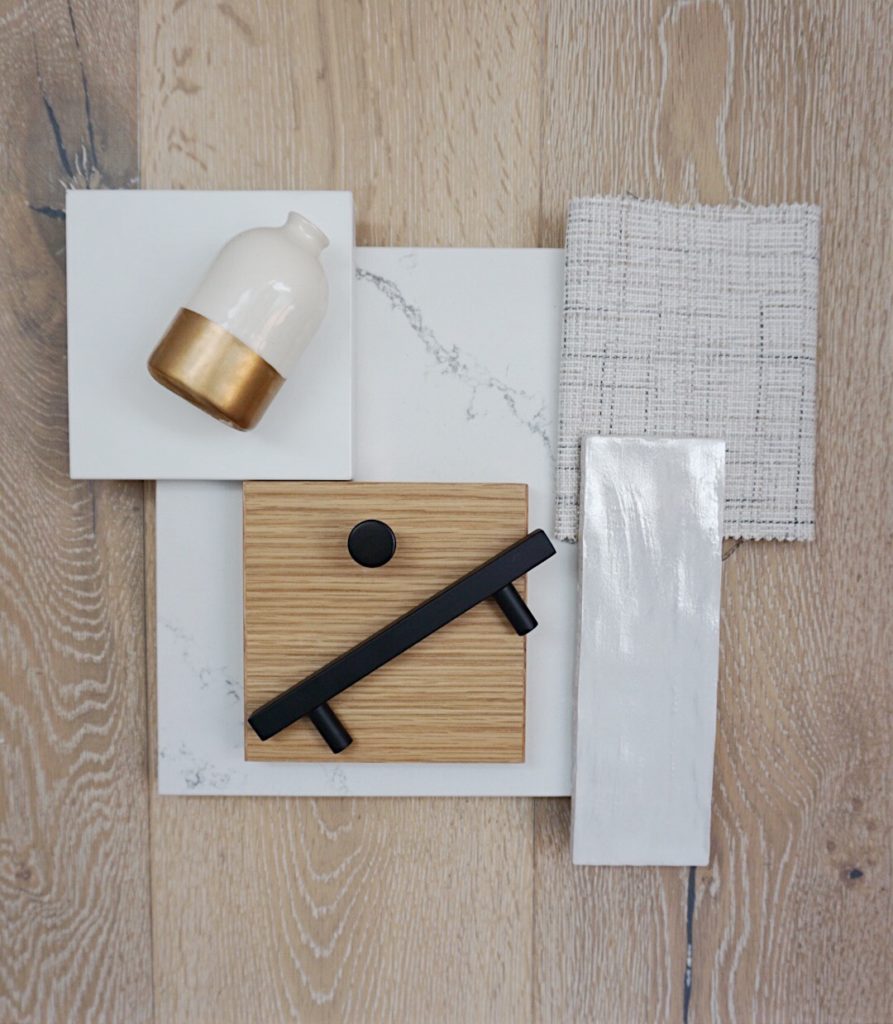 That's all for now! Wish us luck moving into week 3 and follow along with me on IG, where I update my stories as often as I can. And please do check in on some other One Room Challenge participants here!