While it would be lovely, not every home comes equipped with a large, perfectly designed laundry room. In our old house, I was lucky to have a pretty good space in the basement. But when we moved to the Ravine House, I had to get used to having a shared bathroom and laundry room, with the machines tucked into a closet. Ever since we renovated though (my spring One Room Challenge), I feel so much better about doing laundry! And from revamping this space, I've learned a few things about how to make small situations more functional…and beautiful. Here are my 10 ideas to steal to make a small laundry space work:
1. Hide the Machines – if you don't have brand new shiny machines and can't conceal the washer and dryer behind closed doors, think about adding a curtain or sliding doors, which can infuse some lovely texture and colour.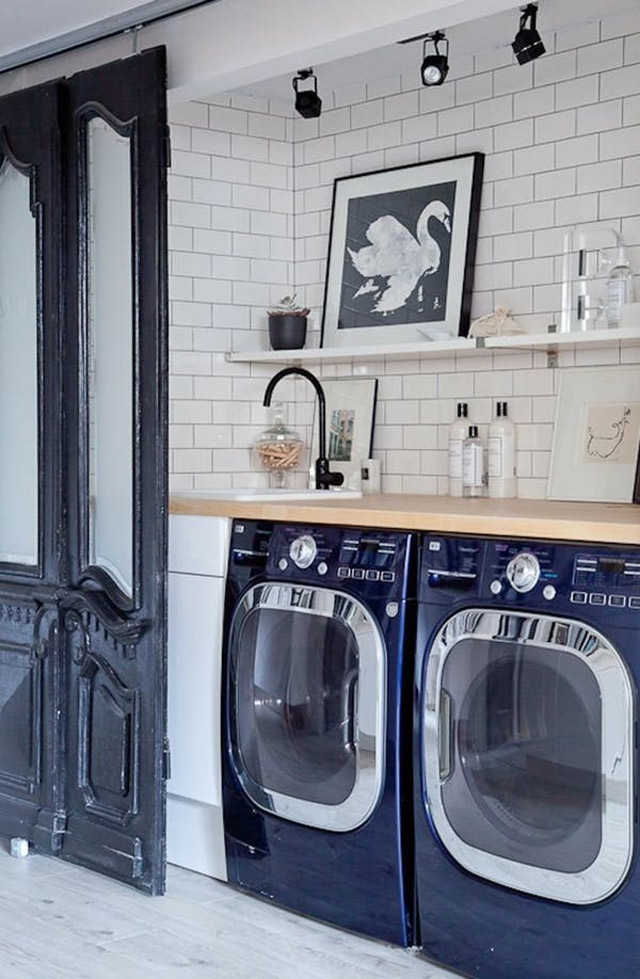 2. Go Neutral – to make a small space feel bigger, keep it light and bright. Neutrals are the best starting point for the laundry room. Then you can always…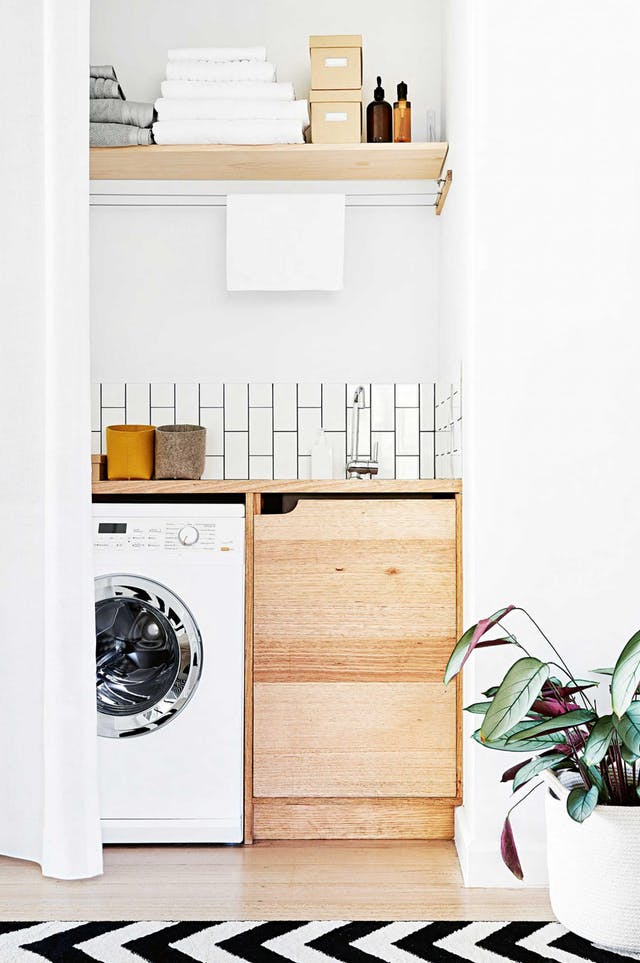 3. Add Some Character – whether it's a small pop of colour or some cheeky art, having some fun with the décor can make the space feel less stuffy and more cheerful.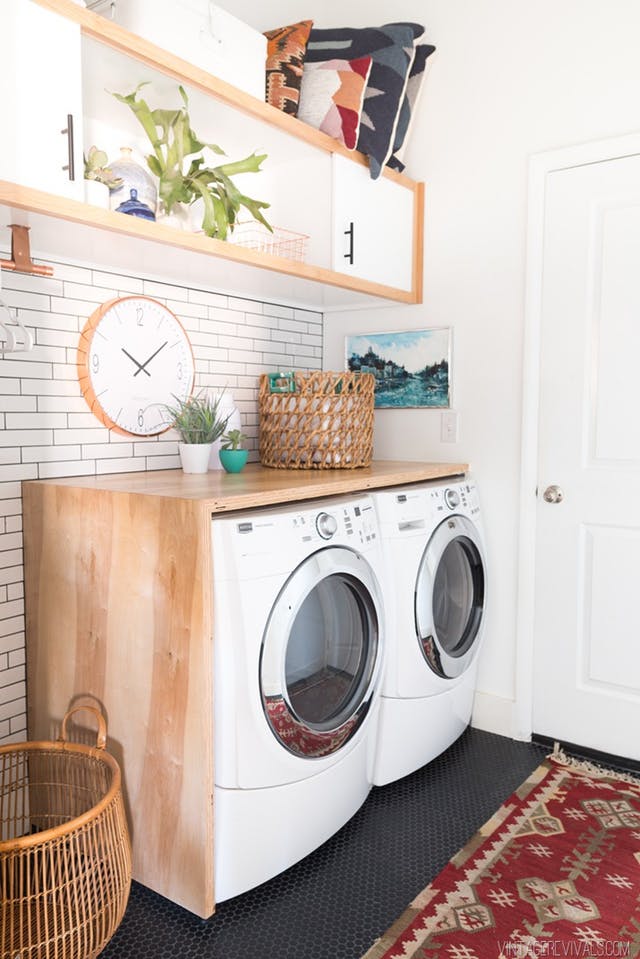 4. Utilize Wasted Space – stacking your washer and dryer can instantly give you more space, or think about adding open shelving wherever possible. Install shelves as far up the wall as you can, placing little-used items, such as seasonal decorations, on the highest shelves. Designer Tip – all machines can be made stackable but make sure you think about the panel direction. Some machines angle them up (Samsung being one) and once they stack, it's difficult to see all the options and settings if you are a touch shorter like me!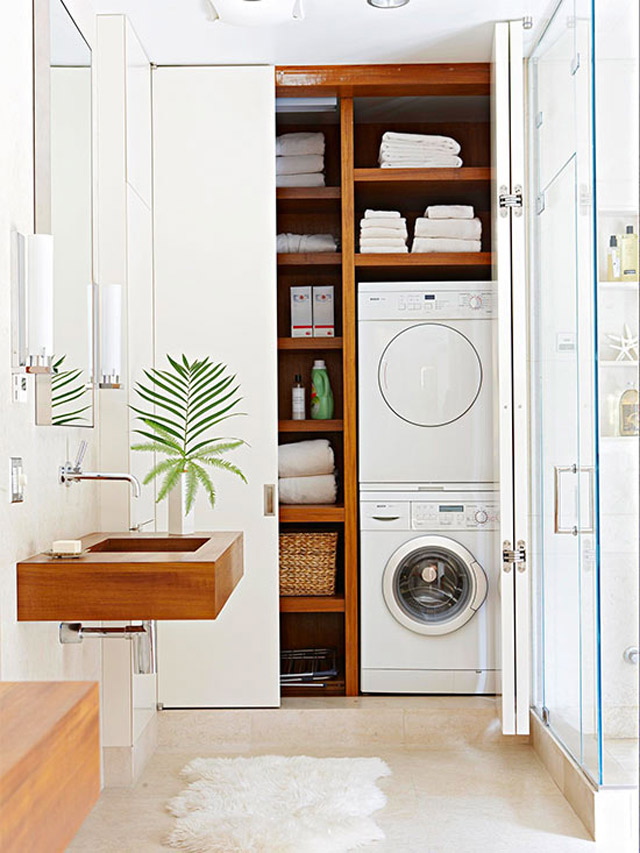 5. Get Creative with Storage – besides adding shelving, you could try a vertical sliding organizer beside the washer and dryer. Or think about adding a palette on the wall or behind a door where you can hang laundry items.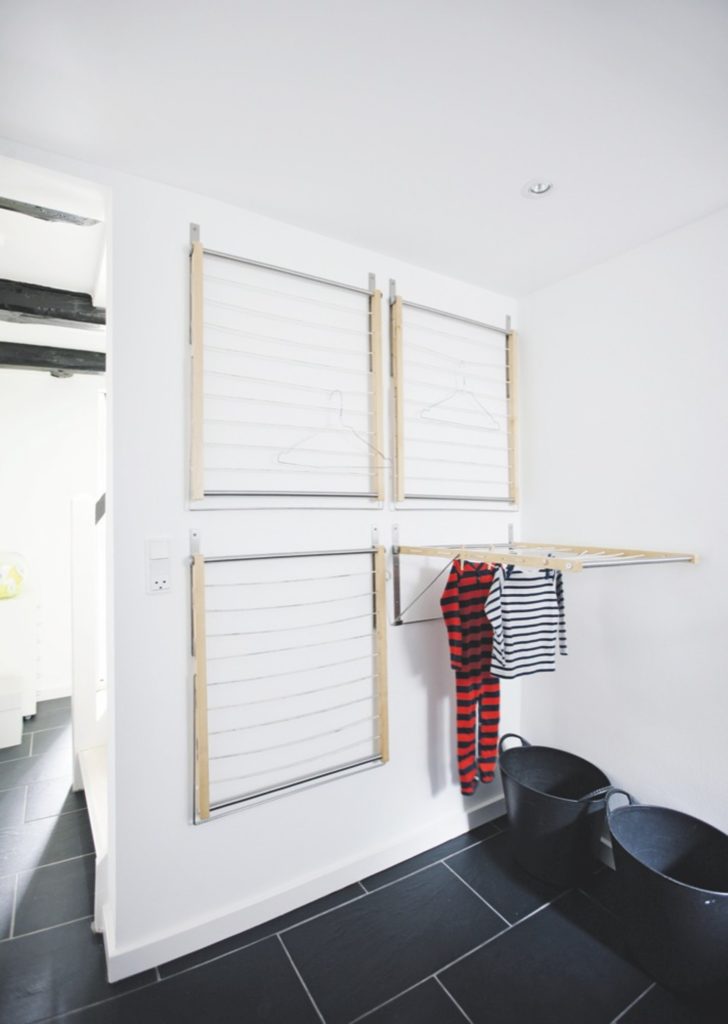 6. Get Organized – laundry spaces can often be a dumping ground for other household items. Just going through and purging, grouping and labeling things can make a big difference. Purchasing a few clear bins and labeling them keeps your organized. If you're like me and hate the visual disorganization of labels and boxes, put things into clear canisters and jars.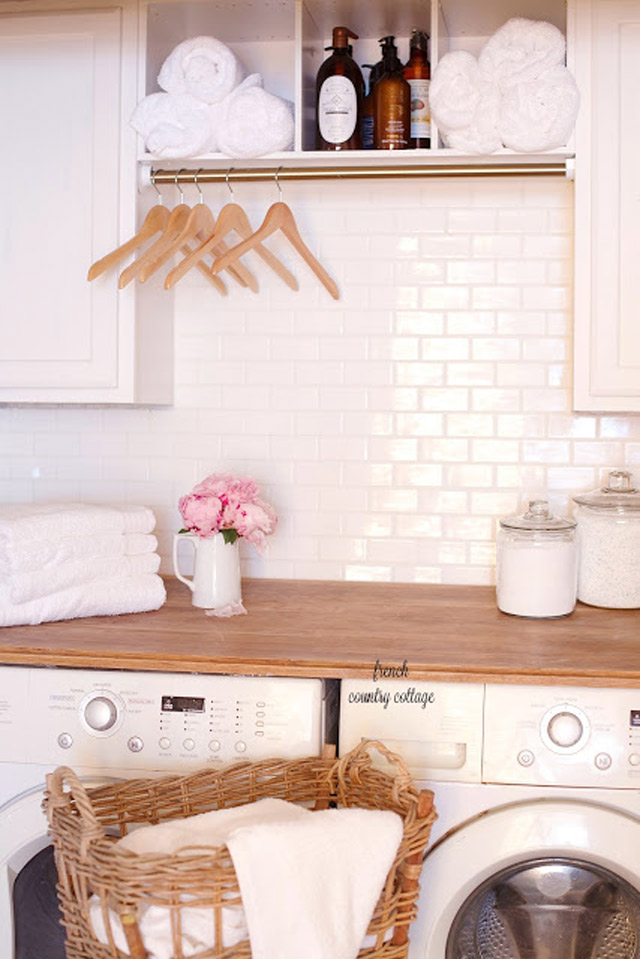 7. All About the Baskets – the best item to use for getting organized is the basket. They can contain all the clutter and always look beautiful and stylish. It's amazing what adding a few hand woven baskets can do o any space – the laundry included!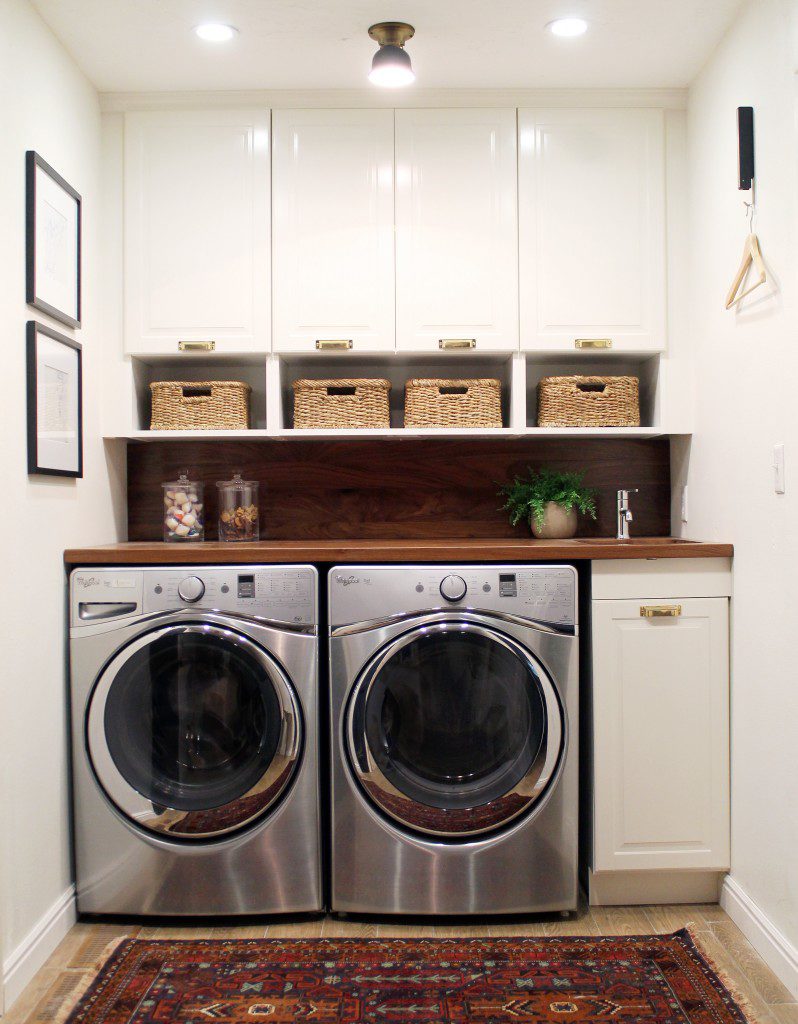 8. Add A Rack Above – try mounting a drying rack on the ceiling if you have no wall space.
9. Find Folding Space – Add a folding table by fitting a cover over your utility sink. The new "countertop" can be mounted on the wall with hinges so it can be lifted away easily. Or if you're in a shared bathroom scenario, maybe the vanity can double as folding space.
10. Look Outside – when your laundry room isn't spacious, having a dedicated spot in each family member's room for a hamper will keep things a touch more organized.