I'm so happy that this day is here and we can finally see all the hard work that went into ALL of these amazing one room challenges. Completing an entire space from top to bottom in 6 weeks is thrilling and a little bit crazy (especially when you're toting a newborn around too), but after seeing the result, I'm sure glad we did it! Plus, it connected me with so many other great home design blogs – it's such a lovely online community. Anyways, I know we are all looking forward to this reveal, so let's hop to it. First off, a little reminder of my bathroom before the challenge: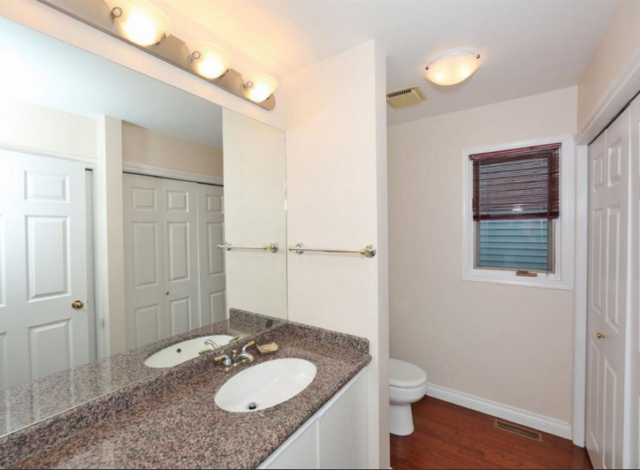 I think we can all agree it was dated and dingy. The vision was to create a more modern and sophisticated space (see the initial design here) and find a way to finally incorporate my favourite cement tile, which did not disappoint.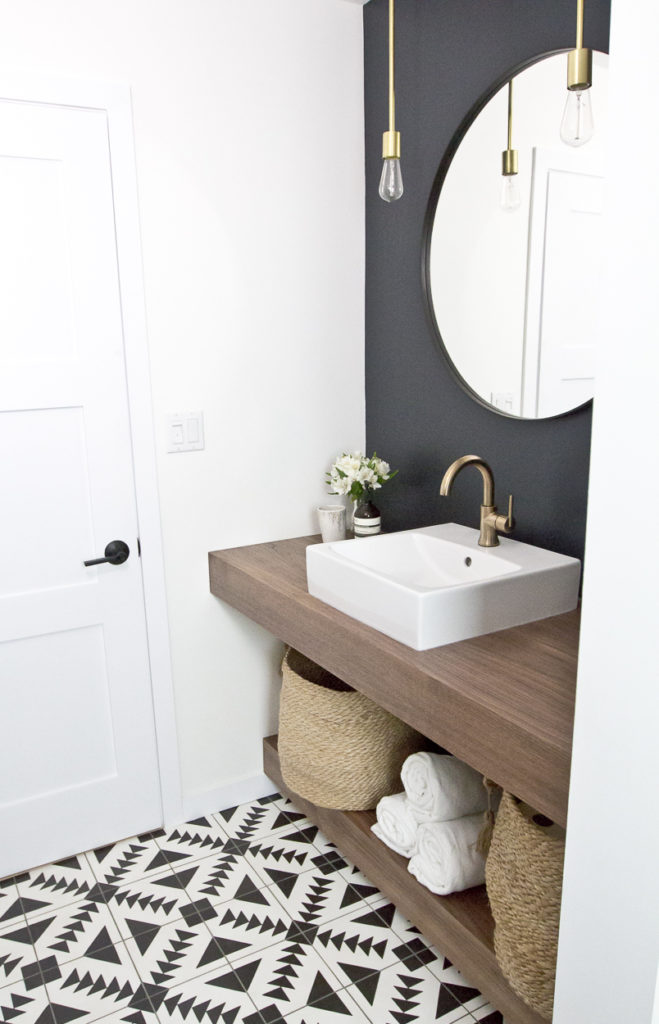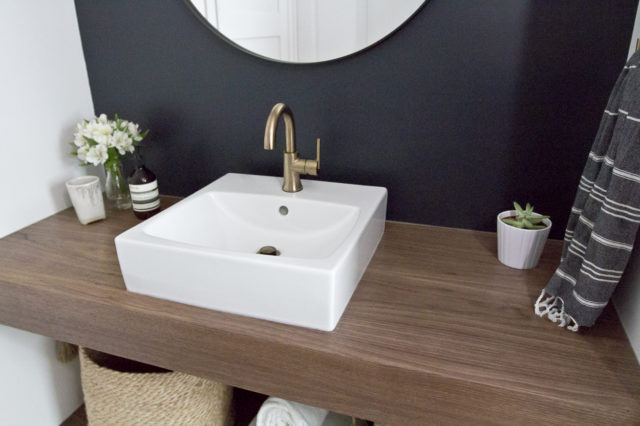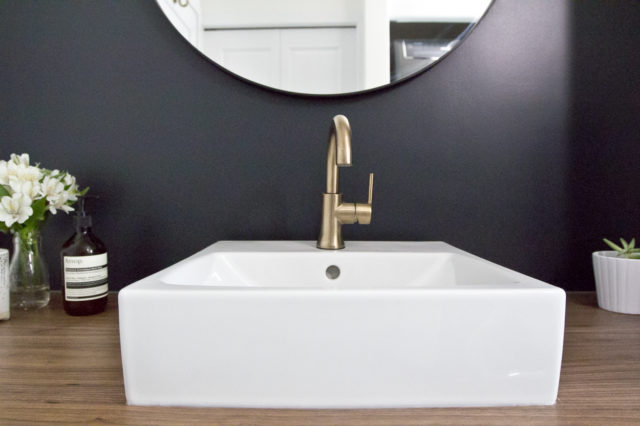 Even though I was initially discouraged when my dresser search fell through, I really do love the new walnut vanity Ryan and I designed together. It makes the space feel more open and the large shelf is perfect for stacking towels and storing huge baskets. I think I have baskets in every room in my house – it's the best way to add some texture without spending too much. I'm keeping all of our extra toilet paper, tissue and paper towel here.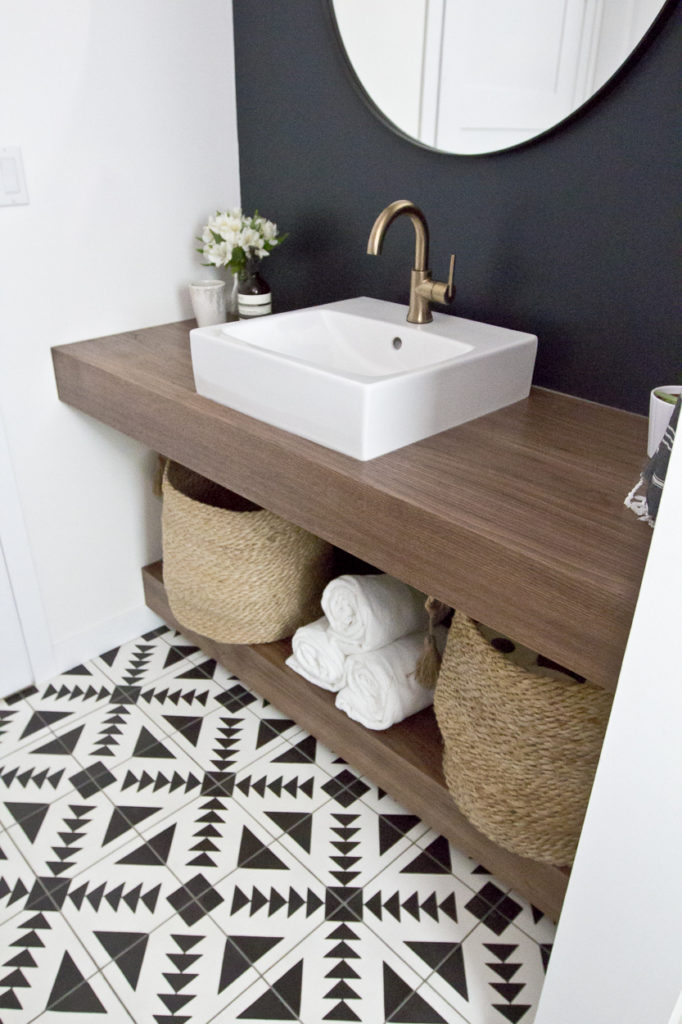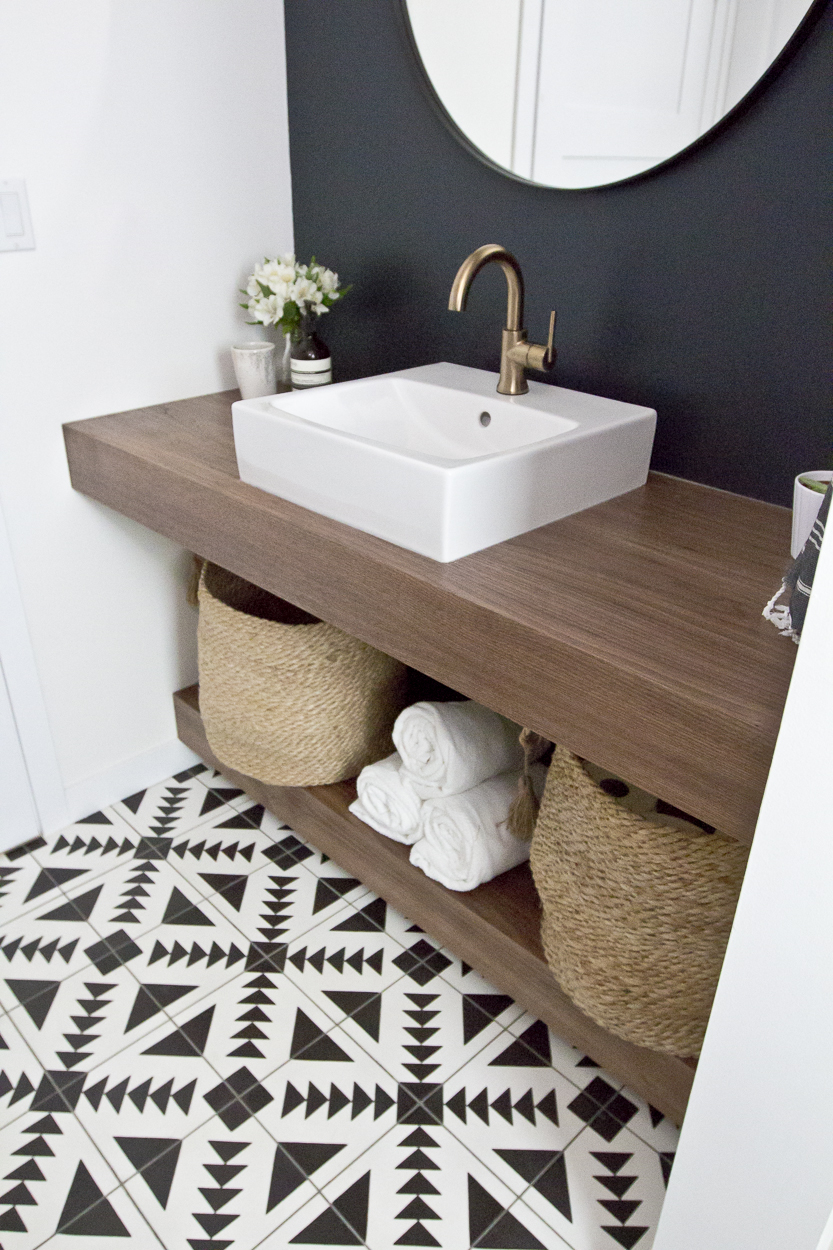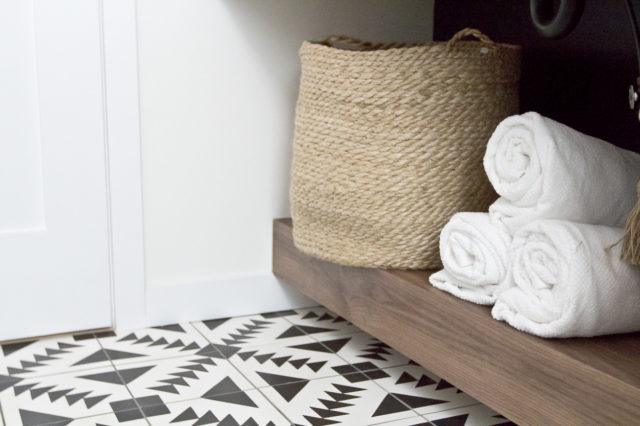 I really wanted some brass details since I love how it pairs with walnut and I thought it would pop next to our black feature wall. So I nabbed some Cedar & Moss pendants and a Champagne Bronze Delta faucet. Even though the finishes are slightly different, they still work mixed together. We also nabbed the matching Delta accessories – I love the clean lines of the towel ring and toilet paper holder. So perfect!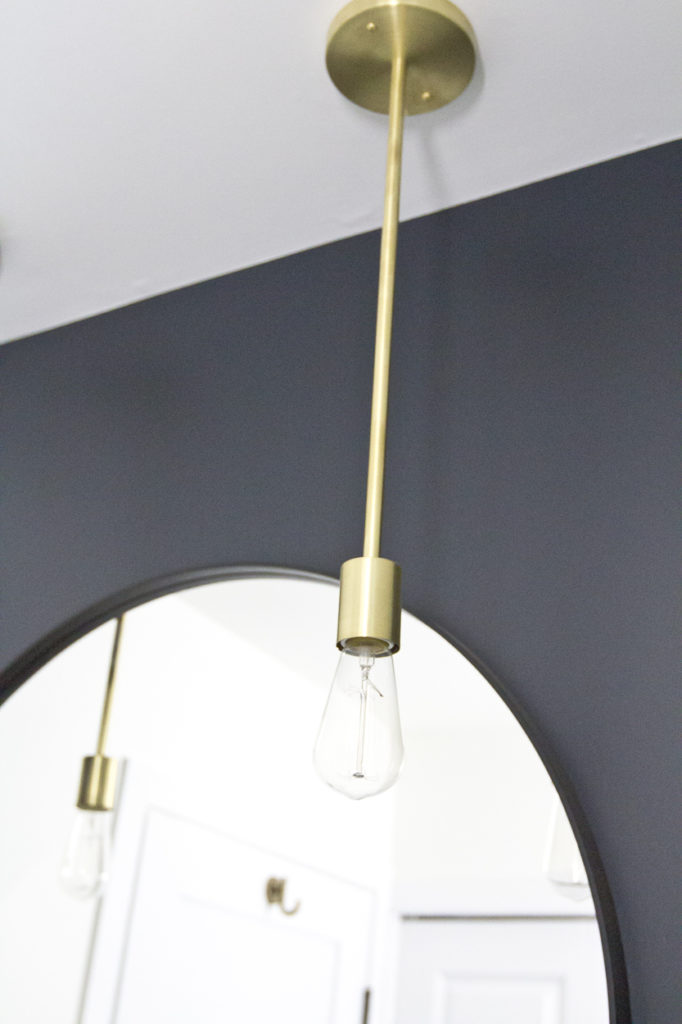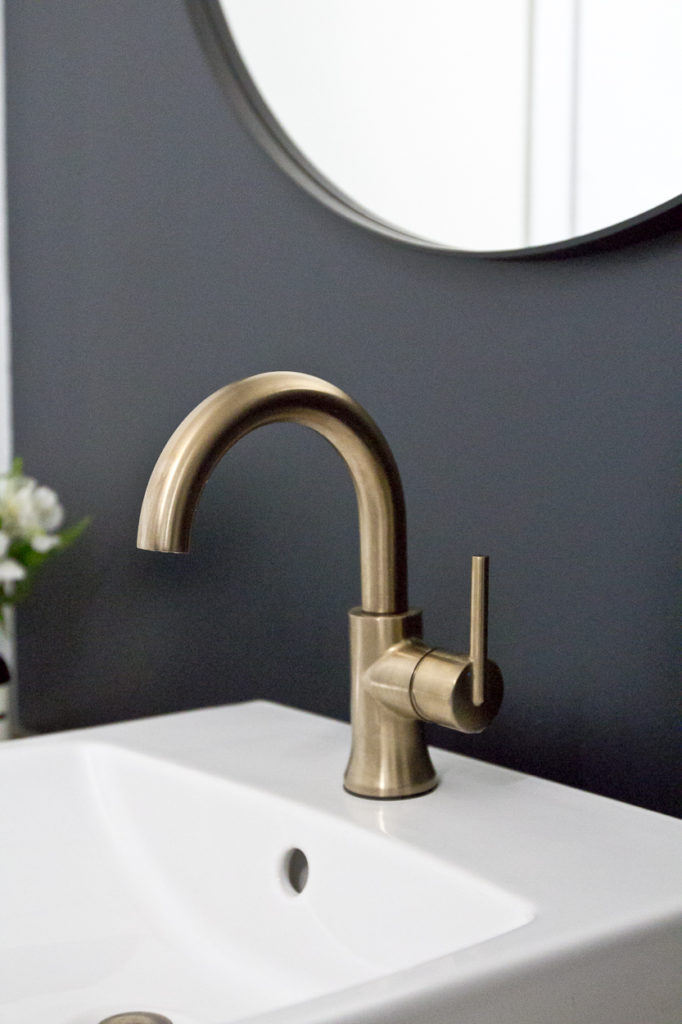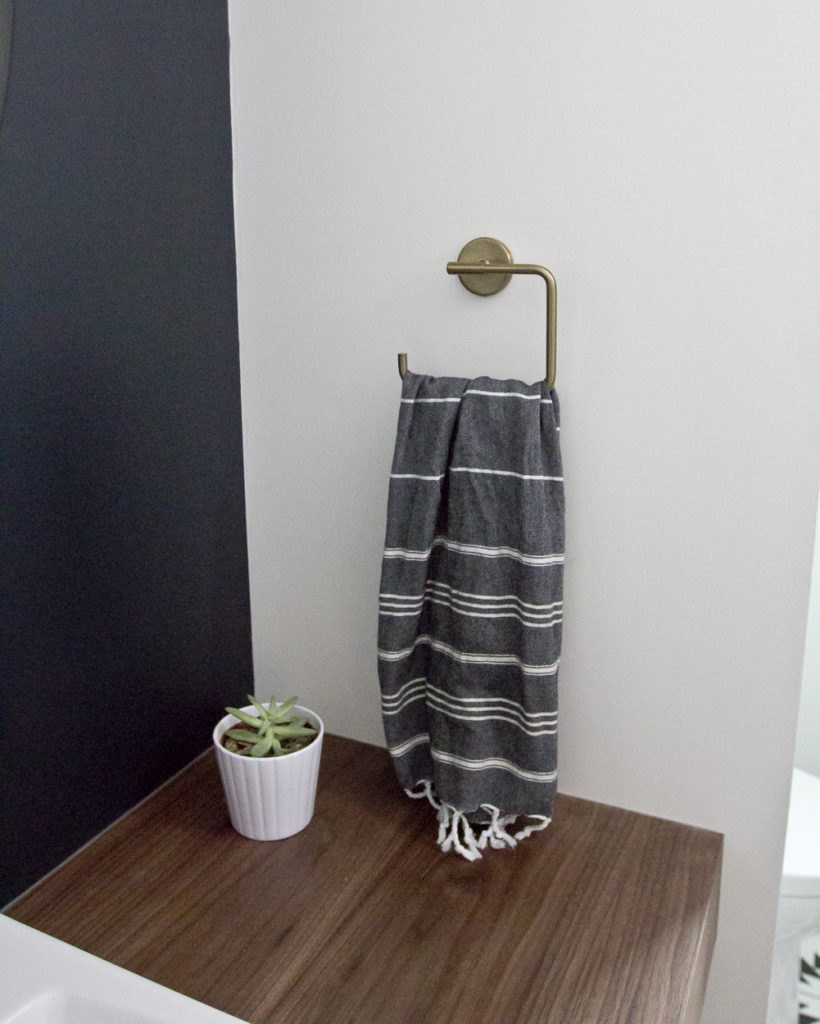 Above the toilet, Ryan hung a small white floating shelf so I could store a few more items here. And, I even managed to give the laundry closet a bit of a cleaning and reorganization! I purged a lot of junk out of this closet and now, it is SO much nicer! I can actually find things!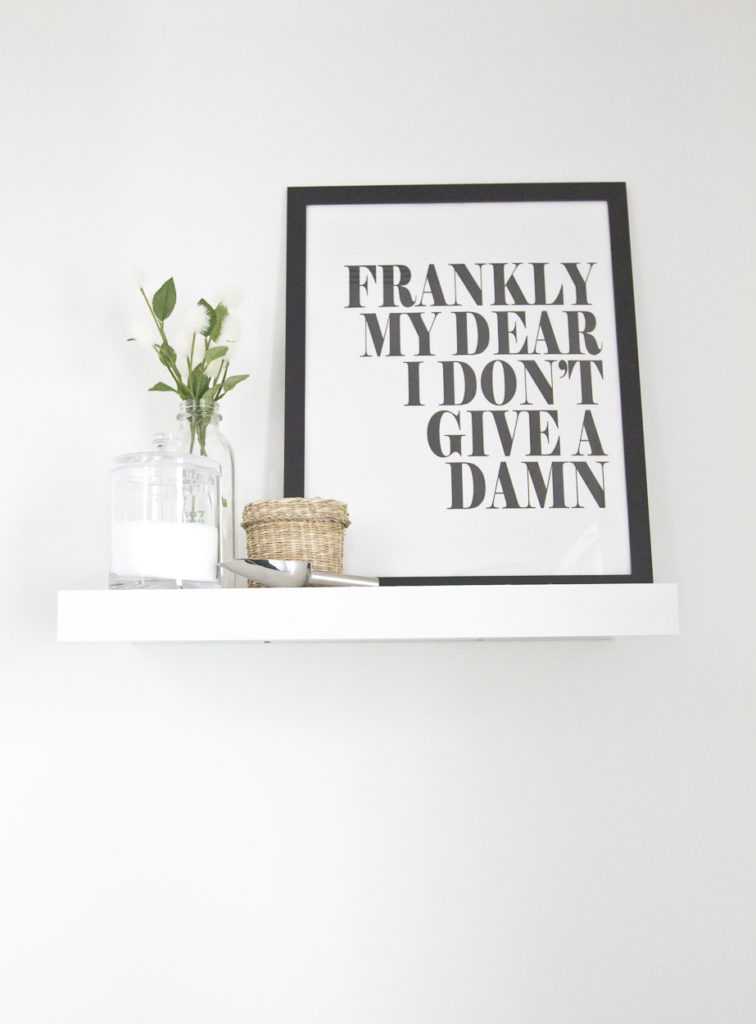 So, what do you think of the finished space? Love the new look as much as I do?! I'm really looking forward to using this bathroom (and laundry room) a lot more now. Plus it's just one more space checked off our Ravine House list!
Thanks for checking out my one room challenge reveal…there are plenty more to look through if you head here! I also completed our kitchen for the fall orc – check it out here!
Sources // Benjamin Moore Soot on feature wall & Simply White on walls // Ikea Mirror & Vessel Sink // Cedar & Moss Pendants // Delta Trinsic Faucet, Toilet Paper Holder, Towel Ring & Robe Hook // Home Sense Towels & Baskets // Crate & Barrel Glass Canister // Aesop Soap // Cement tile in Tulum pattern supplied by our amazing River City tile company