I don't know about you but I'm still making my way through a lot of the best reads of 2016. I haven't even conquered my big 9 reads from the fall! But, that's no reason not to look to the winter months ahead and compile another great list, right?! Here are the 8 winter must reads grabbing my attention: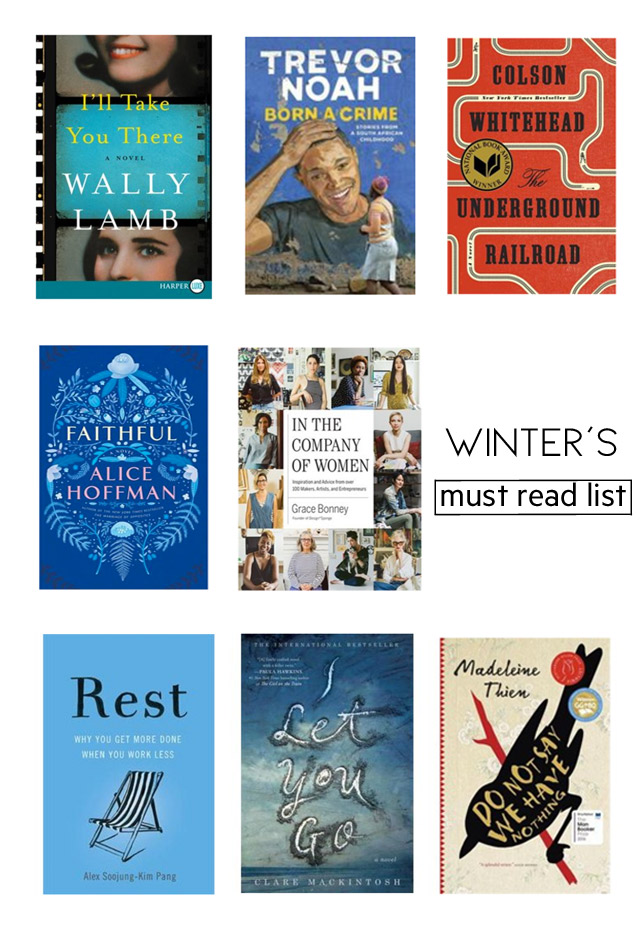 I'll Take You there // This story is about the life of Felix and the trio of unforgettable women who change it. Wally Lamb pays a beautiful homage to women and the power and strength they hold.
Born a Crime // Trevor Noah's unlikely path from apartheid South Africa to the desk of The Daily Show began with a criminal act: his birth. The eighteen personal essays collected here range from the hilarious to the deeply affecting.
The Underground Railroad // A New York Times bestseller, this novel shares the story of a young slave's adventures as she makes her way toward freedom.
Faithful // A beautiful novel about surviving and how we can forgive ourselves after the most difficult tragedies. Also, I love Alice Hoffman.
In the Company of Women // This read profiles over 100 influential and creative women from all ages, races, backgrounds, and industries. Their practical and inspirational advice is perfect for anyone looking to forge their own path.
Rest: Why You Get More Done When You Work Less // To help kick off the new year, Alex Pang, shows how getting more rest can lead to a more successful life. Sign me up!
I Let You Go // The next blockbuster thriller for those who loved The Girl on the Train and Gone Girl…
Do Not Say We Have Nothing // Winner of the 2016 Scotiabank Giller Prize and the Governor General's Literary Award for Fiction, shortlisted for the Man Booker Prize, and longlisted for the 2017 Andrew Carnegie Medal for Excellence in Fiction, this extraordinary novel tells the story of three musicians in China before, during and after the Tiananmen Square protests of 1989.
What books are on your must reads list? I'm currently reading The Best Kind of People and can't put it down!