I'm an excited girl over here! It's peak season for new book releases, and this fall's crop of titles does not disappoint. I know I still need to make room on my nightstand for some pregnancy and parenting books, but I can't ignore these up and coming books! Before you head over to your local bookstore, here is my fall book list with 9 killer picks…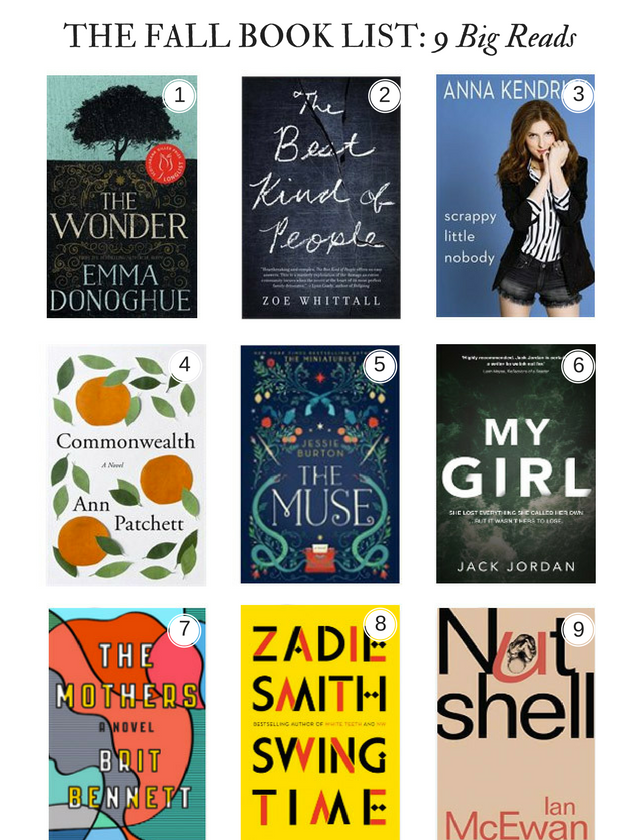 1\\ The Wonder: A Novel
 – Emma Donoghue \\ If you love historical fiction or psychological thrillers, this book (like Donoghue's last novel, Room
, which became an Academy Award-nominated film last year) should definitely make your list. Set in rural, 1850s Ireland, the novel centres around an 11-year-old girl who claims she's been fasting for four months. After an English nurse, trained by Florence Nightingale, is summoned to see whether she's a fraud, the two strangers develop an intense relationship that forever transforms them.
2\\ The Best Kind of People
 – Zoe Whittall \\ A new Heather's Pick, this novel explores issues of loyalty, truth, and the meaning of happiness through the lens of an all-American family on the brink of collapse. It follows George Woodbury, a good-natured teacher and beloved husband and father, who is suddenly arrested for sexual impropriety at the prestigious prep school where he teaches. How can this family defend someone they love while they struggle over the possibility of his guilt?
3\\ Scrappy Little Nobody
 – Anna Kendrick \\ If you follow Anna Kendrick on twitter, then you already love her and understand why a collection of her autobiographical essays has been published. She is charming, so witty and completely one-of-a-kind when it comes to Hollywood starlets. On her first book she states: I'd like to use this opportunity to showcase my ineptitude, pettiness, and the frequency with which I embarrass myself. And while many of my female inspirations who have become authors are incredibly well-educated and accomplished comedy writers, I'm very, very funny on Twitter, according to Buzzfeed and my mom, so I feel like this is a great idea. Love her!
4\\ Commonwealth
 – Ann Patchett \\ This book will be making its way home with me regardless of its content because anything by Ann Patchett is a winner. And I'm not the only one who thinks so – ahem – winner of the PEN/Faulkner Award and the Orange Prize – ahem. But her newest work tells the remarkable story of how an unexpected romantic encounter irrevocably changes two families' lives. Sold!
5\\ The Muse
 – Jessie Burton \\ I finished Burton's The Miniaturist
 in a flash, and really enjoyed it. Her second novel has been almost completely devoured by me as well. The Muse is a captivating story of two young women separated by decades but inextricably linked together. Set in 1960's London and 1930's Spain, a mysterious painting is at the centre of it all, and it's Odelle Bastien's job to piece together the fragments. See a whole review on this one from me soon…
6\\ My Girl
 – Jack Jordan \\ With the highly anticipated release of the movie version of Girl on the Train, the book itself is still making a lot of people's must read lists. For those who have already read it and are looking for another thriller, then this one is sure to please. Paige is at the receiving end of the remnants left behind from the brutal murder of her young daughter, Chloe, and the recent suicide of her husband, Ryan. But after finding a gun in her husband's affairs, she is desperate to unearth his hidden secrets. Sounds chilling already, right?!
7\\ The Mothers: A Novel
 – Brit Bennett \\ Brit Bennett's first novel is easily one of the most anticipated books of the year. The Mothers takes place in small-town, contemporary California, where a 17-year-old girl's accidental pregnancy following a romance with the local pastor's son sets the scene for a beautifully written, powerful coming-of-age story.
8\\ Swing Time
 – Zadie Smith \\ In this book, music is a central theme. As Smith describes it, it's "a story about friendship and music and stubborn roots." The novel covers 25 years in the lives of two young black girls, as they grow up as aspiring dancers in London and later end up leading opposite lives in New York and West Africa. Their friendship ultimately breaks apart but affects them forever.
9\\ Nutshell
 – Ian McEwan \\ Described as a modern Hamlet, McEwan's newest novel is told from the viewpoint of a baby in the womb (!). So right away, my spidey senses are tingling. It is a classic tale of murder and deceit, where the infidelity between 'Trudy' and her brother-in-law, 'Claude', is observed not by a teenage prince but by a nine-month-old foetus two weeks away from his due date.
PS – On that Shakespeare note, my radar is also pointed towards Margaret Atwood's Hag-Seed: The Tempest Retold
, a re-visiting of Shakespeare's play, The Tempest, which will be the fourth novel in the Hogarth Shakespeare series. So cool!
Have any thoughts?! Reads that are making your fall book list?! I'd love to hear!! Also, check out my summer must reads too if you're curious XO