Stop me if you've heard this before, but I LOVE CHRISTMAS!! And I particularly love decorating for Christmas!! Especially now that I have a little helper in the house 😉 I crank the holiday tunes, dance around as I bust out the bins that have been packed away all year. My husband mainly rolls his eyes and lets me go to town, but I know he secretly loves it.
This year, I am really excited to take you on a tour of our home and show you all the snippets of holiday goodness. If you remember from my modern decor inspiration post and my love of the Scandinavian style (my heritage after all!), then you know to except a more minimal take on holiday decorating. And that's exactly what I've done. I decided to keep it simple, but spread the Christmas cheer throughout our entire home. Check out my modern & minimal holiday decor…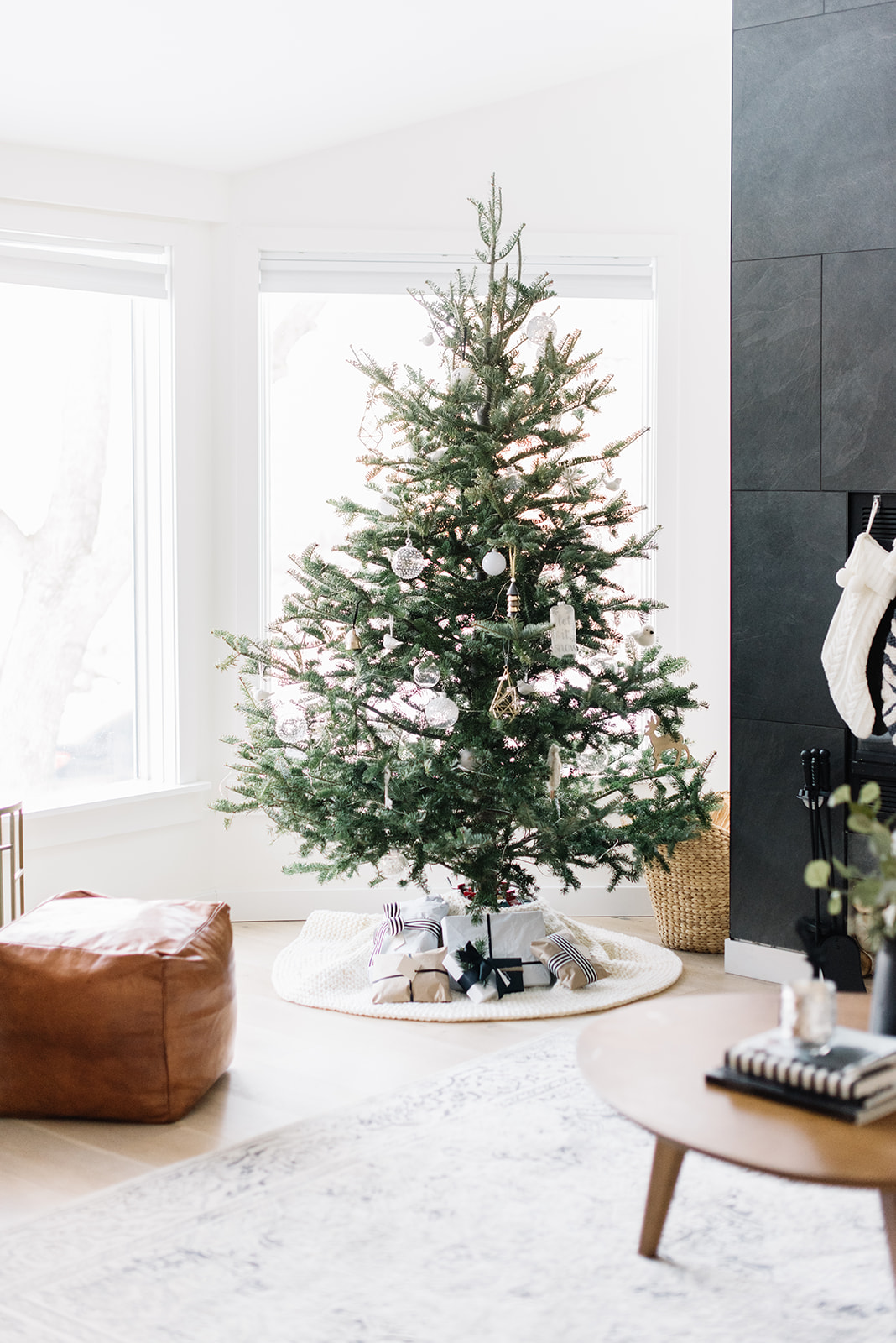 In the living room, I moved around some furniture to make way for the tree. Ryan and I always opt for the real thing, though the needles on the floor are more problematic when you have a toddler poking around. Most years I keep it pretty plain with no garland and small string lights. Then I add a few new ornaments each year.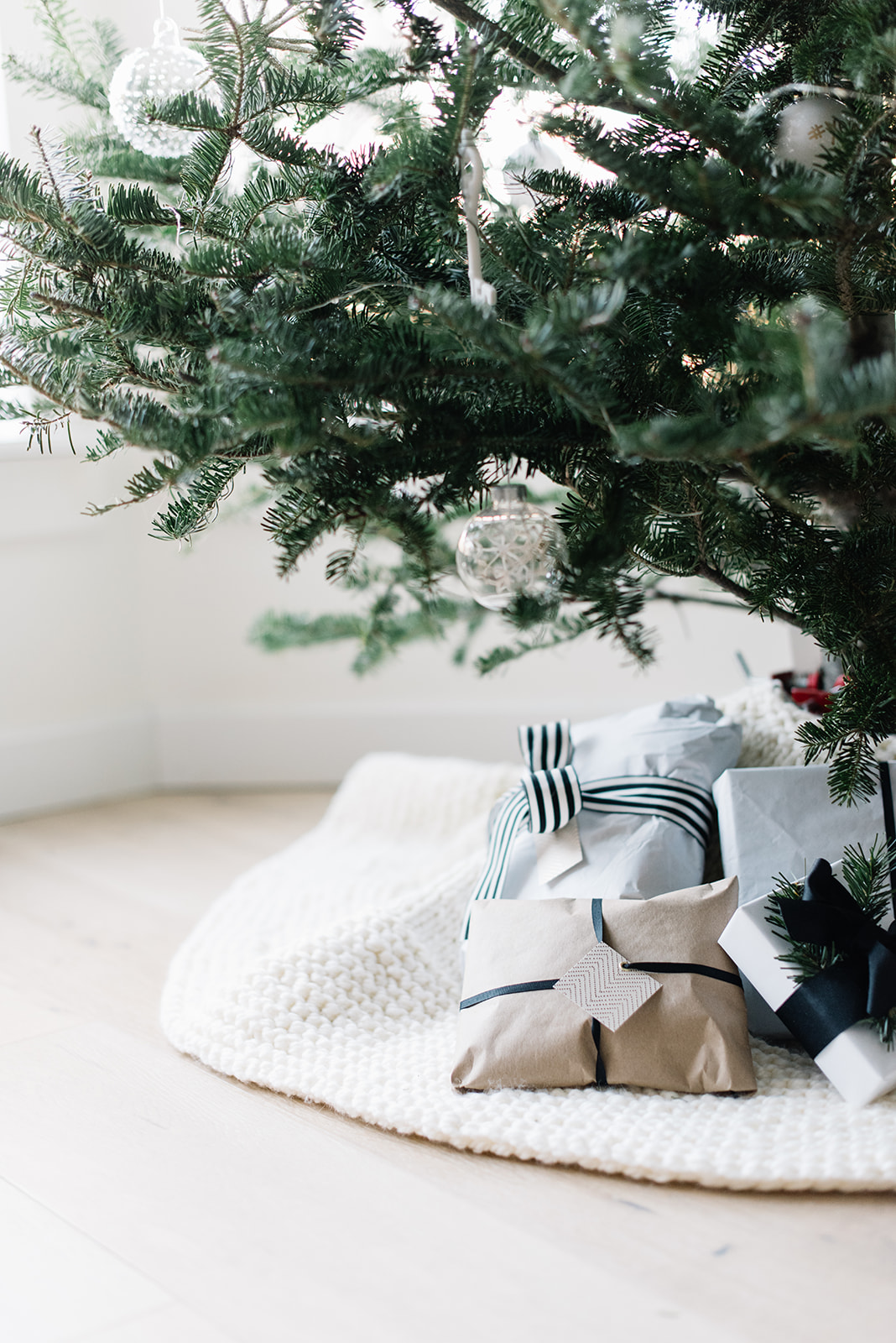 My mom knit the most beautiful tree skirt, after I told her how much I loved the ones at Crate & Barrell but didn't want to spend too much. Now, she just needs to start on a matching blanket right?! 😉 We also got some new stockings last year, so we could include our sweet boy. I still love them!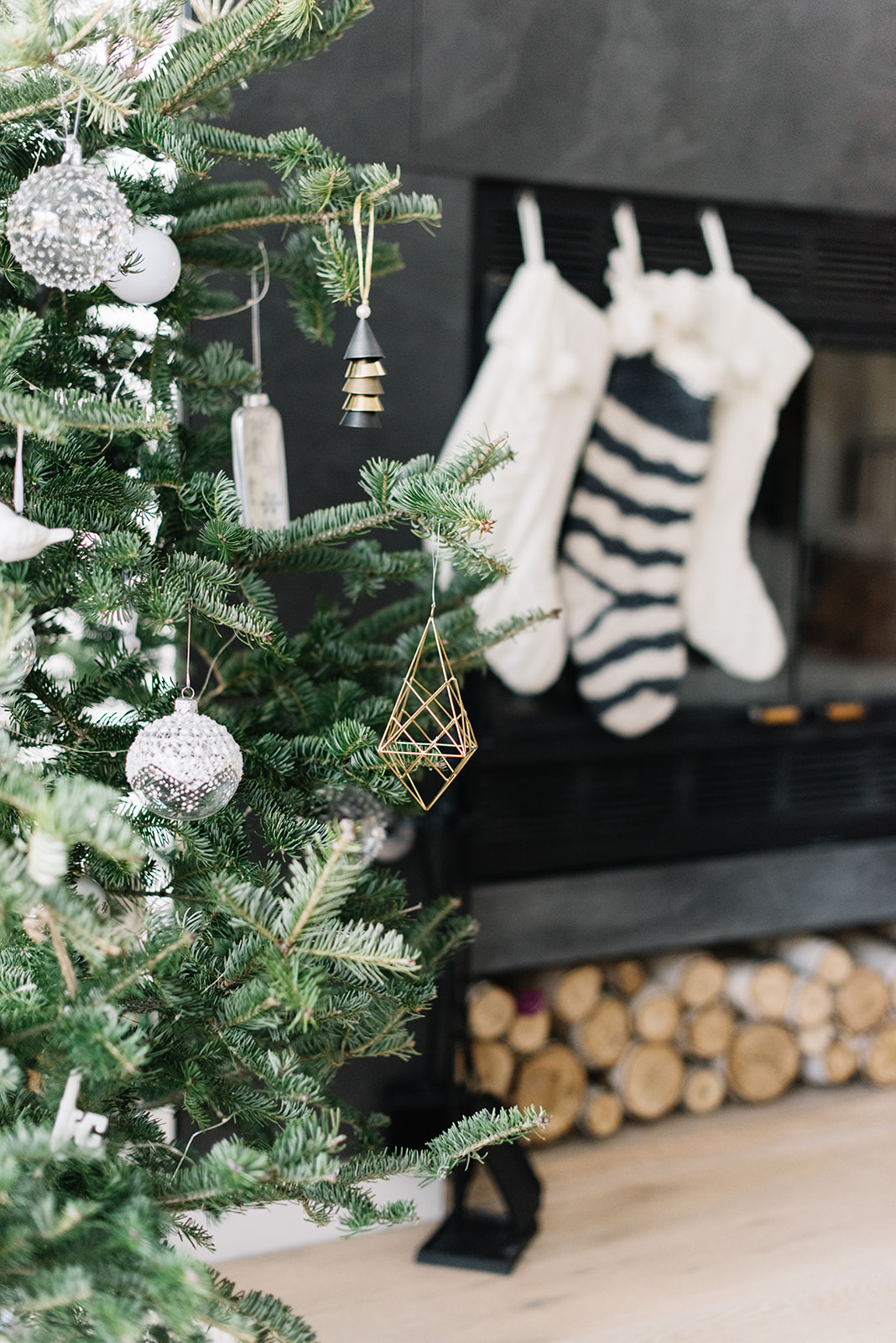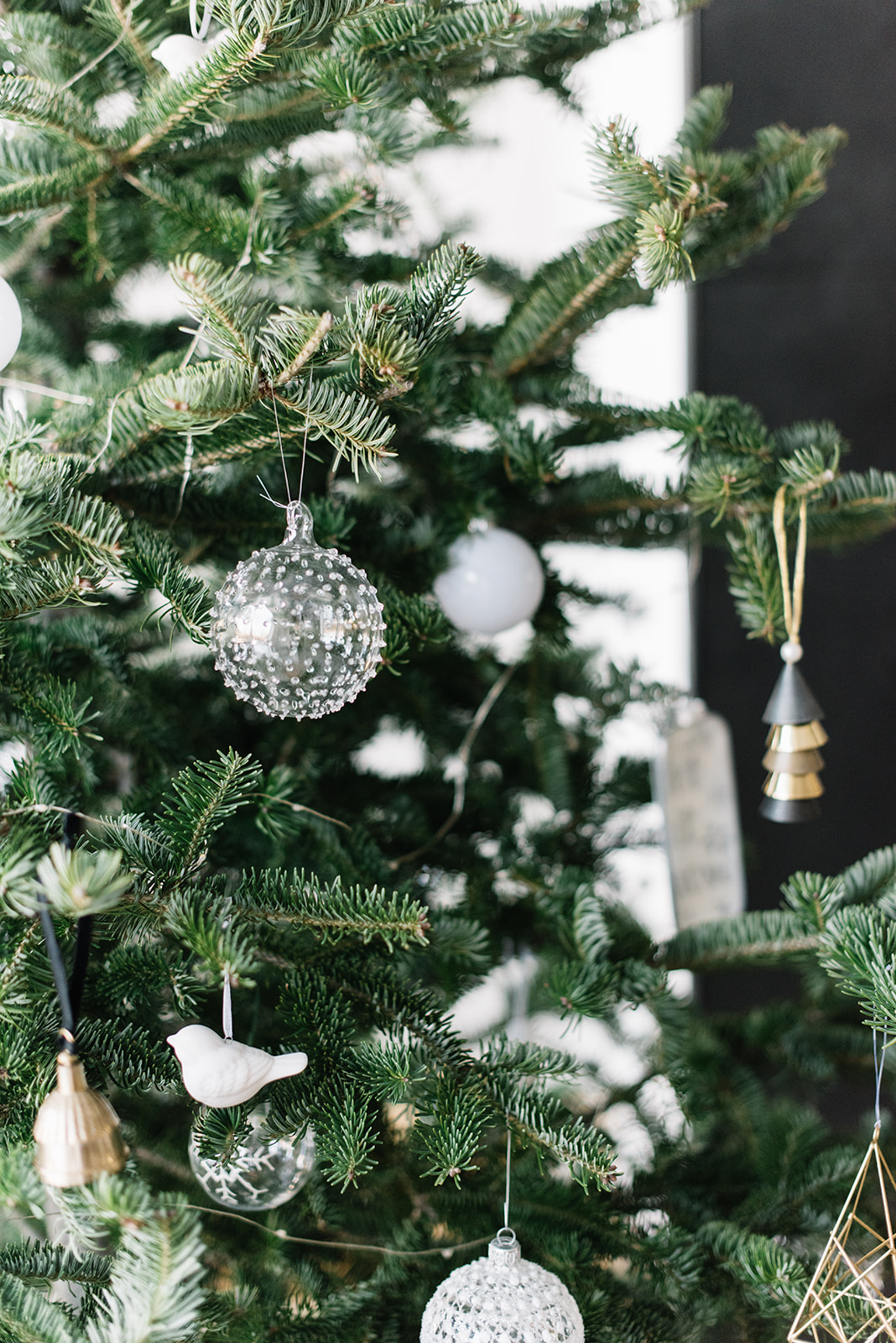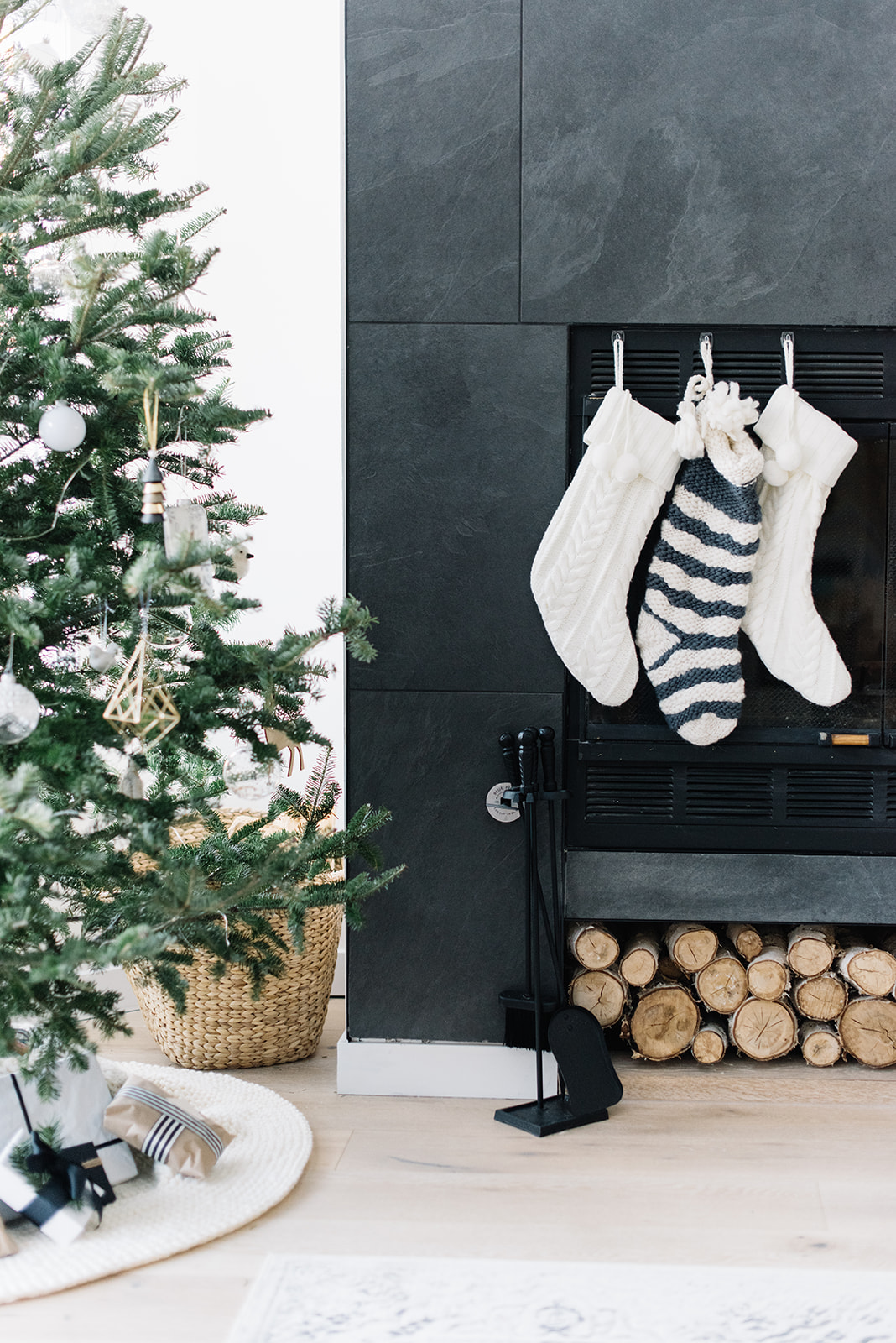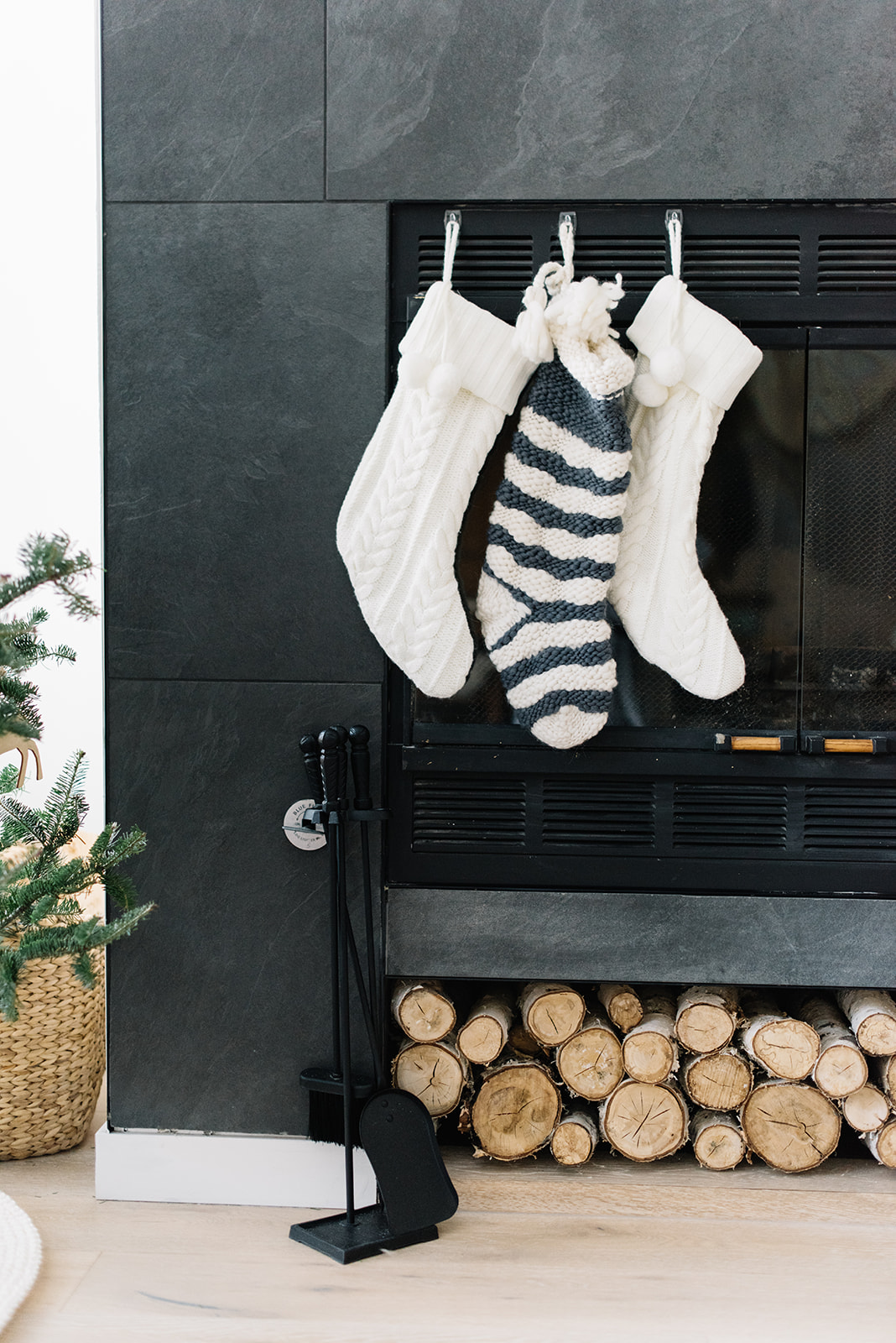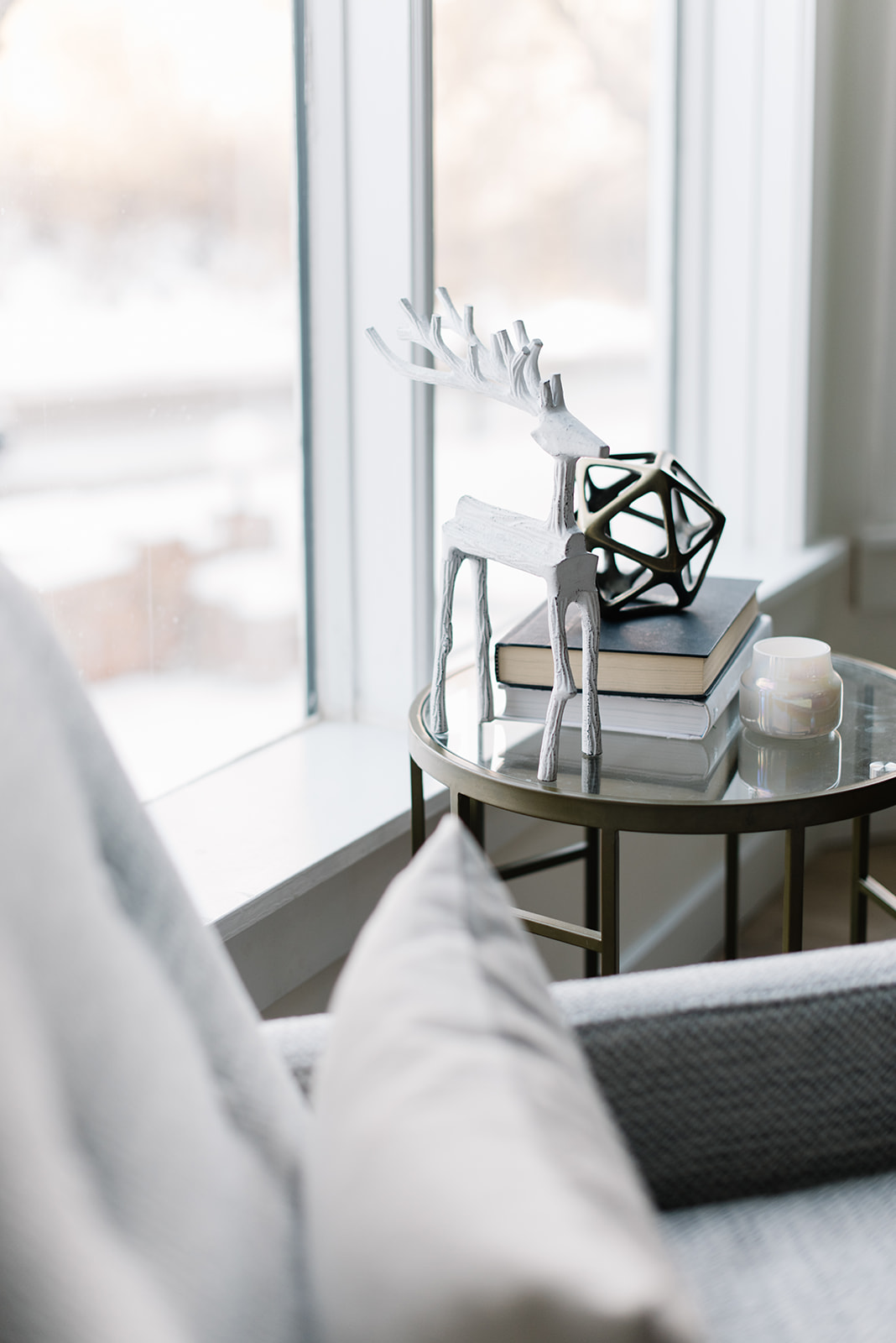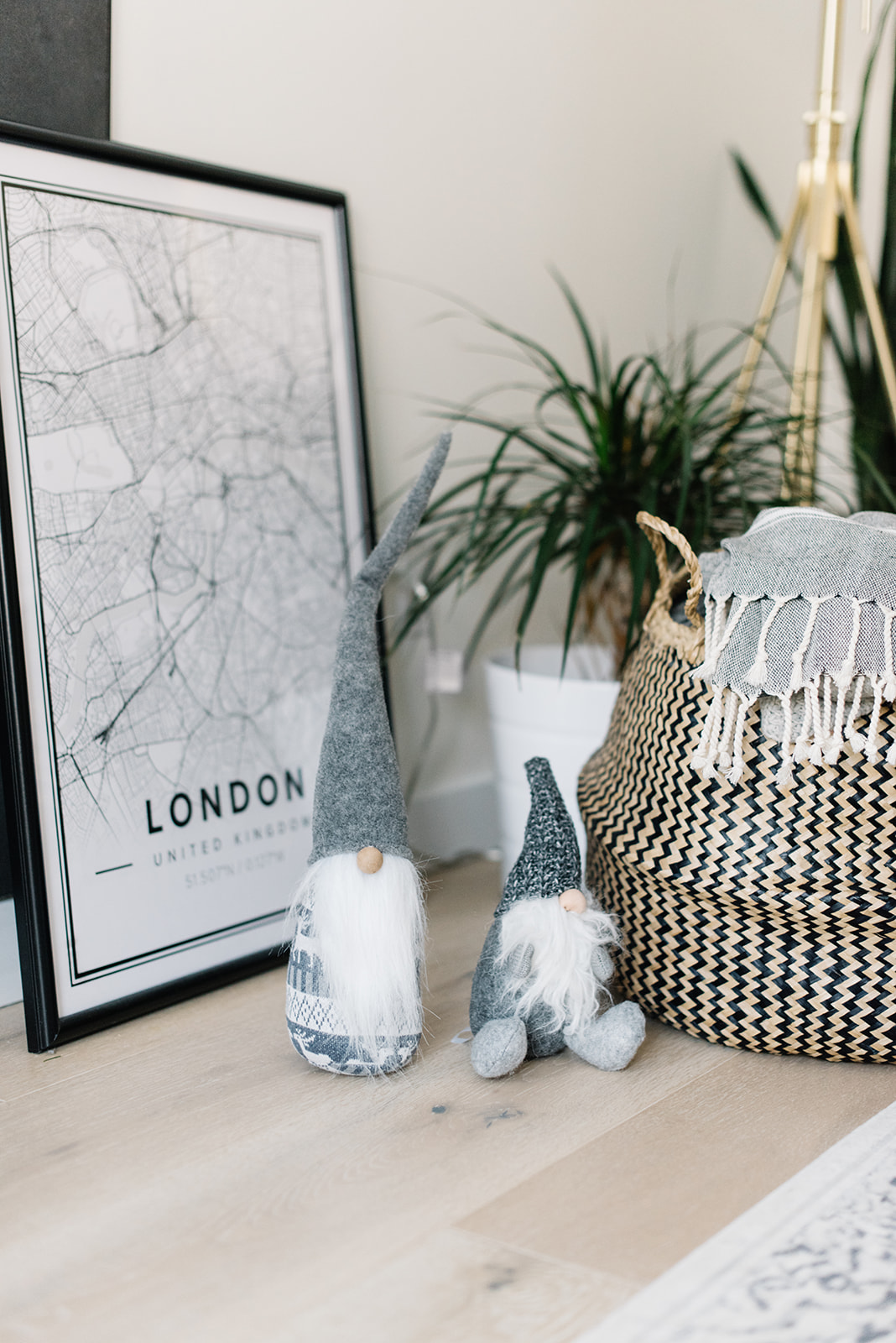 Though I don't have a lot of extra decor, I do have to pay homage to my Nordic routes with some punches of black and a couple gnomes – though these ones are much cuter than the ones that used to grace my Great Aunt's bookcases. They honestly scared me when I was a kid lol.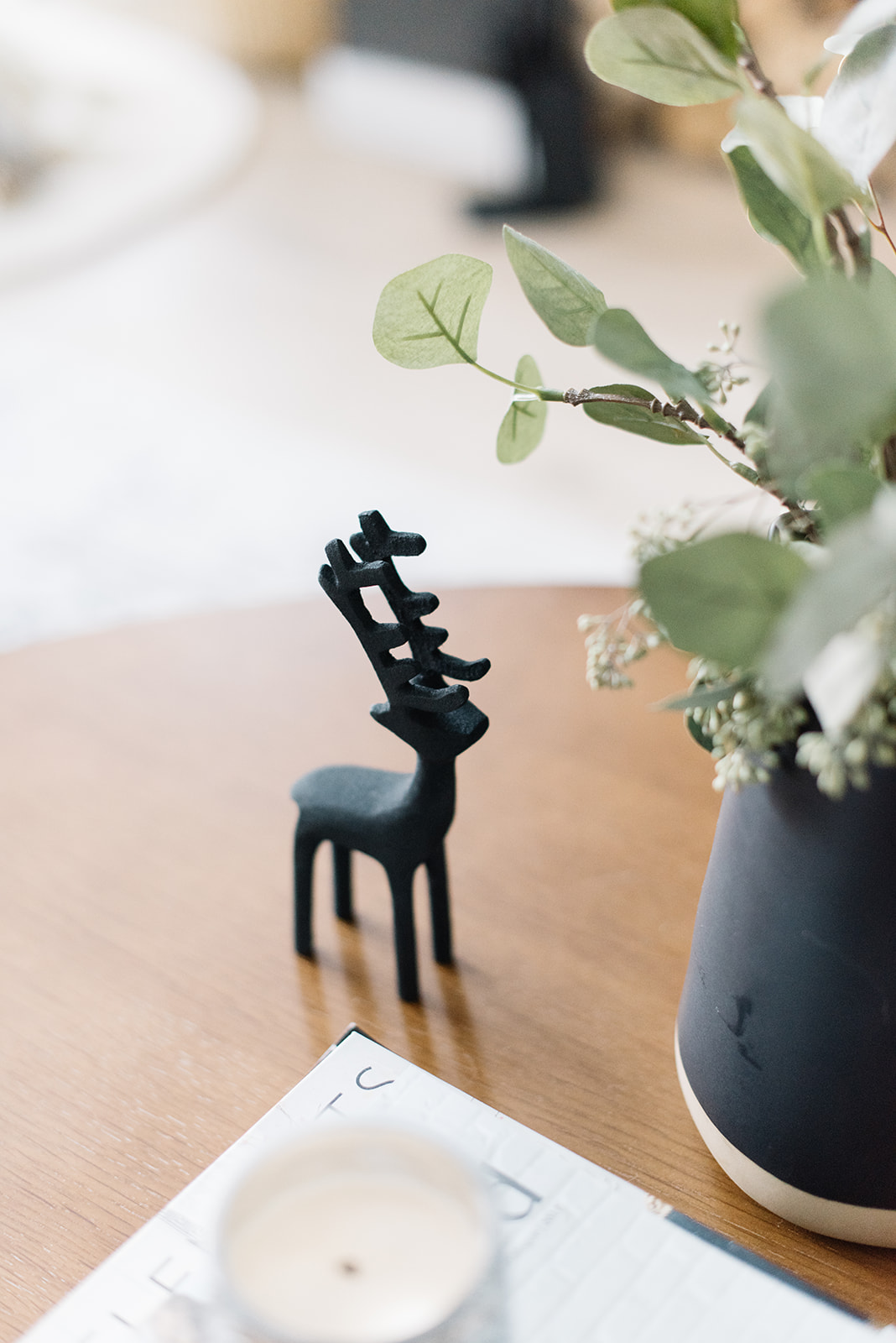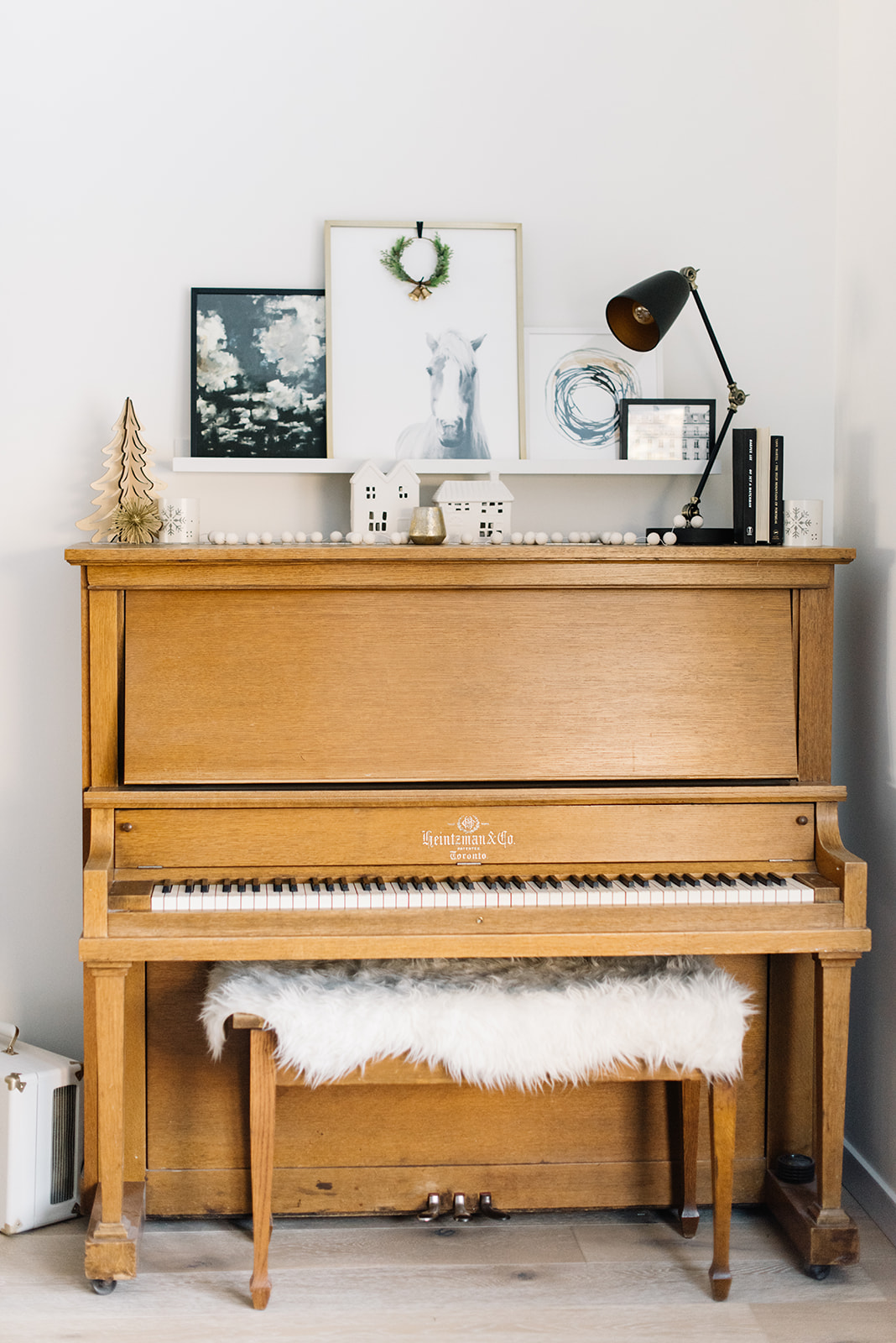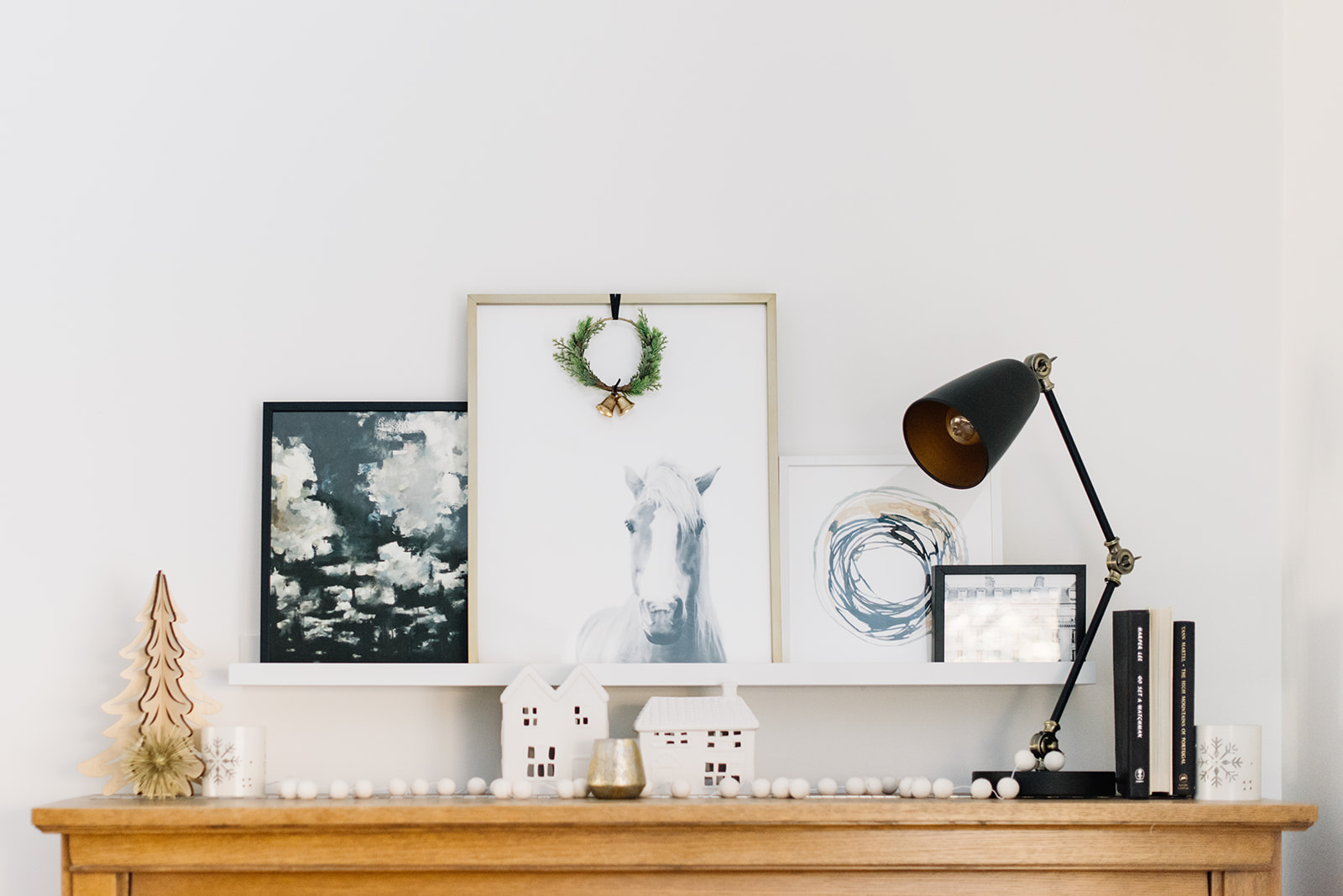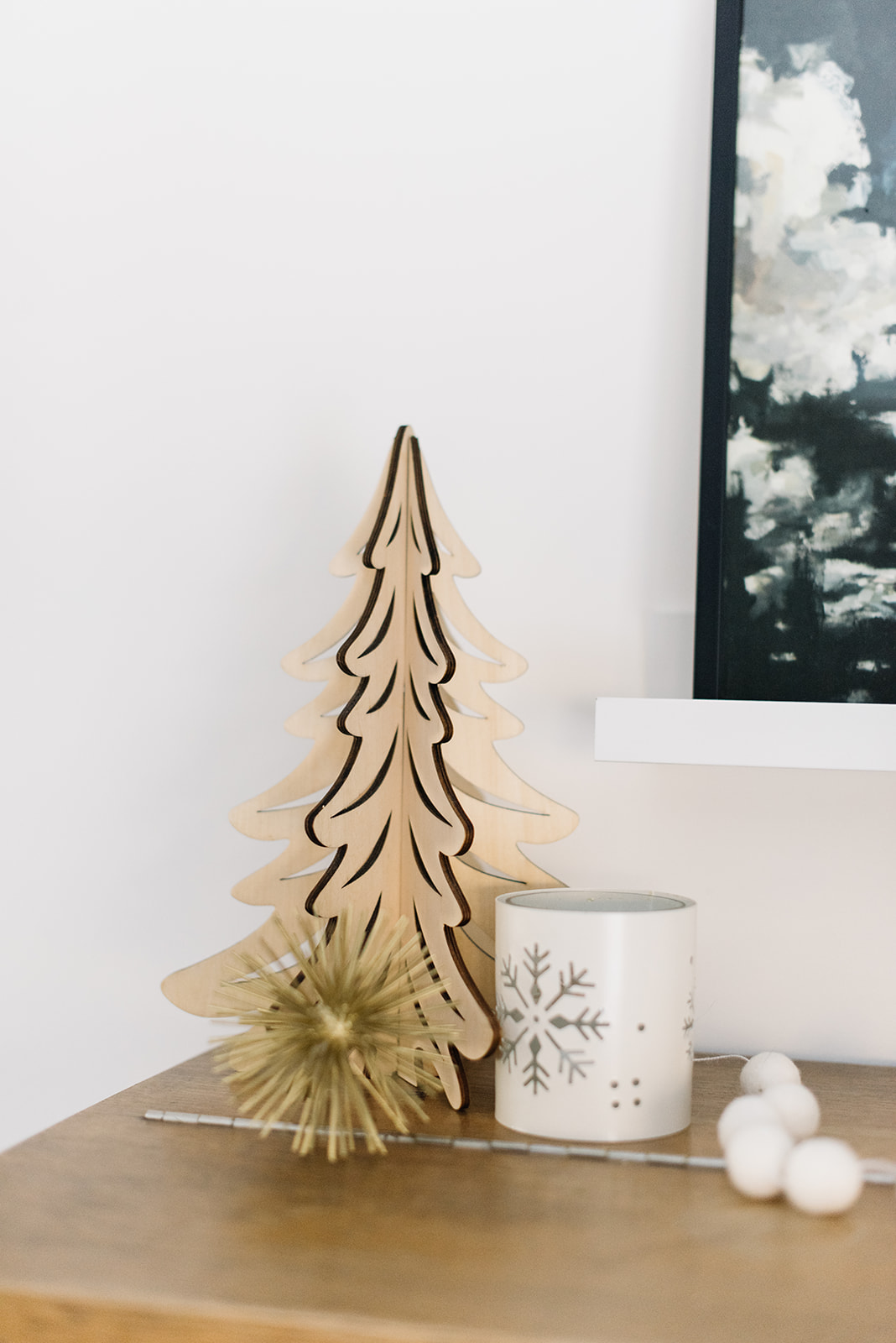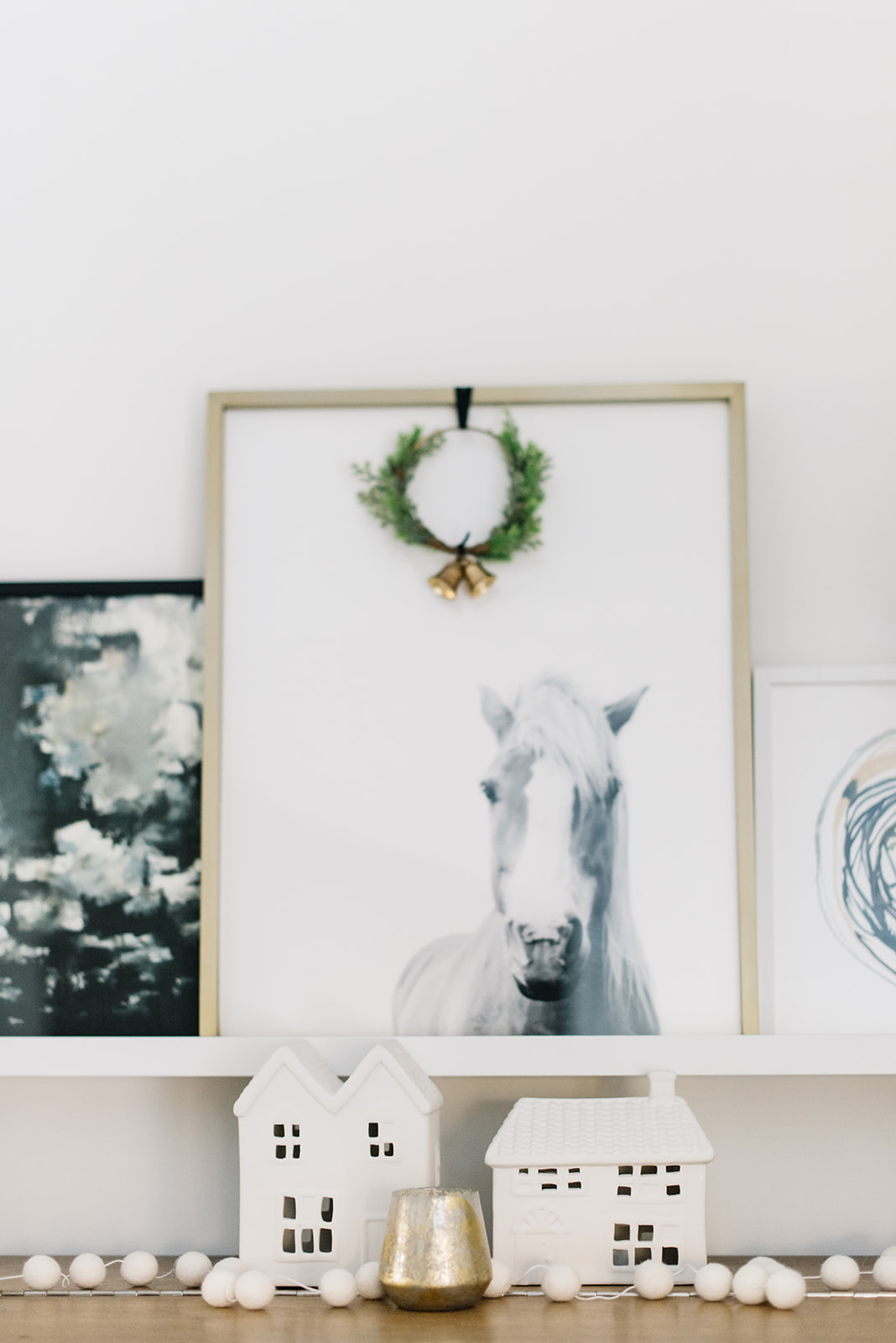 On the piano, I added a small snow inspired scene with a wood tree, white houses and a felt garland. (FYI – faux tea lights are worth picking up so avoid black soot on the inside!). And, on our railings, I jazzed up some faux garland with real sprigs of spruce and eucalyptus. It smells amazing!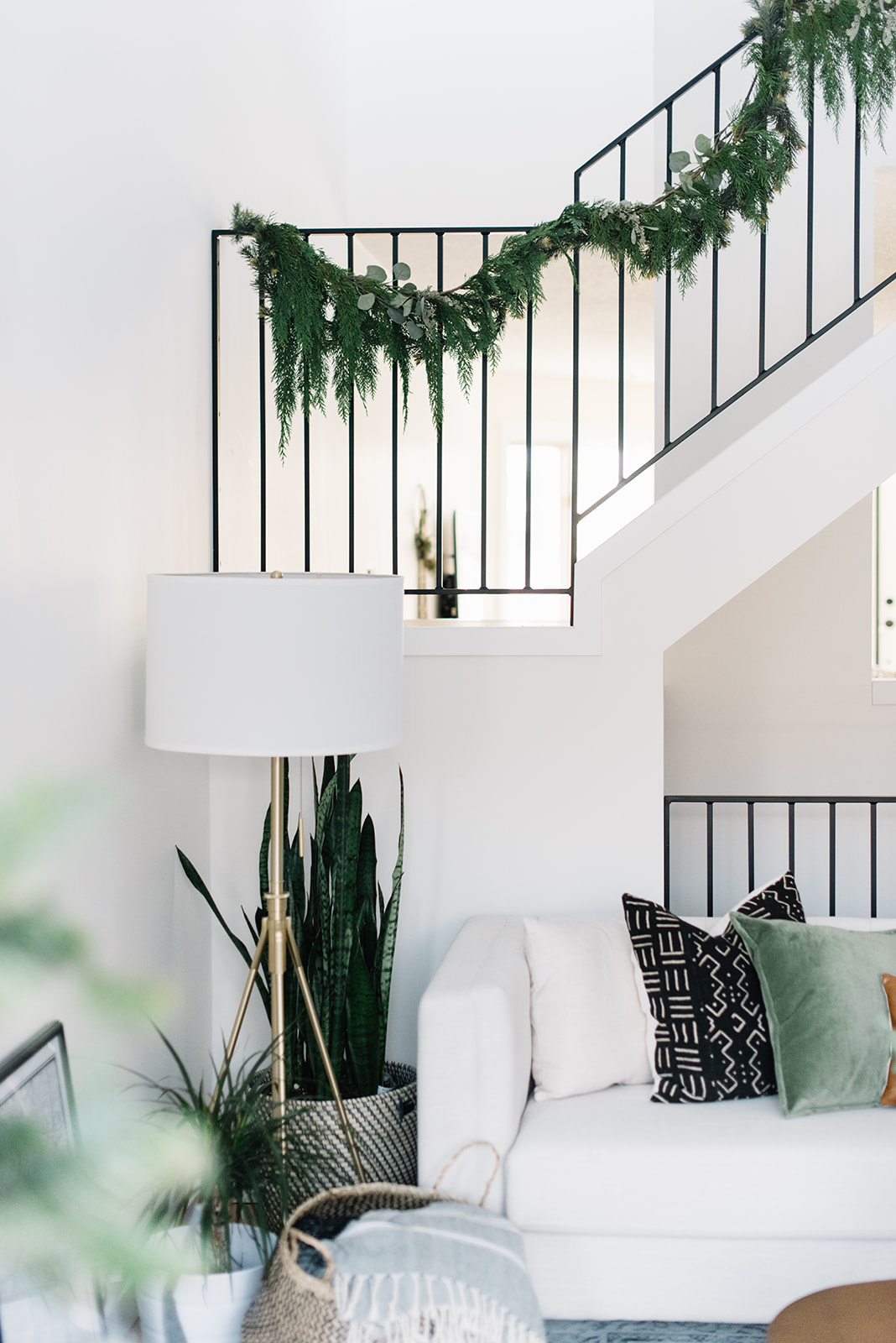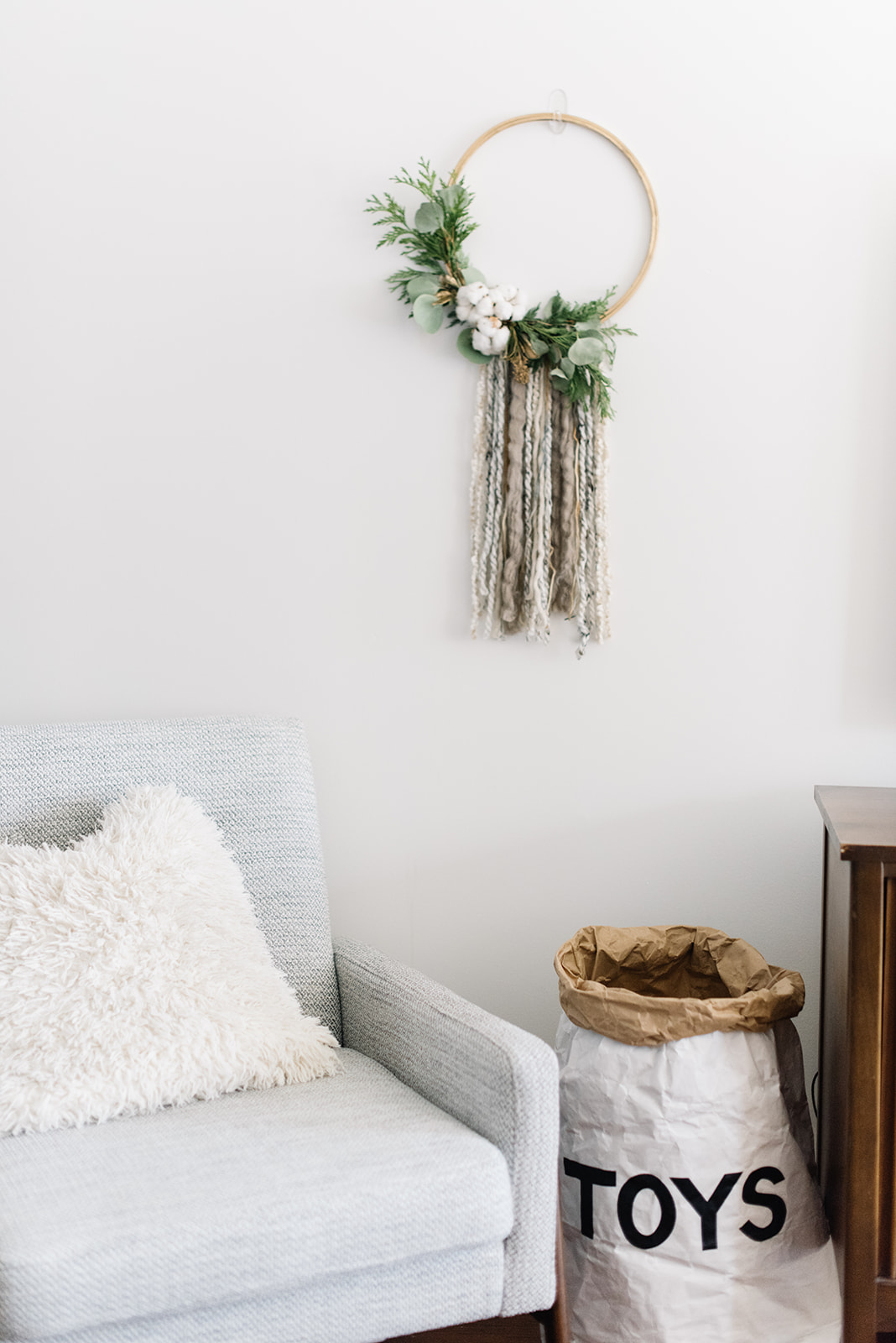 Another addition to my holiday decor this year? My DIY'd Scandi wreath that I did with a few friends at a workshop last year and it held up so well! Though I'm not the biggest DIYer, I absolutely love it and plan to leave it up even after the New Year.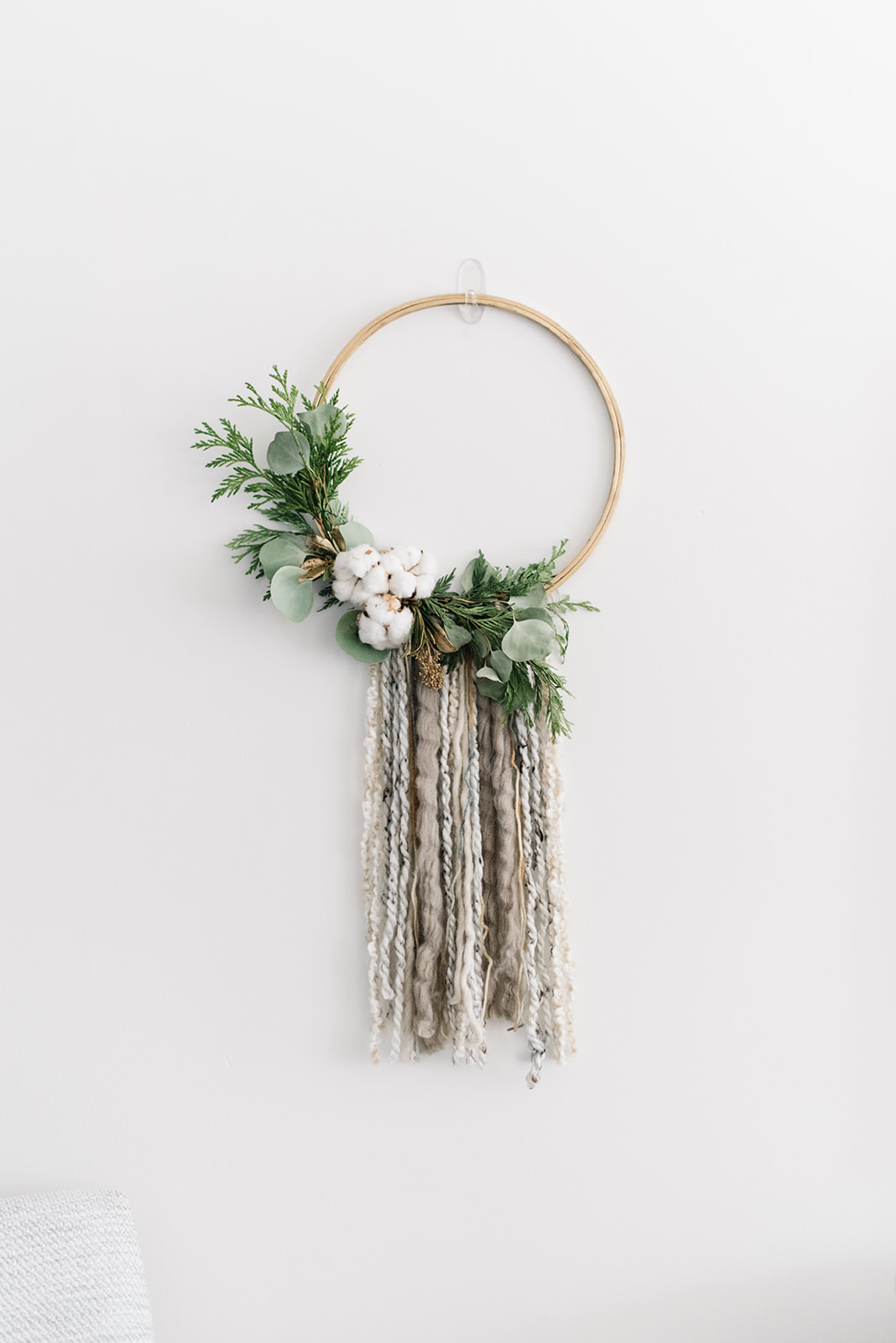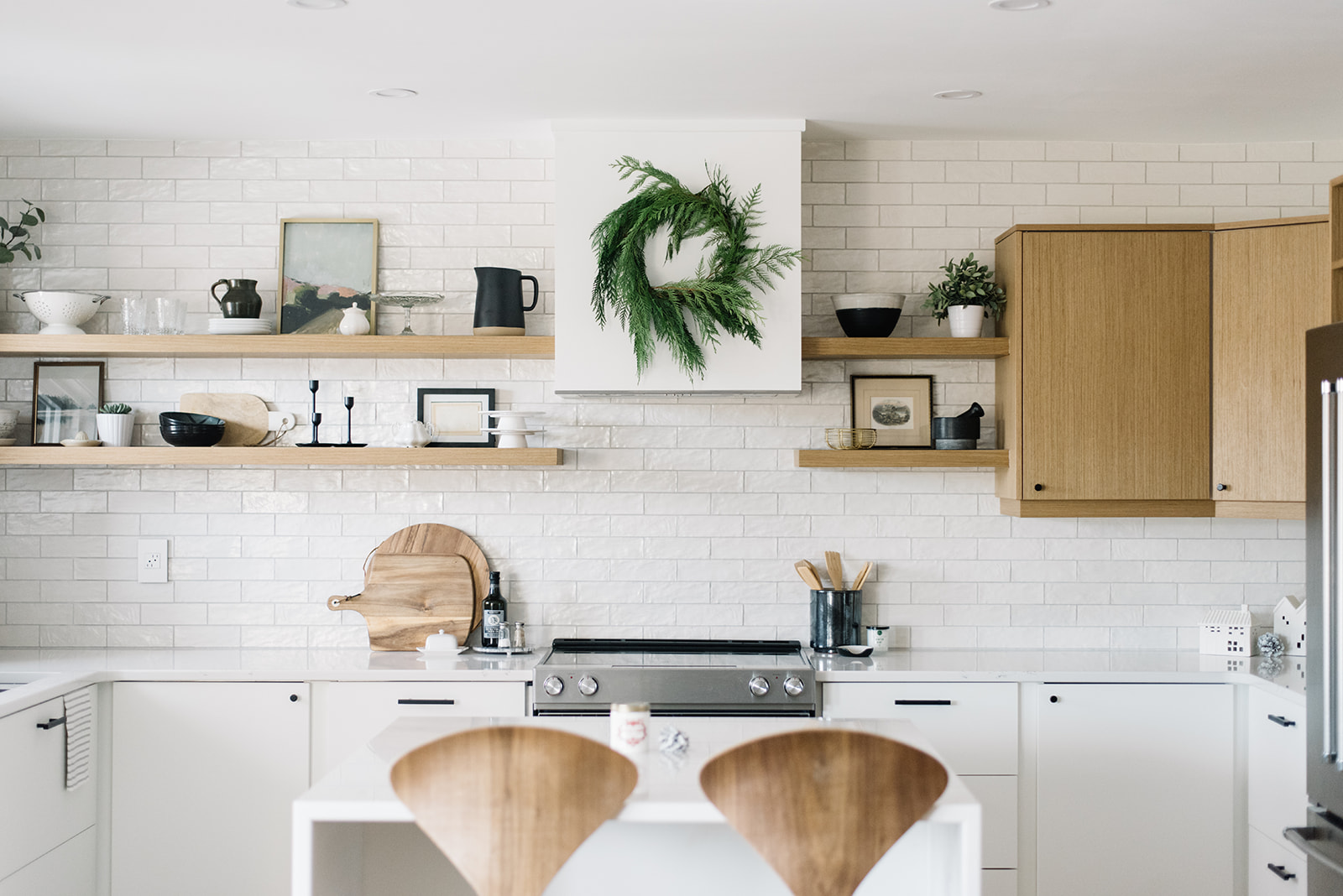 In our kitchen, I kept things super simple. I grabbed two cedar sprigs and looped them around a wooden hoop to make a quick wreath for above the stove. It's really messy and imperfect, which may not last, but for now, it'll do! A few more white ceramic houses and a couple of Christmasy scented candles round out the kitchen holiday decor.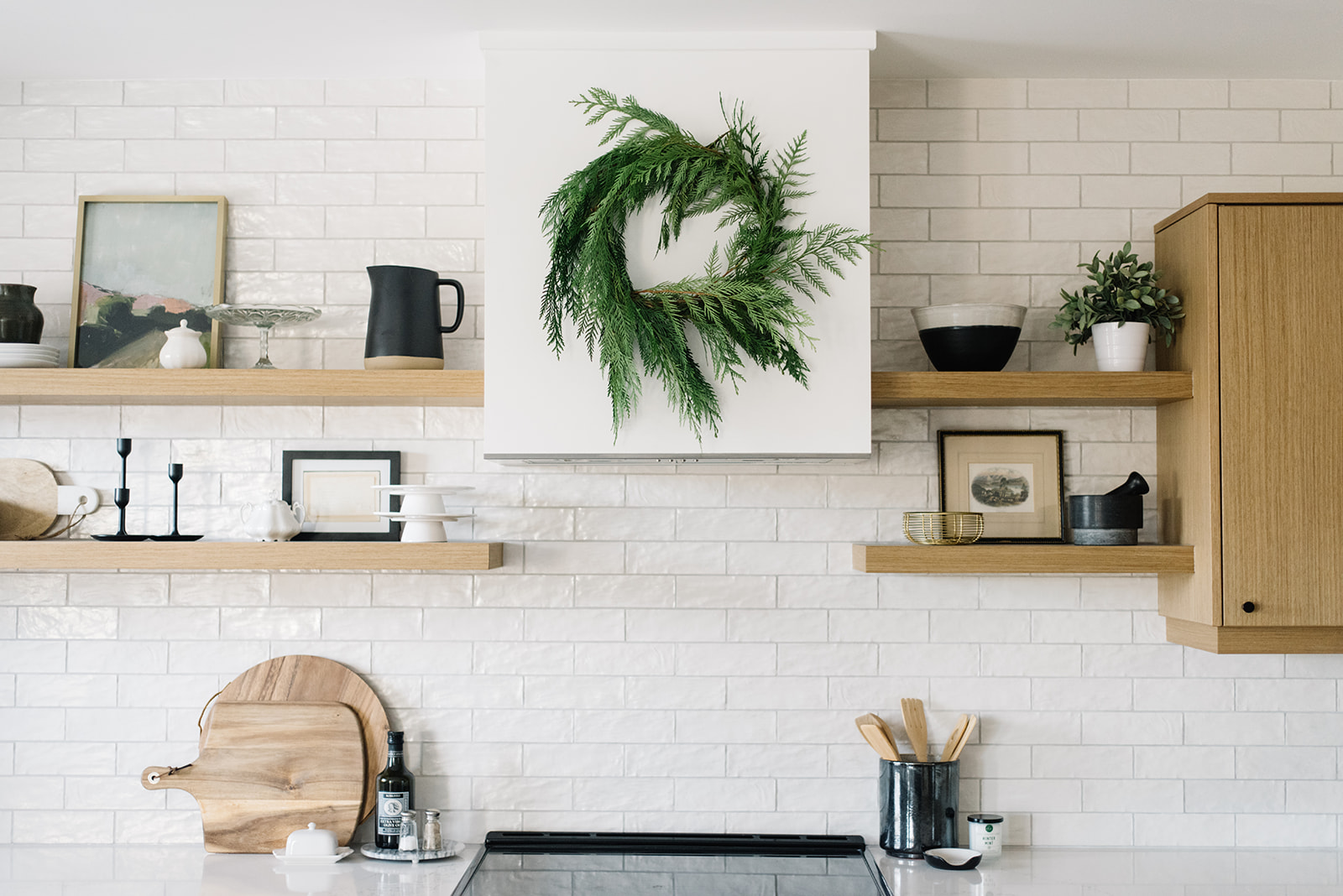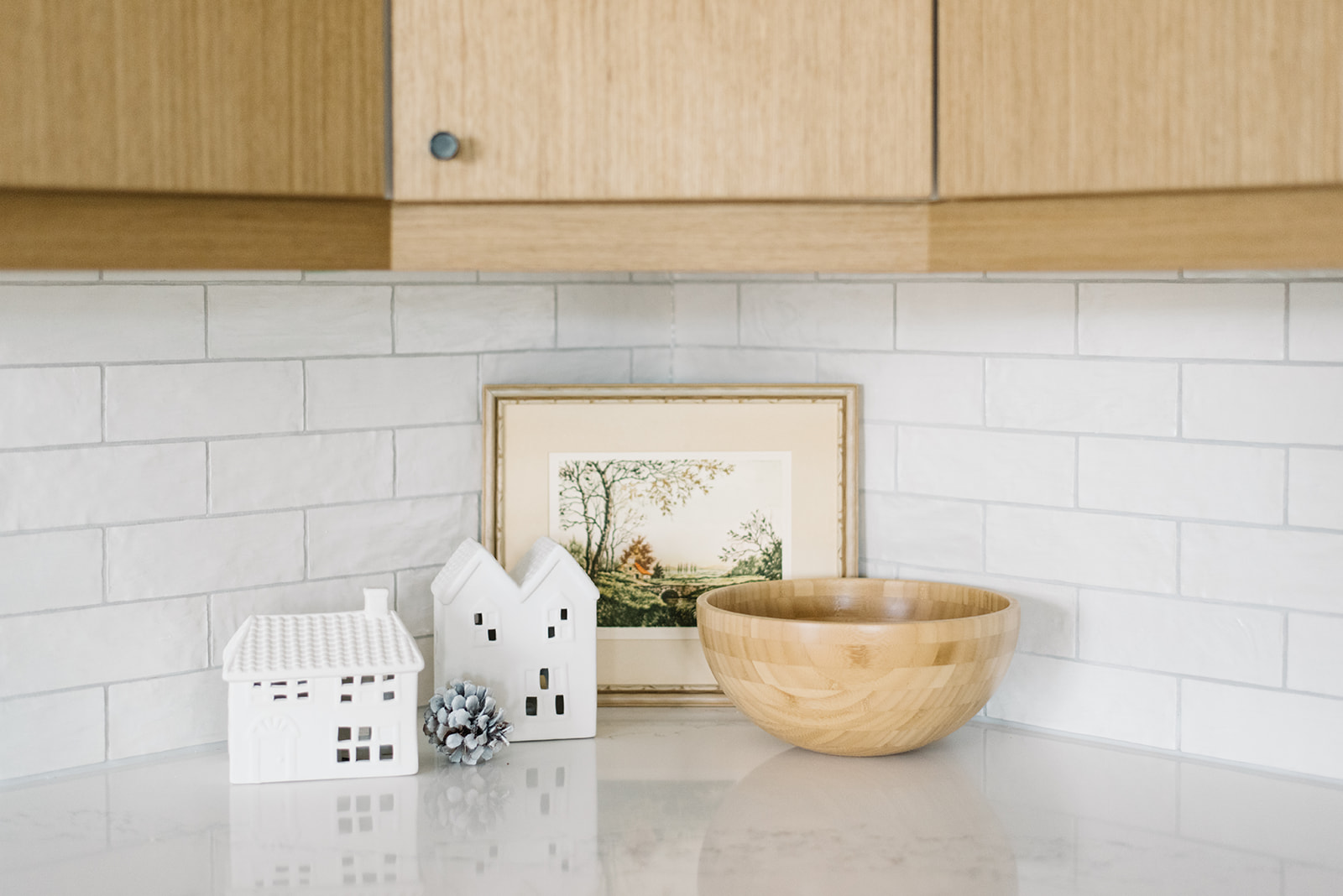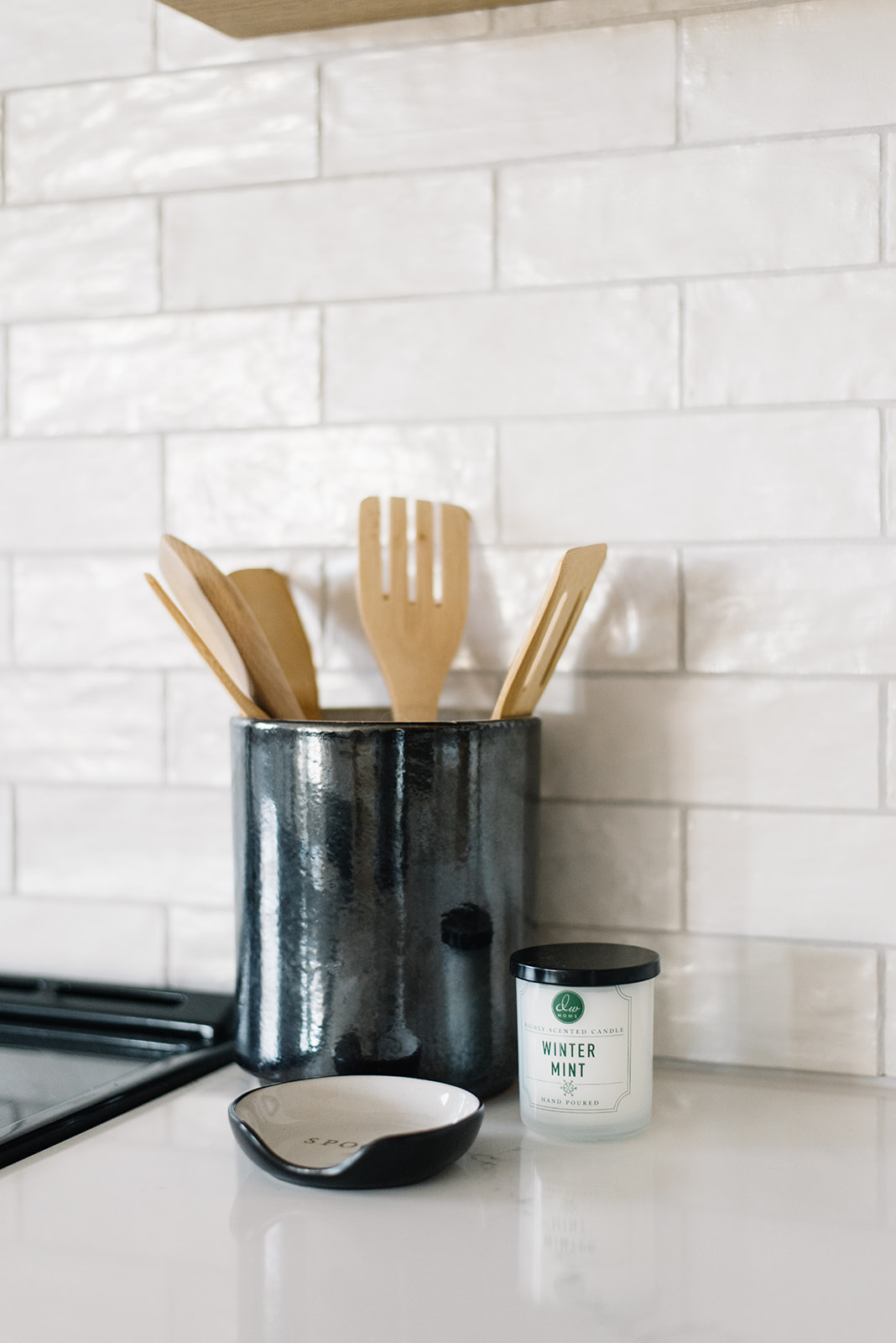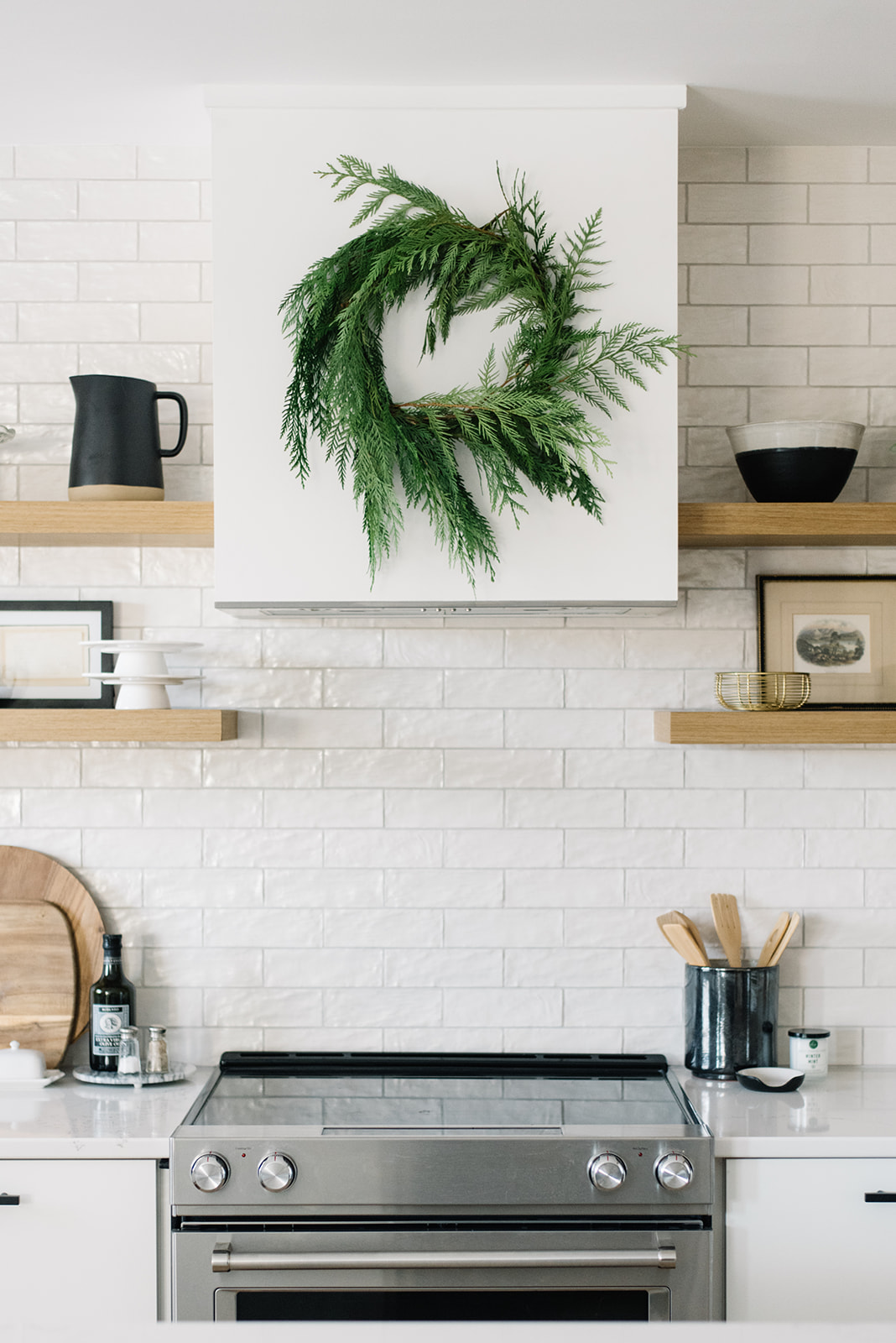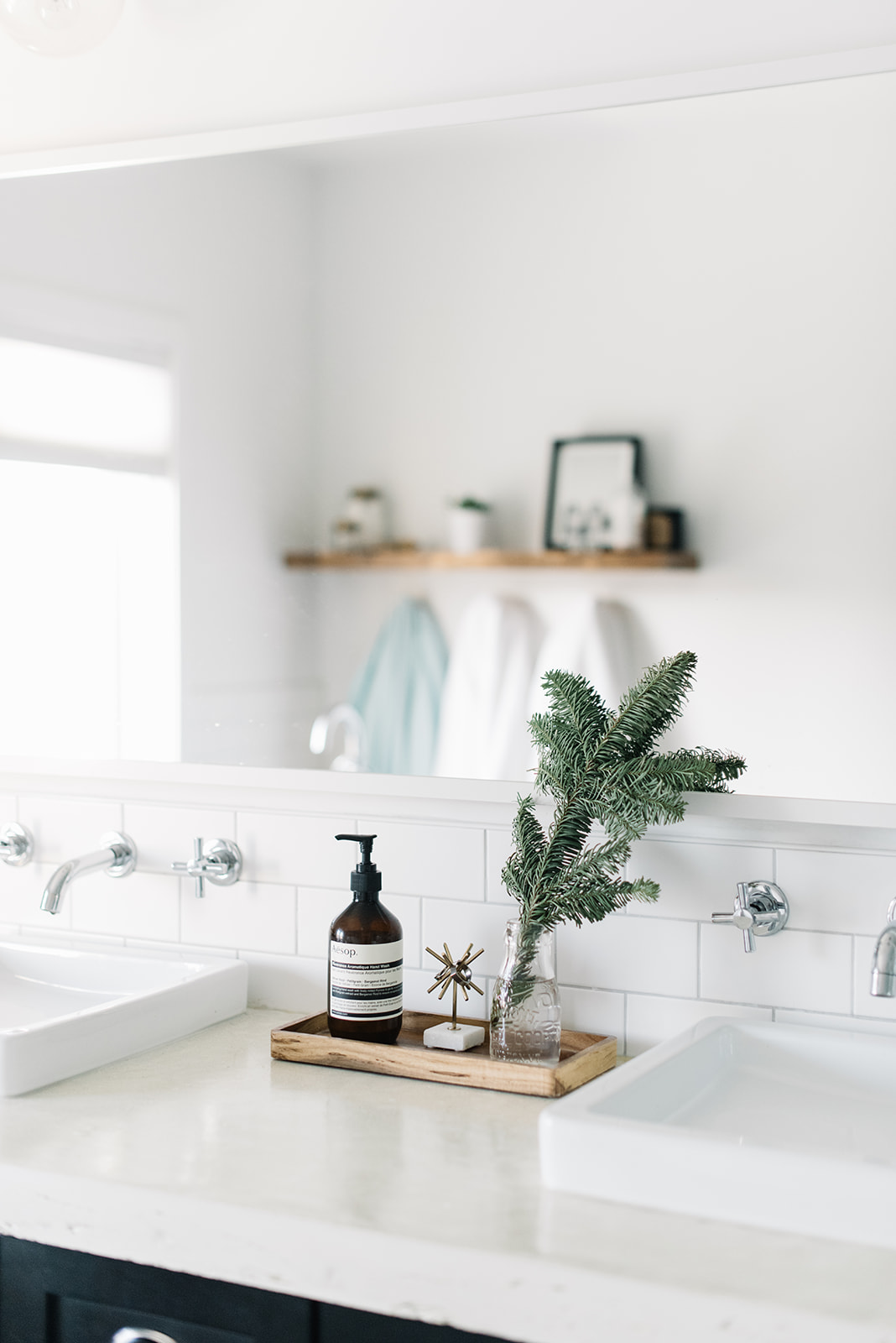 A simple vase filled with some holiday greenery adds just the right amount of 'Christmas' to our master bathroom.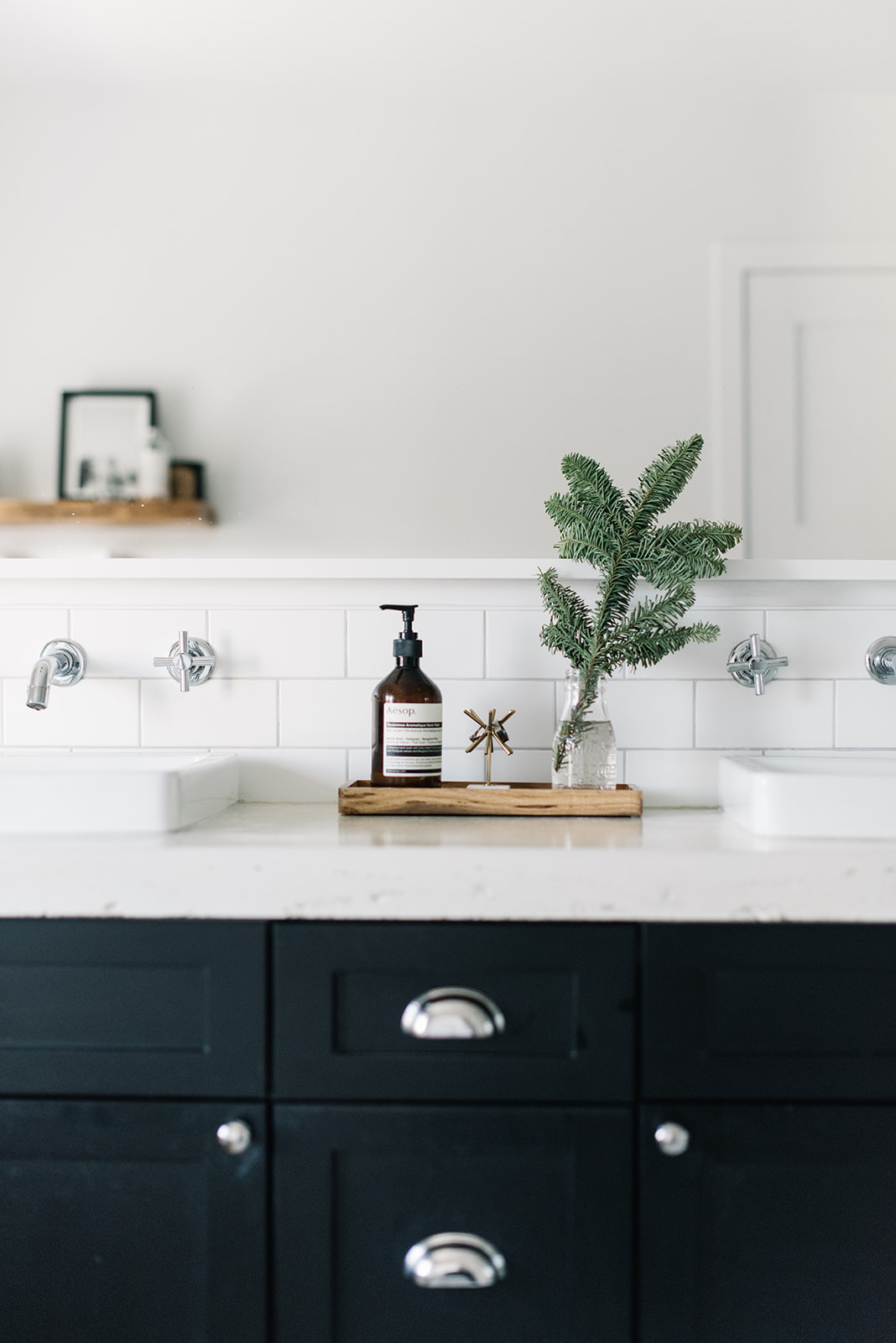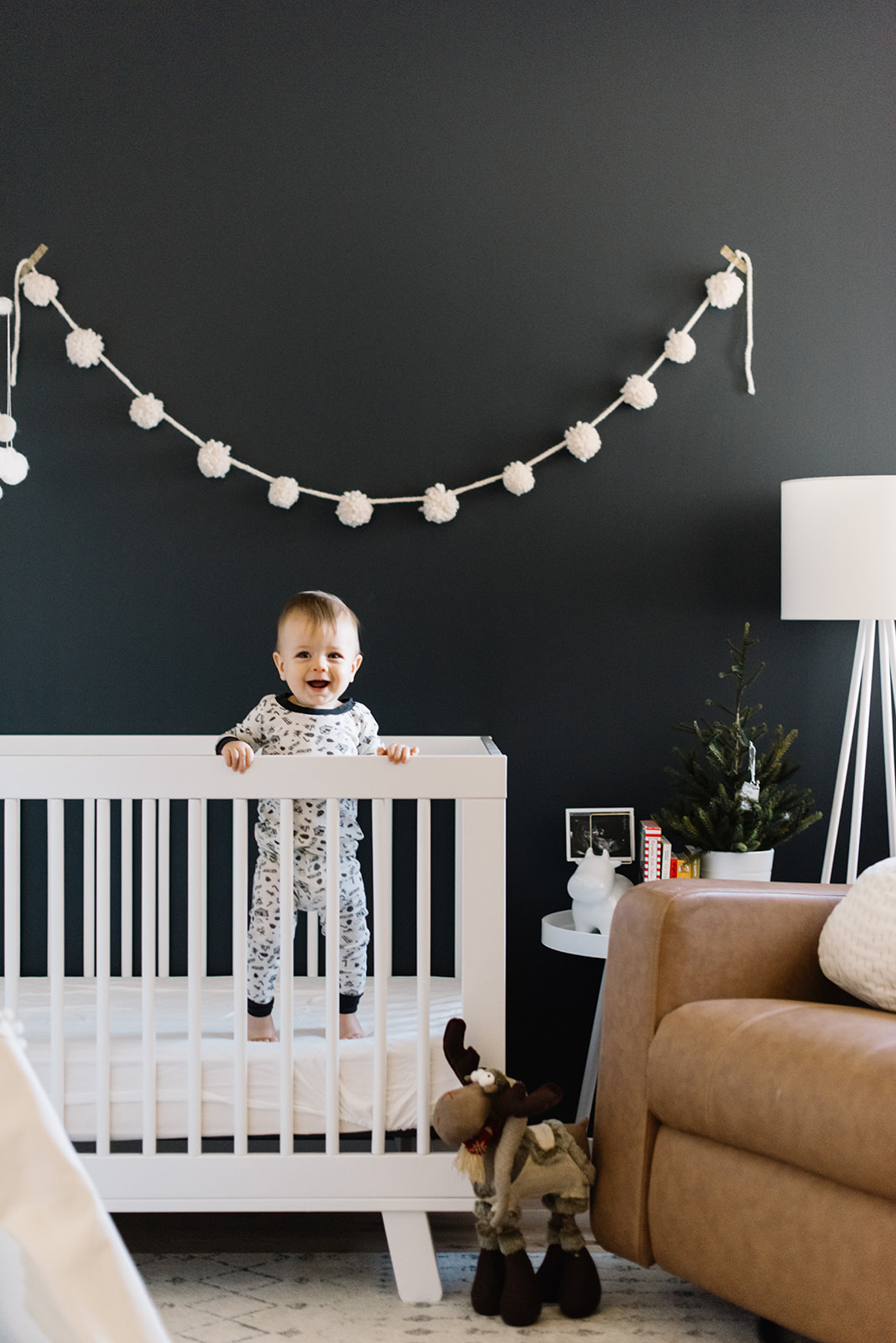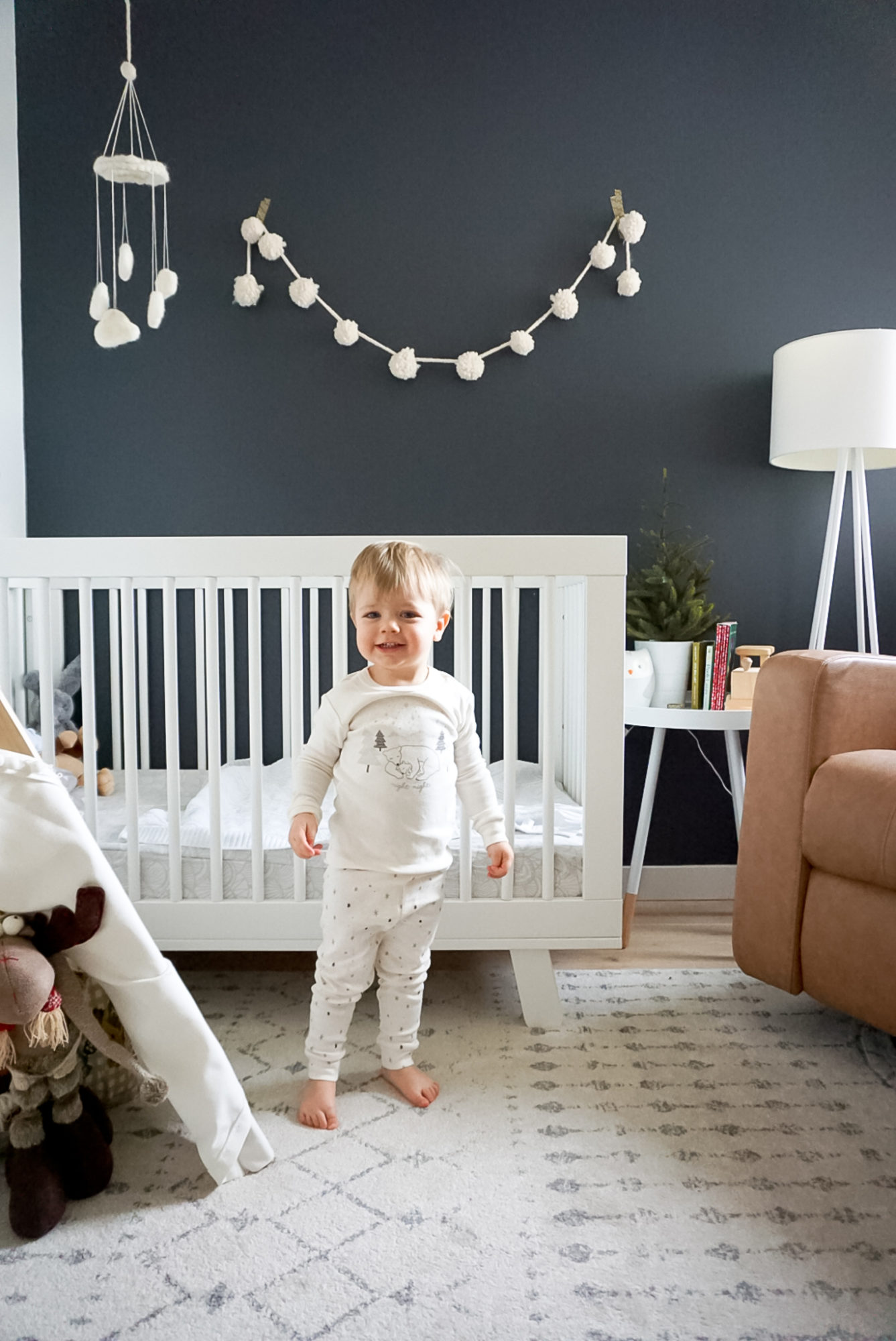 Of course, I couldn't skip Jack's room! I hung a pom pom garland I made a few years ago, and then placed a small, faux tree on his nightstand. A silly moose from Grandma stands on guard as well! (These two snaps are a year a part and too stinkin cute!!).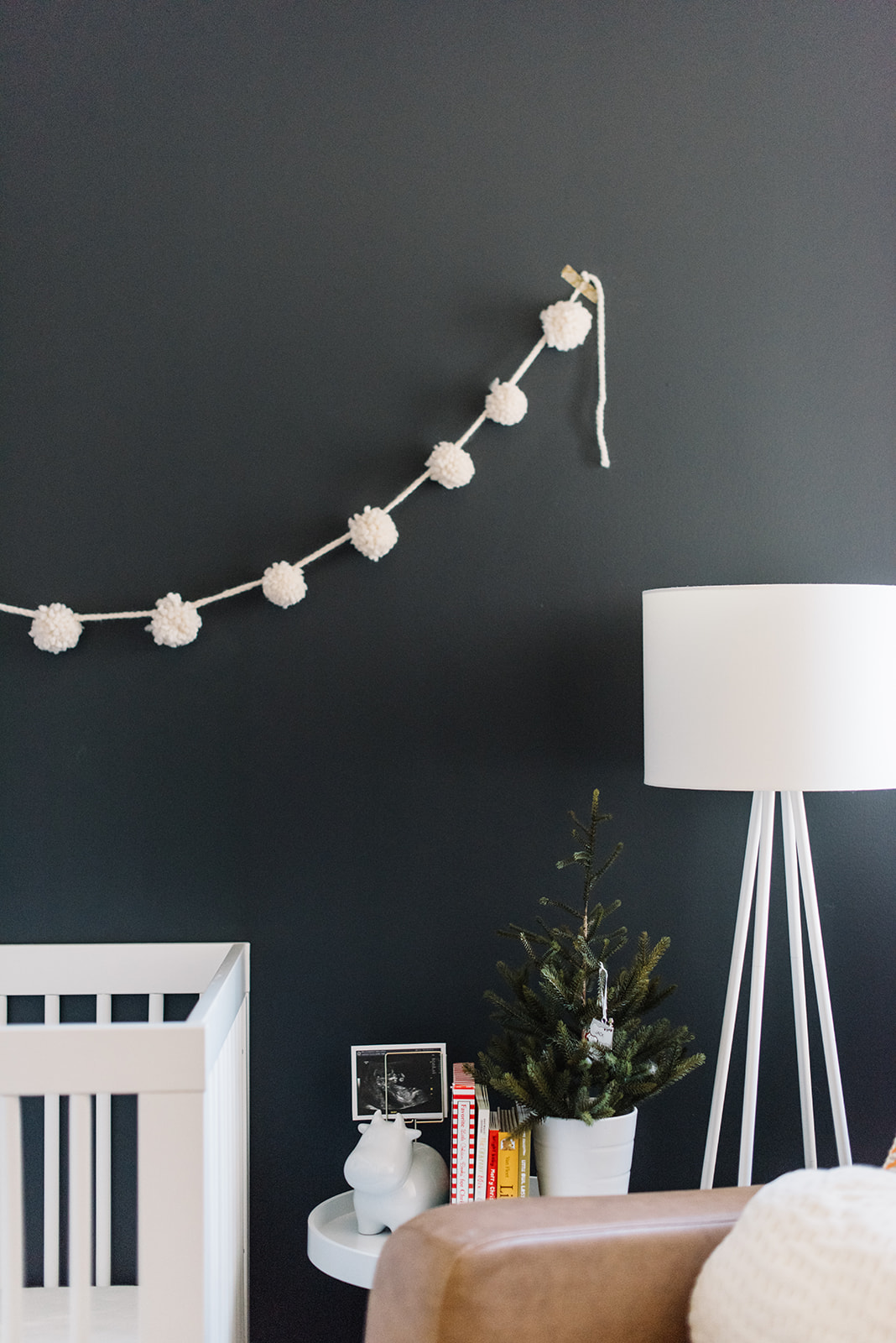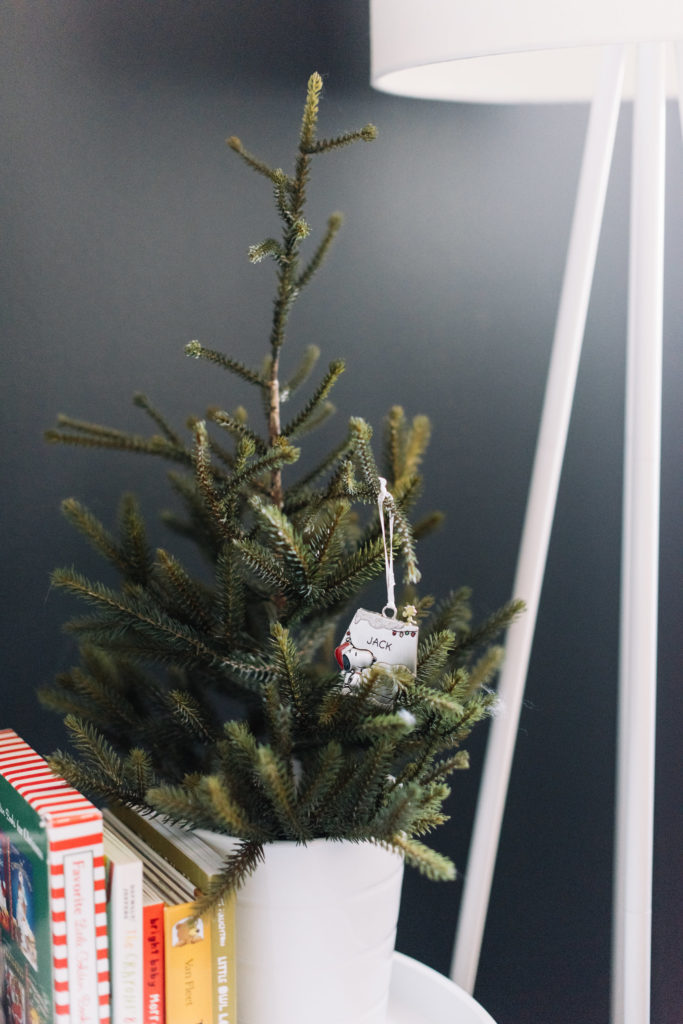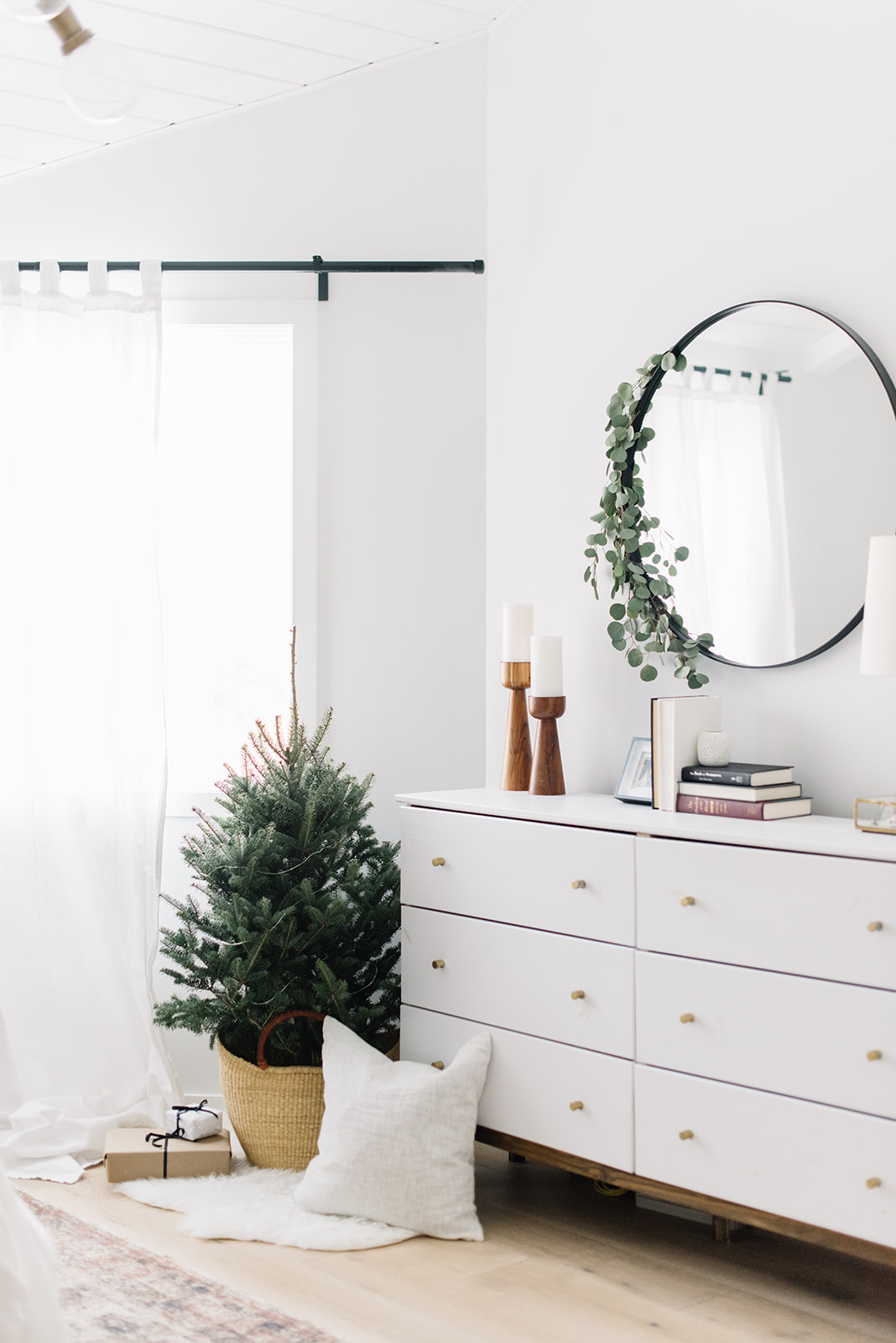 And finally, our bedroom got a dose of holiday. This is the first year that I put a little effort into our space and I can't begin to tell you how happy it makes me. I picked up a small tree from a local grocery store that fit perfectly in a basket, and kept it simple with some string lights. The glow at night makes our bedroom feel even more cozy. A little eucalyptus on the mirror adds just the right amount of green.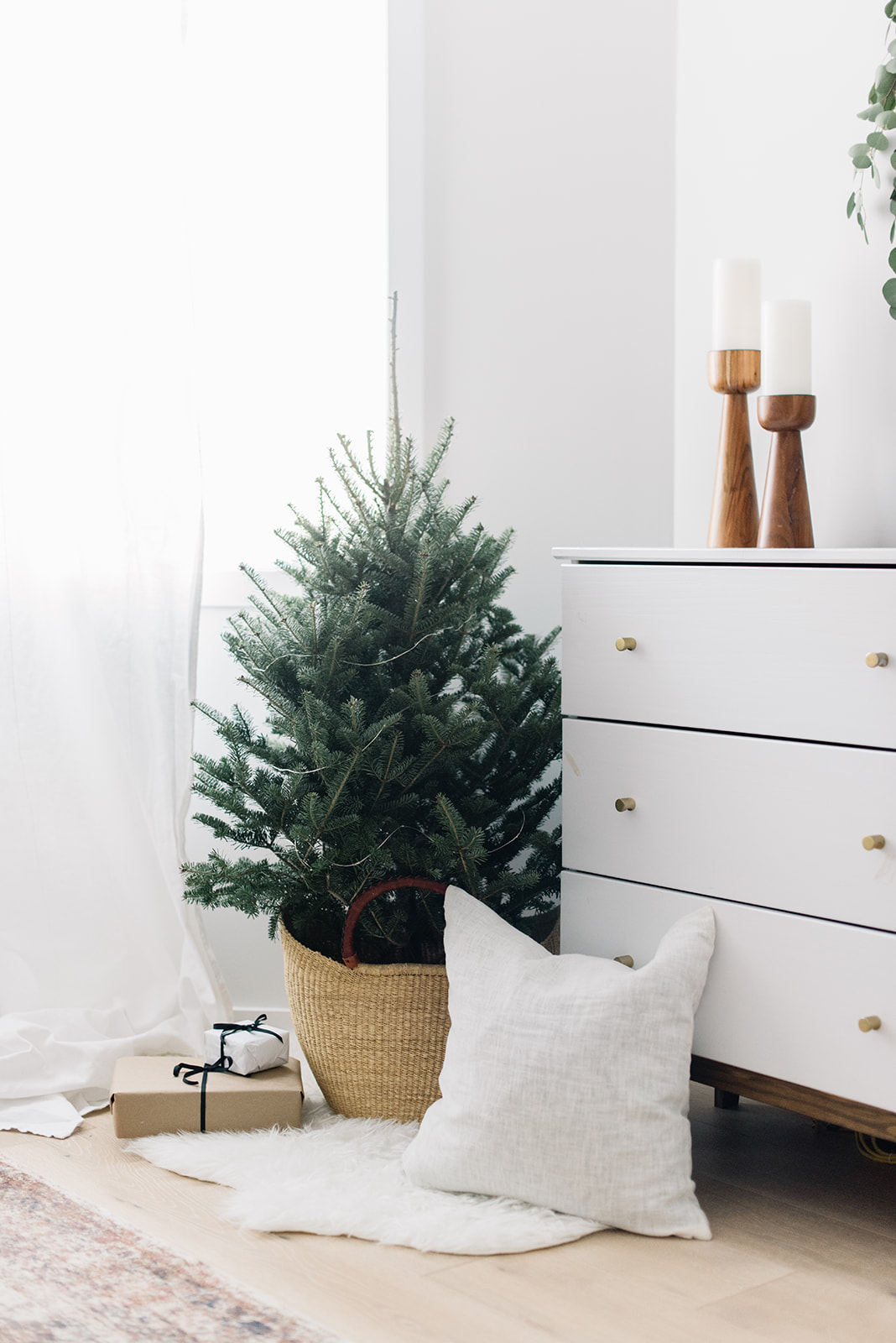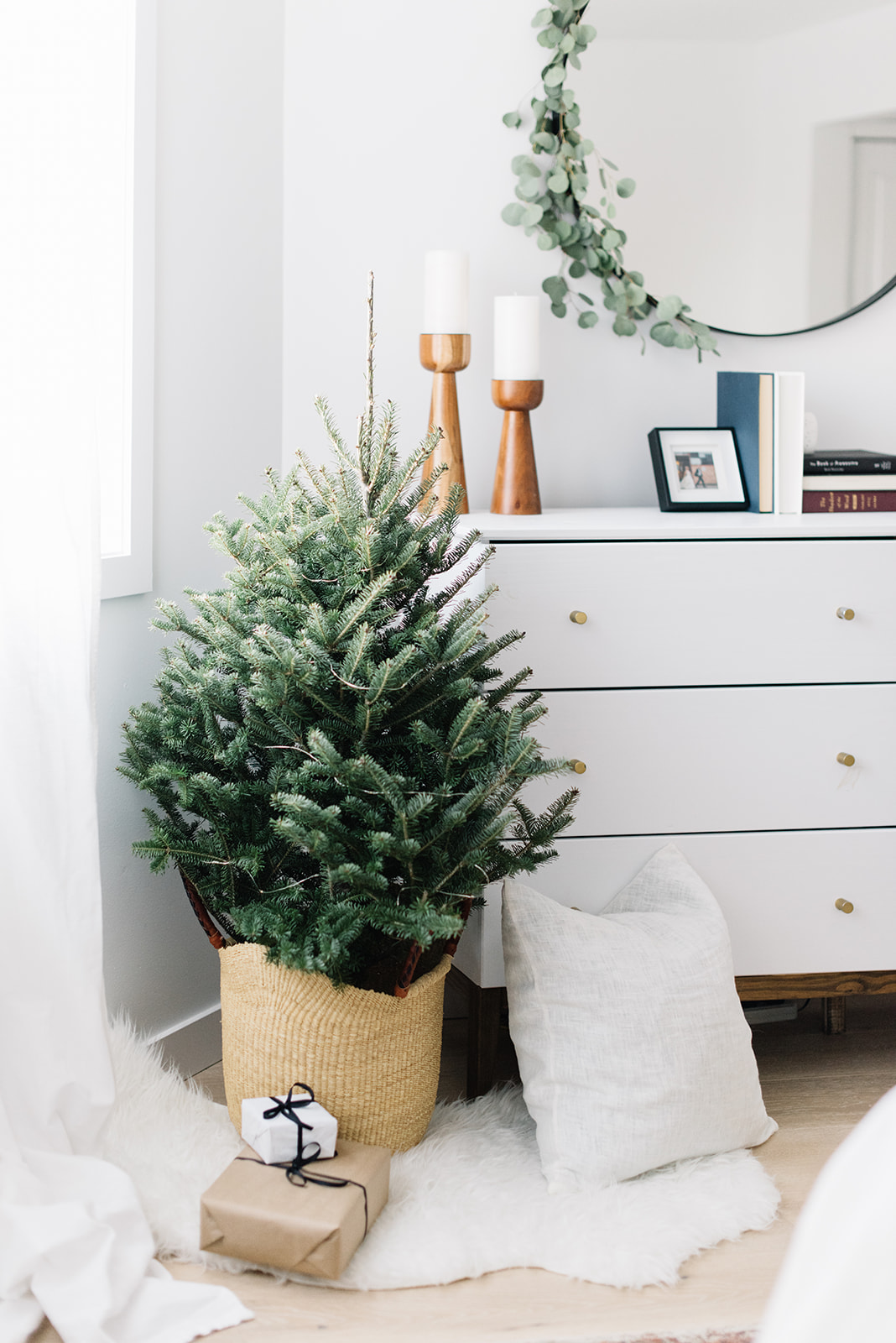 And there you have it! Our minimal holiday home tour! What did you think of my Scandi inspired decor? I'd love to hear in the comments below! Merry Christmas & Happy Holidays everyone!
All photos by the lovely Tracey Jazmin