Yesterday, I shared Jack's new space with all of you and today I wanted to touch on organizing the nursery. It's amazing when a room comes together and looks & feels exactly how you imagined. It's another thing to have the space flow well and be useable. Great design should always tackle both sides of the coin, so I thought I would share my thoughts on how to get nursery organization right!
In the Closet:
Jack's nursery has a great sized closet, which helps right off the bat with organization. We found these gorgeous True Craft interior doors from Metrie that helped make the closet look and feel modern and beautiful. Close these doors and the mess is easily hidden away. And yet, with some simple tricks, the closet becomes a haven for great storage, making life just a touch easier as a mom.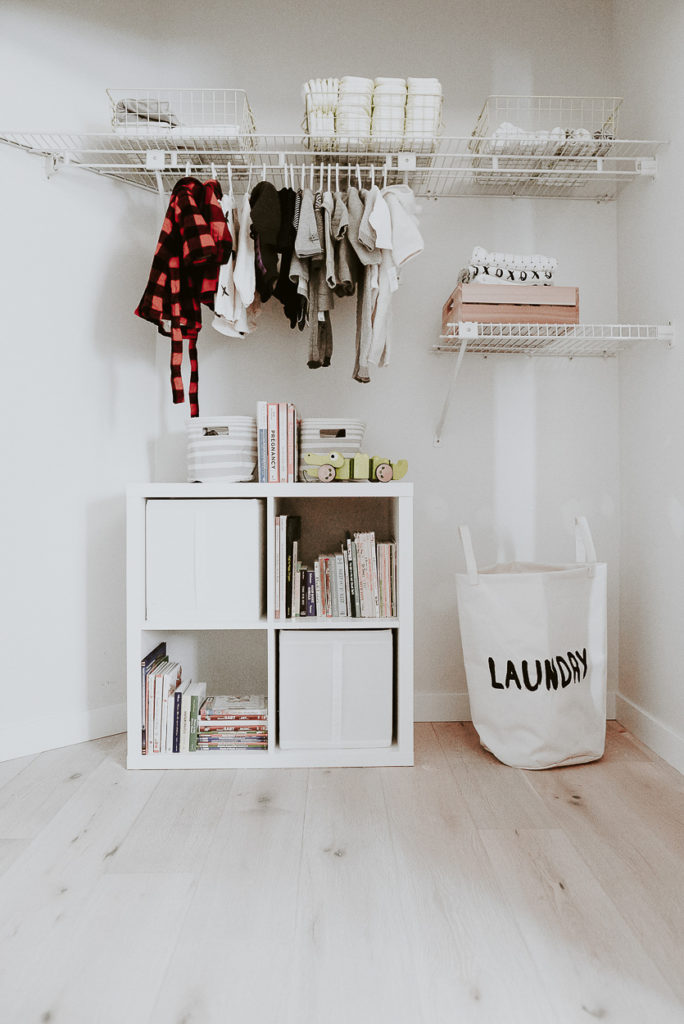 Optimize Shelving – Sure, hanging clothing is handy but when it comes to baby items, shelving is where it's at. I had a few shelves available in my closet but felt another smaller bookcase from Ikea would provide me the perfect storage solution. Here I can slide in bins of clothing, books, and other things that may be more seasonal. PS – If you are hanging a lot of baby's clothes, think about grabbing some dividers to keep sizing organized. I love these ones!
Add Collapsible Bins – On top of my Ikea bookcase, I added some collapsible bins to corral small items I don't need to access all the time, like toys for instance. These types of bins are so useful and they can tuck away in a snap. They are great for travelling and, with so many available right now, they are always really stylish! No need to keep them in the closet…they look amazing on display in the nursery.
Store the Extras – On the top shelf of the closet, I added three wire baskets. Wire, in particular, is fantastic because you can easily see what's inside (though a sweet little label would be a great detail to add as well!). Here, I'm storing my extra diapers, bath towels and face cloths, and extra sheets and swaddles.
Have a Space for Laundry – Moms know how much laundry can pile up! So, don't forget about this very necessary storage item – the hamper. I grabbed this one for inside the closet, but it would also fit the aesthetic of the nursery as well. Bonus that it's collapsible and easy to transport to the laundry room.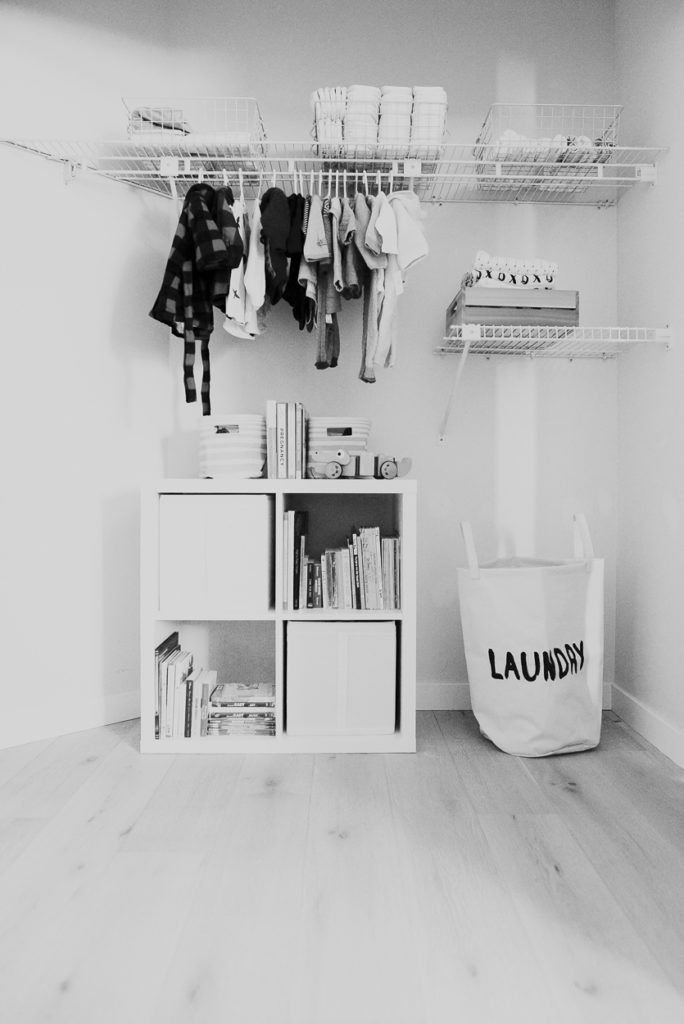 The Dresser:
I was adamant about finding a used dresser that had a mid century modern flair. Luckily, I picked this one up at a consignment store while I was visiting family in Kelowna. Not only does it fit the space perfectly now and can be used as a change table, but it can grow with him. Having it remain a wood stain and not painted means it will fit in with any decor changes down the road. Something to consider as you plan out a space! Other aspects to consider for the dresser:
Count the Drawers – You'll want as much drawer space as possible, so pick a dresser that fits your needs. For me, having six is perfect because I can categorize it as follows: 1. Clothing 0-3 months 2. Then 3-6 months 3. Followed by 6-12 months 4. Finally Larger Clothing (12-18, 18-24) 5. Change Station (wipes, diapers, lotions, soothers, etc.) 6. Odds and Ends
Find Drawer Organizers – Within each of my drawers, I have organizers that allow me to compartmentalize everything. I can separate onesies from sleepers, socks from shoes, etc.
Think About Folding – For me, the Marie Kondo folding method works so well for baby items, as well as my own clothes. I can literally see every item Jack owns and my drawers stay put together instead of a big mess. And no, it doesn't take me a long time to do!
The Side Table: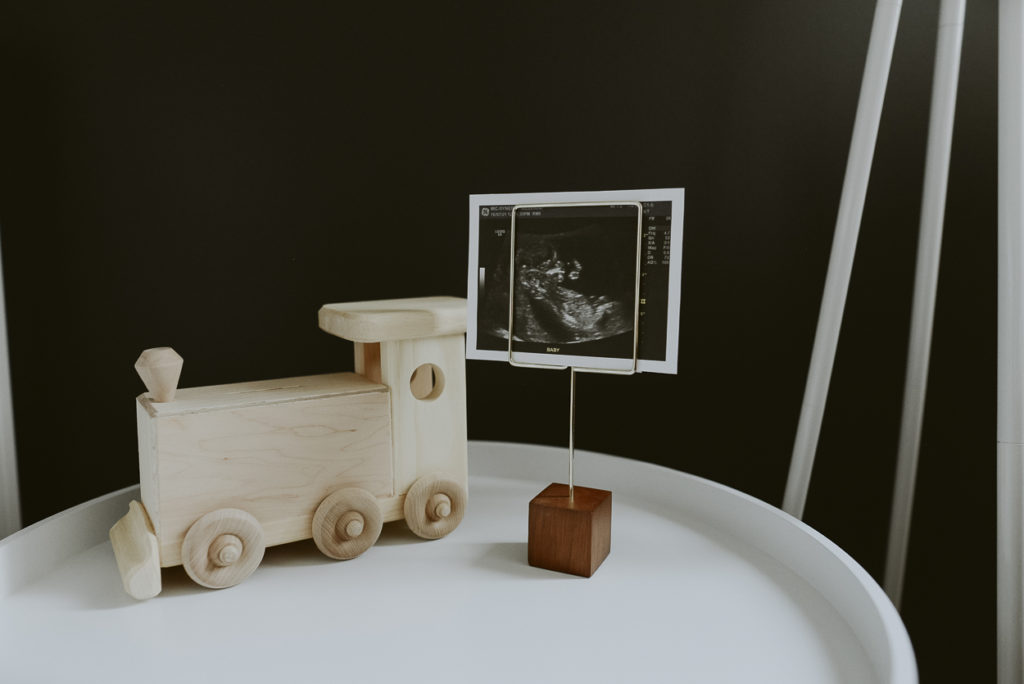 For me, this is mostly a decorative spot, a place where I can style a few special items. But, in the same breath, I picked one that was larger because I knew it would become a storage spot as well. You can easily add a collapsible bin or two, stash some books for night time reading or place a tray for trinkets. This is also where you can store a baby bottle, breast bump or bottle of water down during those night feeds.
The Extras: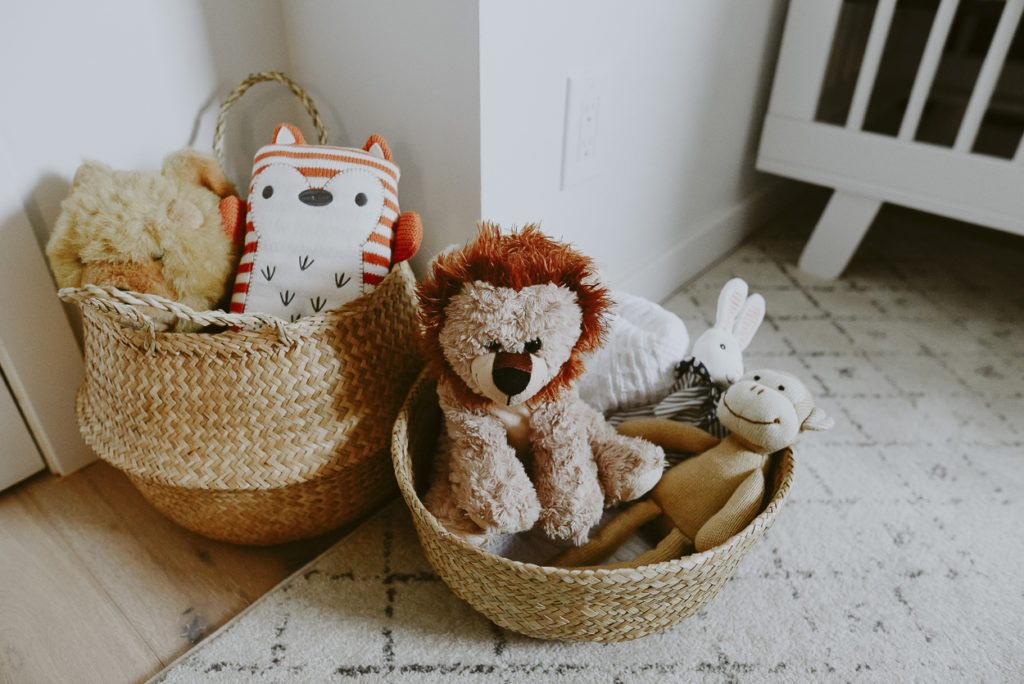 Baskets – To me baskets are a staple when it comes to nursery organization AND decor. They are great for storing toys, stuffed animals and other supplies. Really, you can't have enough of these on hand.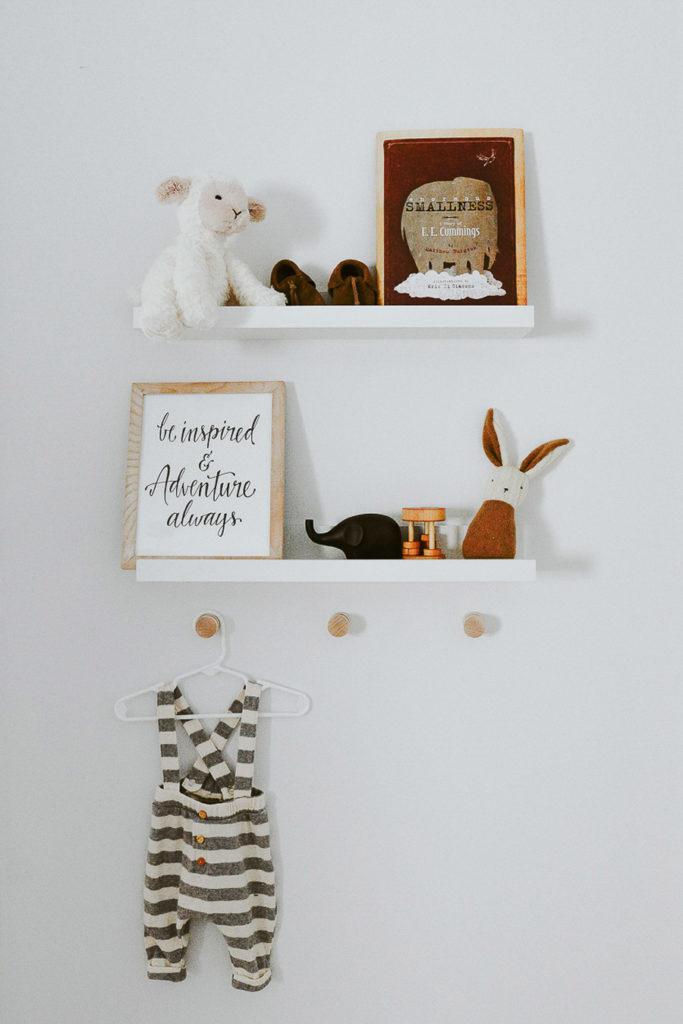 Darling Displays – In the nursery, most people have a spot to display some treasures and special items. I grabbed a couple of picture rails for this exact reason. But besides being an adorable addition to the design, this space can also be a great organization tool too. The hooks provide a spot to hang Jack's most used clothing items, and I can rotate what's on display based on what he's interested in. I've seen people use spice racks to assemble their book collection too and this works wonderfully.
What tips or tricks do you have for nursery organization? I'd love to hear your thoughts!