When we moved into the Ravine house last year, we were blessed with some extra square footage of living space. Much to my delight, that meant I could finally move my Nana's piano into our home, which we did last fall. I wrote this post on decorating around a passed down piano and conjured up ideas of how I could include this precious item in our living space.
And so, now that the piano has found its permanent home, I can finally tackle the decor around (and on) it. Here are some of my piano styling tips and how I chose to incorporate them into my design: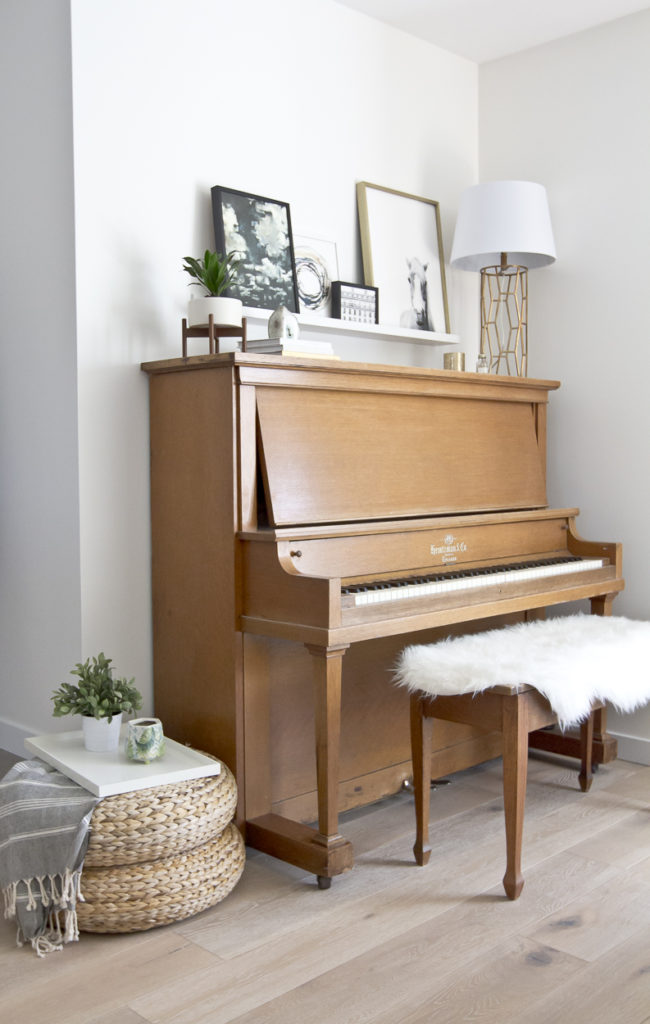 Artwork looks beautiful next to a piano. Choose one large show stopper or group together some varying sizes in a gallery style. I turned to Minted to find some beautiful options and I ended up selecting some that work well together – a mix of photography and abstract prints that compliment one another well. Obviously, I like to keep things pretty neutral, but I also chose some pieces that had some soft blues and greens. I decided on a variety of sizing so that it wouldn't look too uniform when arranged together.
Decide how you want to display the art. Leaning frames against the wall looks especially nice atop a piano but I chose to keep the actual top pretty sparse and place my artwork on a picture ledge. I took a design note from one of my favourites – Chris Loves Julia – and arranged the pieces with the larger frames flanking the ends.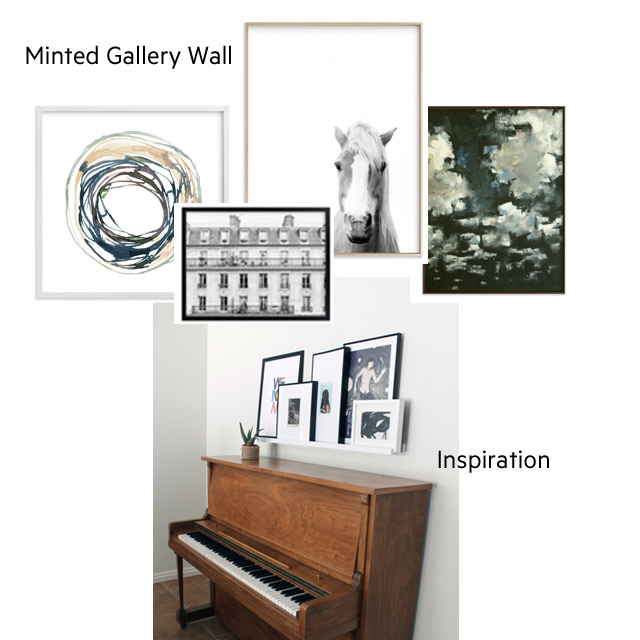 Adding some ambiance with lighting can elevate your piano decor. I placed a large table lamp on the far side, which also adds a bit of vertical height, as well as a contrasting texture. You can never go wrong with a candle or two as well, just be careful about wax drips on wood.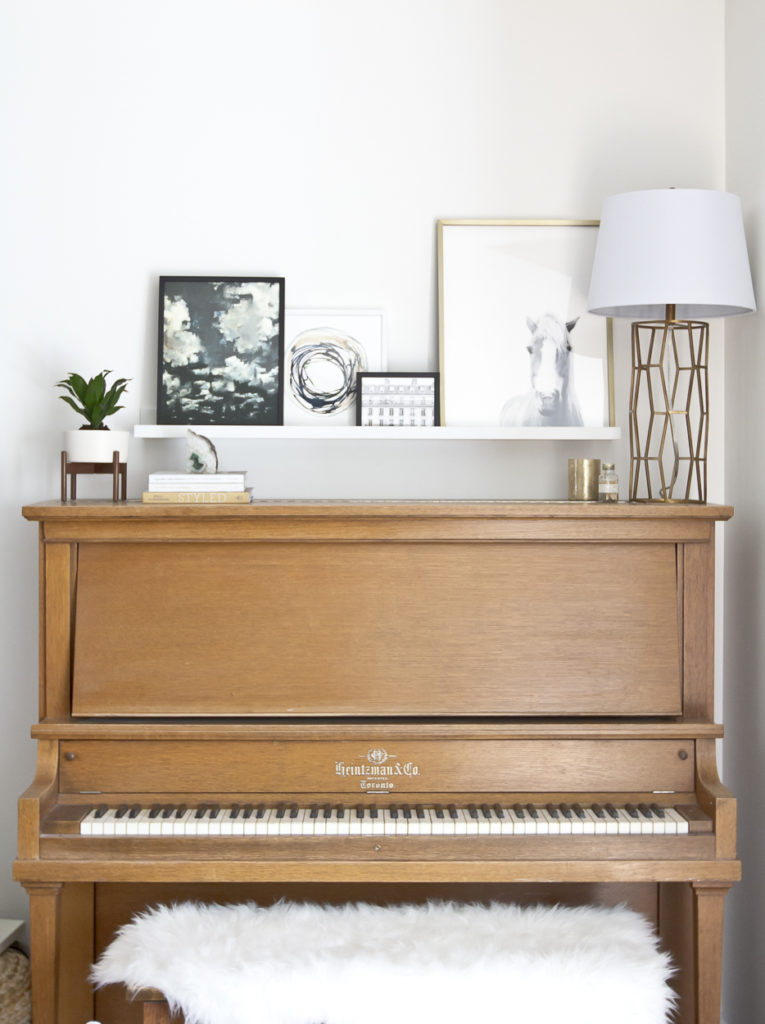 Accessorize with some stacked books, a bit of greenery or some favourite sculptural objects. Group items together (3 items is best) and try to think less is more – the piano should still be the focal point after all. Balance your textures – my styled items include a bit of metal, some softness in the fur and, of course, the natural leaves. There's just the right amount of contrast and not too much visual noise.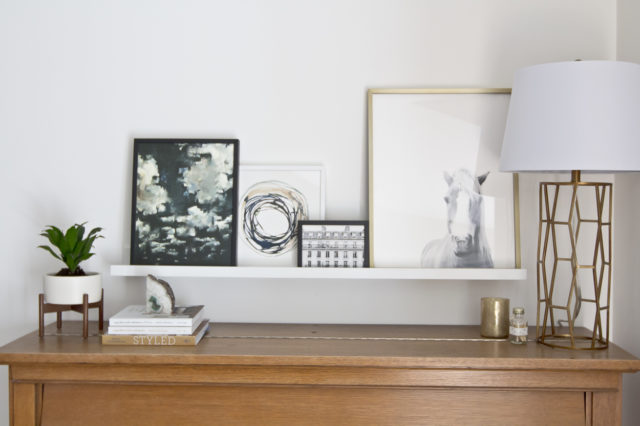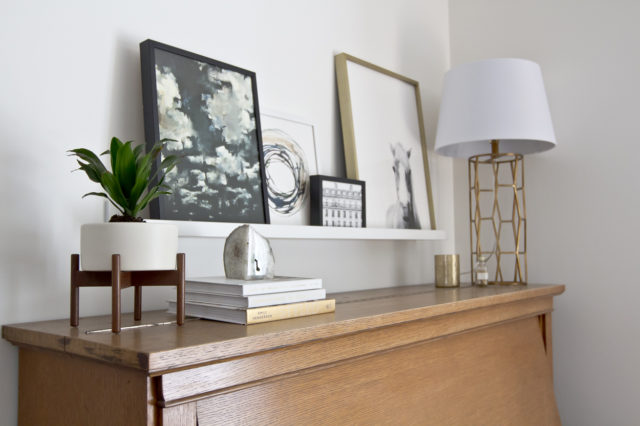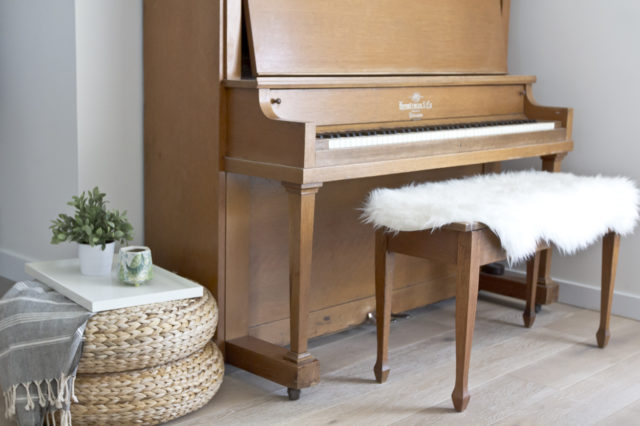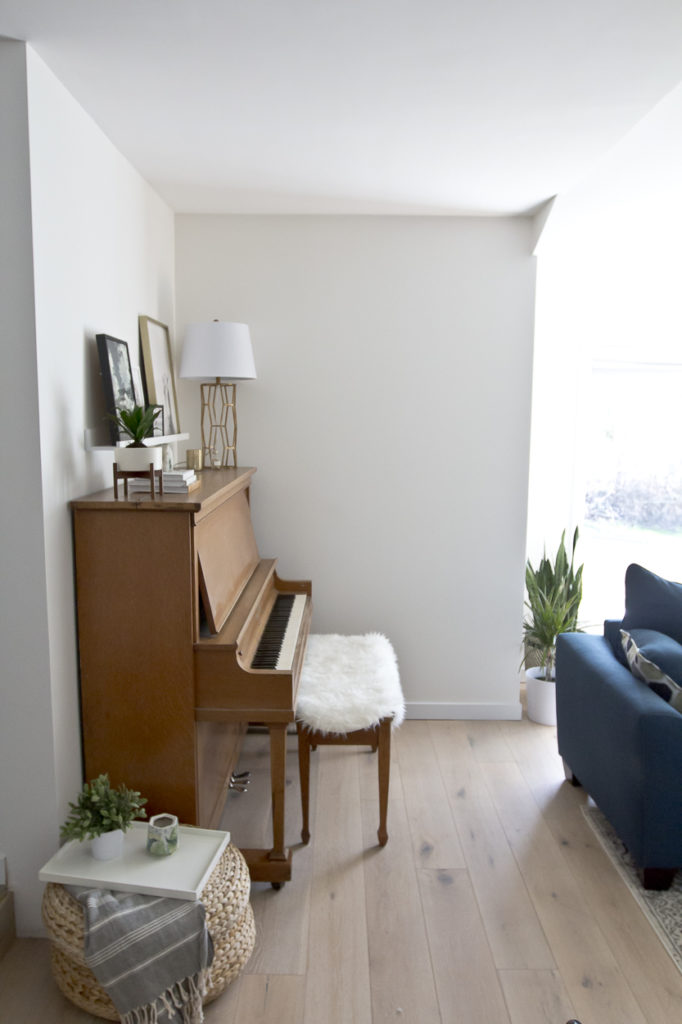 I love how this piano styling came together to create a beautiful niche in my living room. It doesn't take much – just some gorgeous prints and a few decorative items to make your piano come to life.
My Minted artwork included Night Clouds, Presence, Soma and Days in Paris