Welcome to week 3 of the One Room Challenge! This marks the half way point and things are heating up over at the Ravine kitchen. I'm excited to give you an update!
If you are visiting for the first time, I'm so glad you found me! I'm Kristina, this is my little slice of the internet and I've been updating my Ravine house for about 3 years – this kitchen renovation is the last piece of the puzzle, thank goodness! I share this space with my contractor husband Ryan, my little boy Jack and my two rescue pups Shya and Ava. Maybe you remember me from my first ORC when I redid my half bath and laundry room, but if not here it is again (and I did a follow up DIY here!)
Now if you missed out on the previous posts, check out Week 1 here (the design plan), and Week 2 here (demo, setbacks and more!). 
_____________
On this week's agenda: we've got walls, and floors going in! And a lot of electrical work, which means this might be a good time to share my lighting plan, as well!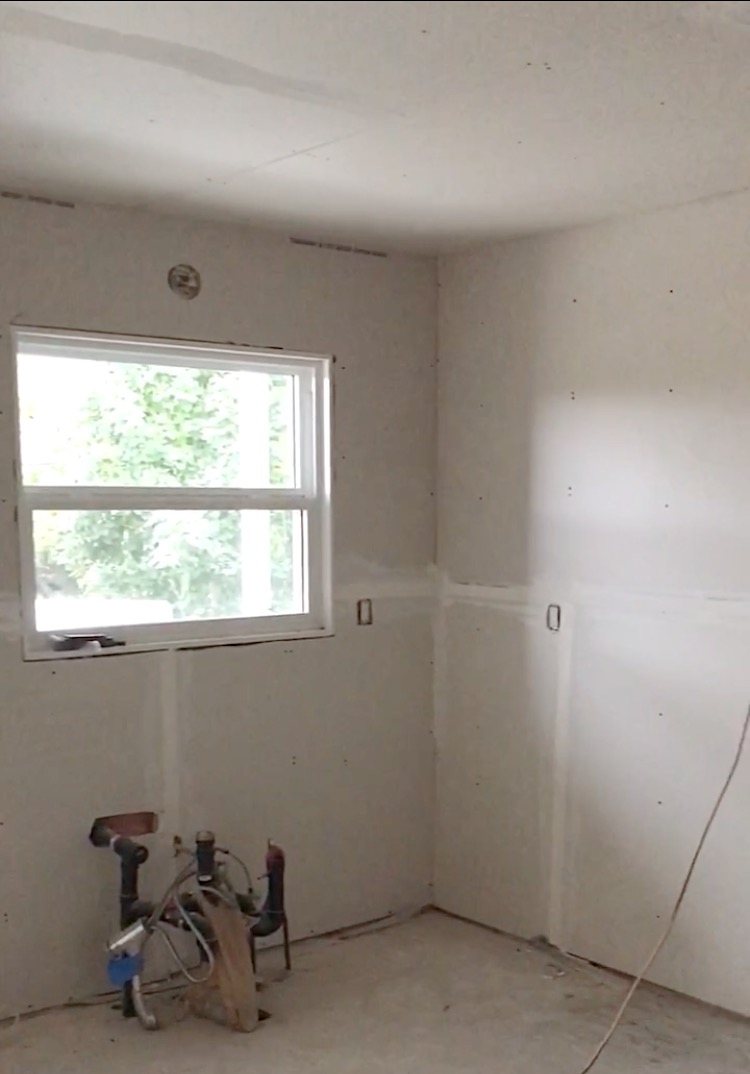 Having actual walls might be one of my favourite parts of the renovation. Obviously the end is the sweetest, but there's something really special about seeing the layout, with walls, for the first time. It's the stage where it starts to feel like a space again and it just gets me giddy! We framed in a new pantry and were slightly concerned it was going to impact the flow, but now seeing it drywalled, I am super happy with the size and placement.
Next, we have lots of painting to do! We are continuing the same colour from the rest of the main floor – Benjamin Moore's Simply White, which just so happens to be my favourite white. It definitely feels a bit warmer in this space than it does in the front living room, but that's ok with me. I like that it's a touch cozier in the kitchen.
Our hardwood floors always get a lot of attention on Instagram – people always ask for the source and that's great! They are Timber Town's white oak, engineered hardwood, and we've had it throughout the rest of our house for years now and still love it!
And now onto some fun stuff – our lighting plan! I've worked with Mitzi now on a couple different projects and I'm so thankful they said yes to partnering on the ORC! I knew right off the bat that I wanted a brass wall sconce installed above the sink and they have some beauties. It'll go right here above our new kitchen window: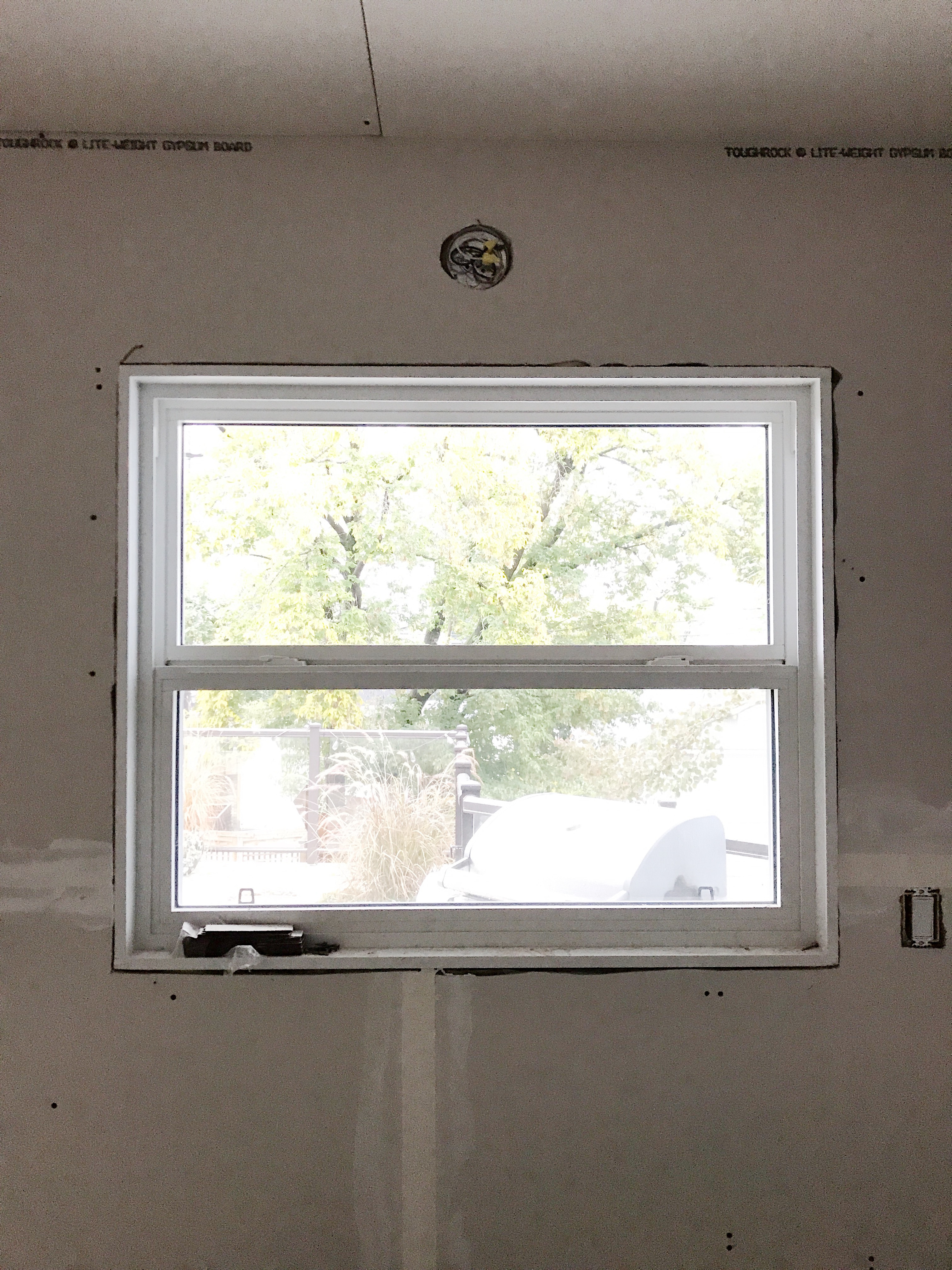 Originally I had chosen the Kai sconce but with stock on hold until November, I had to switch to the Chloe, which I actually ended up really loving. The fact that the brass is really minimal and the back plate is a gorgeous marble works well in the design. Plus, the angle is perfection. And so, this is a good example of what time crunches can end up doing for a reno. Making a quick decision can sometimes work out even better and become the perfect happy accident!
With open shelving and a small footprint, I actually decided against pendants over our island, thinking it would only overwhelm the space, opting for 4 white LED pot lights instead. However, you will be seeing some more fixtures throughout the rest of the main floor. Here's my lighting plan for the dining nook, den area and front entry so you can see how it will all tie together in the future.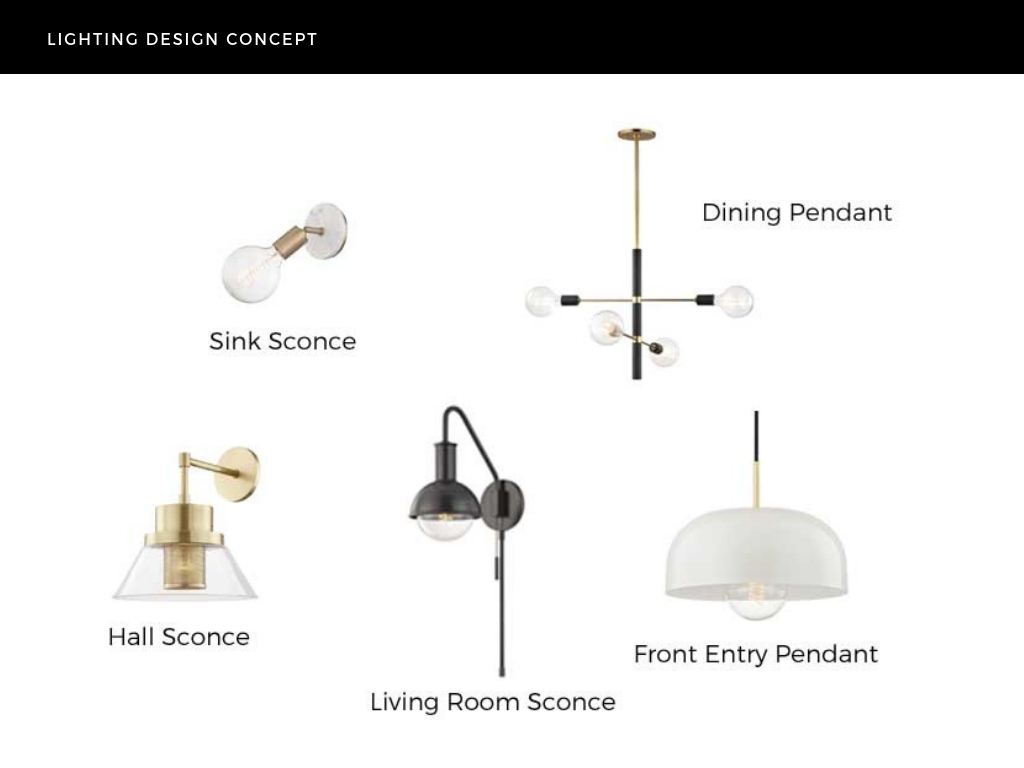 What do you think?! I'm especially excited for the living room sconce lol which has nothing to do with this project I realize but still 🙂 Have you encountered Mitzi lighting before? Would love to hear your thoughts!
Follow along with me on IG, where I update my stories as often as I can. And please do check in on some other One Room Challenge participants here! 
I'll be back in another week! Bye for now!