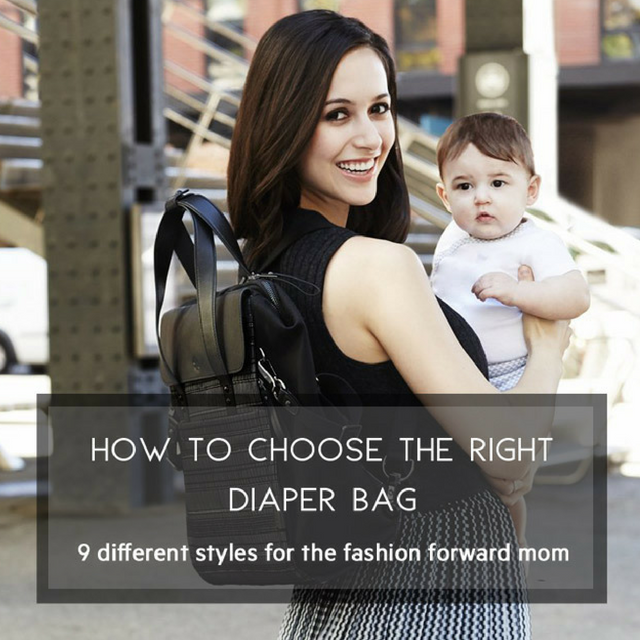 After having a baby shower, I've spent some time making a list of what we have and what we still need to get before the baby arrives. And really, he'll be here before I know it, so I do need to get organized. One item I did receive at the baby shower was an awesome diaper bag from some of my best blogger friends. It got me thinking about this important travel item and what actually constitutes a great diaper bag. Personally, I don't want to sacrifice fashion but I do want it to be as practical as possible.
So, I did some more research and rounded up 9 of the best diaper bags on the market and thankfully, you don't need to sacrifice fashion whatsoever!! Here are some of the reasons these ones in particular rock and a few pointers to consider when purchasing your own:
Based on how much you plan to get out of the house with your wee one, this will be coming with you wherever you go. So you have to like it! I even thought about how my diaper bag choice would look with my wardrobe. I want it to work with my style.
It needs to have compartments because being organized is huge! I don't want to be rummaging around the bottom of a deep bag for a soother as my baby screams lol.
In addition to compartments, I want it to come with some accessories, whether that's different strap options, a good change pad, etc.
A lot of my girlfriends with babies have said how much they love the backpack option. It frees up your hands, is way more comfortable, and a lot easier to use with a stroller. In any case, when choosing a diaper bag, think about the usage and what is going to suit you both from a comfort and practical standpoint.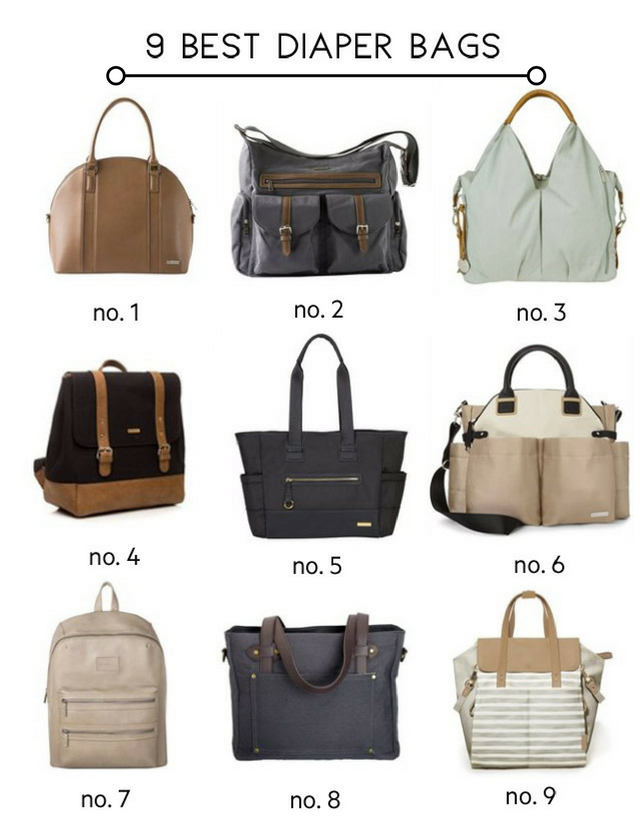 My 9 choices for the best diaper bags:
no. 1 / Little Unicorn Rotunda Bag / Why It Rocks: A more elegant option for someone who really wants their bag to feel more like a purse. Plus, it comes complete with 8 pockets, a cushioned changing pad and stroller attachments.
no. 2 / Little Unicorn Rambler Satchel / Why It Rocks: It has a more utility feel, so it's great for both me and Ryan. It has great organization, a good change pad and stroller straps too.
no. 3 / Lassig Green Label Neckline Diaper Bag / Why It Rocks: This one has a very distinct shape that's become pretty popular for its comfort. It's a stylish option that is made out of recycled PET bottles.
no. 4 / Little Unicorn Marindale Backpack / Why It Rocks: It's made of super durable vegan leather and looks super cool. I would never guess it was a diaper bag by just looking at it.
no. 5 / Skip Hop Chelsea Downtown Chic Diaper Bag / Why It Rocks: I love that this one has 2 options in 1. Inside there is a stroller organizer as well as the other typical accessories. It looks super chic too!
no. 6 / Chelsea Downtown Chic Satchel / Why It Rocks: This one has it all and it's only 140.00! Can't beat that!
no. 7 / The Honest Company City Backpack / Why It Rocks: It's a stylish backpack!! And if you know the Honest Co., you know that it's made to the highest standards and will stand the test of time. I like that it's also wipeable and easy to clean!
no. 8 / SoYoung Emerson Diaper Tote / Why It Rocks: Another great unisex option. And I think this one may have the best compartments that are easy to reach into with one hand.
no. 9 / Highline Convertible Backpack / Why It Rocks: I love the option to wear it as a cross body bag or a backpack. It really has all the bells and whistles AND the stripe detail adds that stylish touch.
Which one is your favourite?! Do you have any more diaper bags to recommend? PS – all of these stunners plus even more are all available online at Chapters now! Love that!!
Also, until November 20th, you can get 40% off some other great bags at Chapters. Check it out here:
40% off Bags and Knapsacks (Nov 14 – 20)