1 week away from the final reveal!! I'm getting pretty excited over here and this bathroom looks amazing already. This final One Room Challenge check in is about those finishing touches…oh, and the vanity!
Remember when I revealed the design way back in week 2 and talked about repurposing a dresser? Well, that dream came to a screeching halt because, well, I live in Edmonton. Finding mid century modern dressers in the size I needed is asking a lot and, unfortunately, I couldn't find something in time. So here's how we problem solved the vanity situation:
Since I still wanted wood and we were working with a set dimension between the walls, we decided to build our own vanity from scratch. We just used some spruce 2 by 4s and designed two boxes, which we then cladded with MDF. The top one is much larger than the bottom, which will be used for some open storage. As you can see, the plumbing will be exposed but I know we can make it look lovely!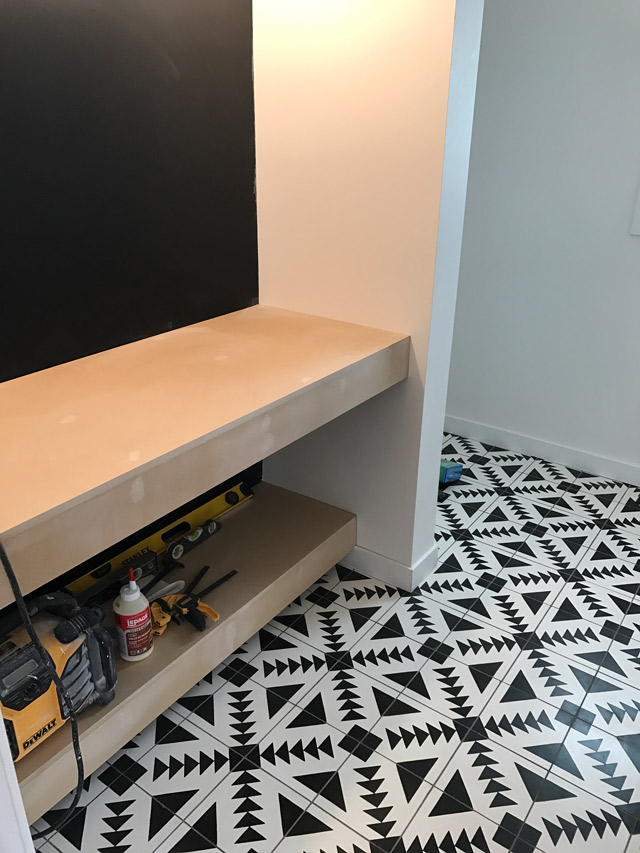 The final step was adding a walnut veneer, which I absolutely love! So, with a little bit of creativity, I have my wood vanity…just slightly different from what I initially pictured. Call me crazy, but I may end up liking this better…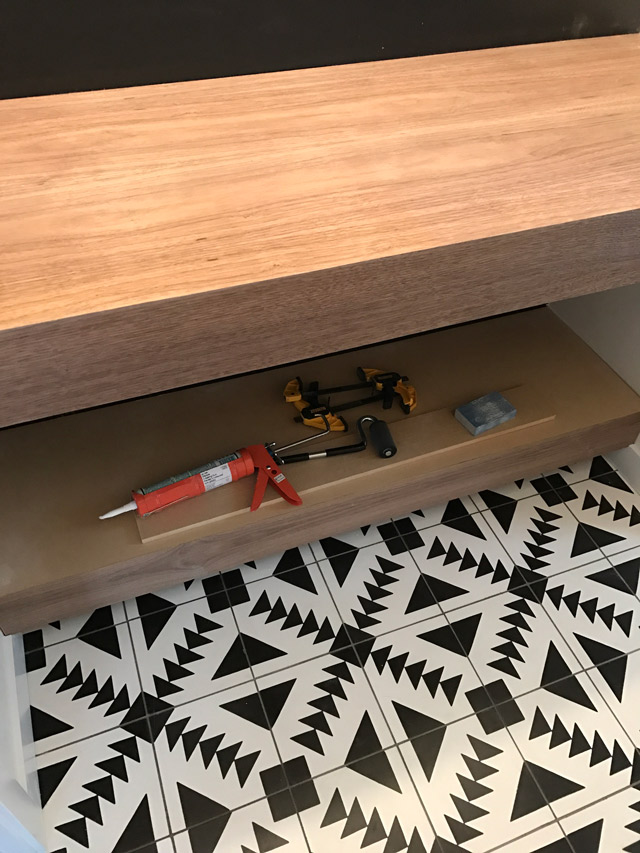 We've picked up our vessel sink, which we can install now, and finally finish the space with the fun stuff – the details! Here's my list of accessories getting added in this week:
Delta Trinsic Faucet in Champagne Bronze (this finish is gorgeous!!)
2 Large Baskets for Storage on bottom vanity shelf
White Towels and Turkish Hand Towel for some softness
Succulents for some green!
Delta Trinsic Towel Ring, Robe Hook and Tissue Holder – all in Champagne Bronze finish
Open Shelf above Toilet for some added styling (maybe a little artwork!)
I CANNOT wait to show you the final reveal next week!! What do you think of our vanity problem solve too?!
Check out the other One Room Challenge Participants and their final check ins here!