First off, thank you to everyone who chimed in last week, helping me decide between the two spaces. I decided to follow the advice of go big or go home! And so, the bathroom easily won that challenge! I still plan on completing the front entry just as soon as I find out about the door situation. So one day, I'm sure you'll be seeing that reno grace the pages of the blog but for now, it's all about that bathroom!
Alright, it's time to get to the good stuff and share my plans for this bathroom design. Here's what I'm thinking: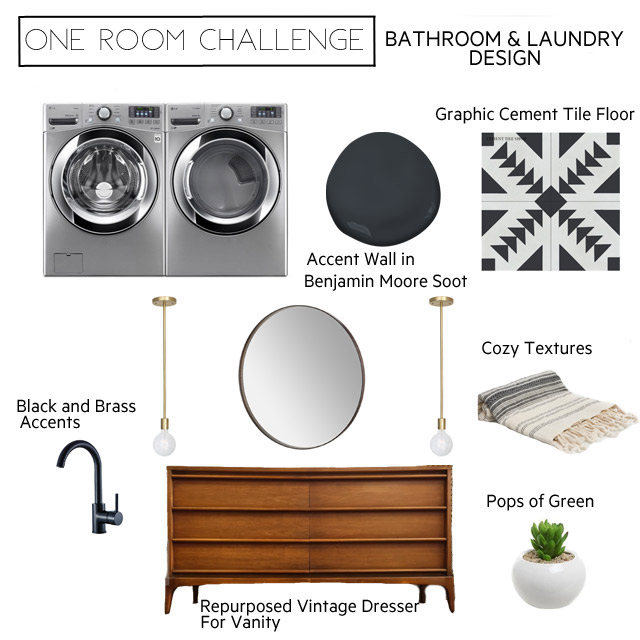 First things first, you should know we share our main bathroom with loads and loads of laundry. It's important, especially with our little addition, that this space be really functional. We intend to update our appliances since they're on constant display in this bathroom!
This concrete tile has long been a favourite of mine and I knew I wanted to do it somewhere in our house. Because the bathroom isn't huge, it's the perfect space to have a little fun and choose a tile that makes a statement like this one does!
From there, I want to keep the majority of the walls white (again, it's a small bathroom so I don't want to enclose it too much) but then paint the wall behind the vanity black. I'm thinking soot by Benjamin Moore will be a great colour. Now imagine that dark wall and how beautiful these brass pendants will pop in front of it!
The biggest design challenge will be the vanity itself. I desperately want to repurpose a dresser, since I am obsessed with that look and I know how amazing that punch of wood will be. The problem is finding the right dresser in time. Edmonton isn't exactly the mecca of mid century finds and I am at the mercy of the length of the wall as well. When I do see consoles or dressers in the style I love, they're usually the longer variety or the highboy. Neither of those will work as a vanity here.
So, I guess wish me luck and I will continue to pray to the thrift gods 🙂
What do you think of the bathroom design? Think I can pull this off in 5 weeks now?! I'd love to hear your thoughts. And if you missed the first One Room Challenge check in, head here.