One of the things I really loved about the Ravine House when we moved in was that it had a wood burning fireplace. In our previous home, we didn't have a fireplace at all, so this was a real treat. It wasn't quite the style that we love but, we didn't mind that part so much. We had some big plans for how we could turn it into a beautifully finished fireplace.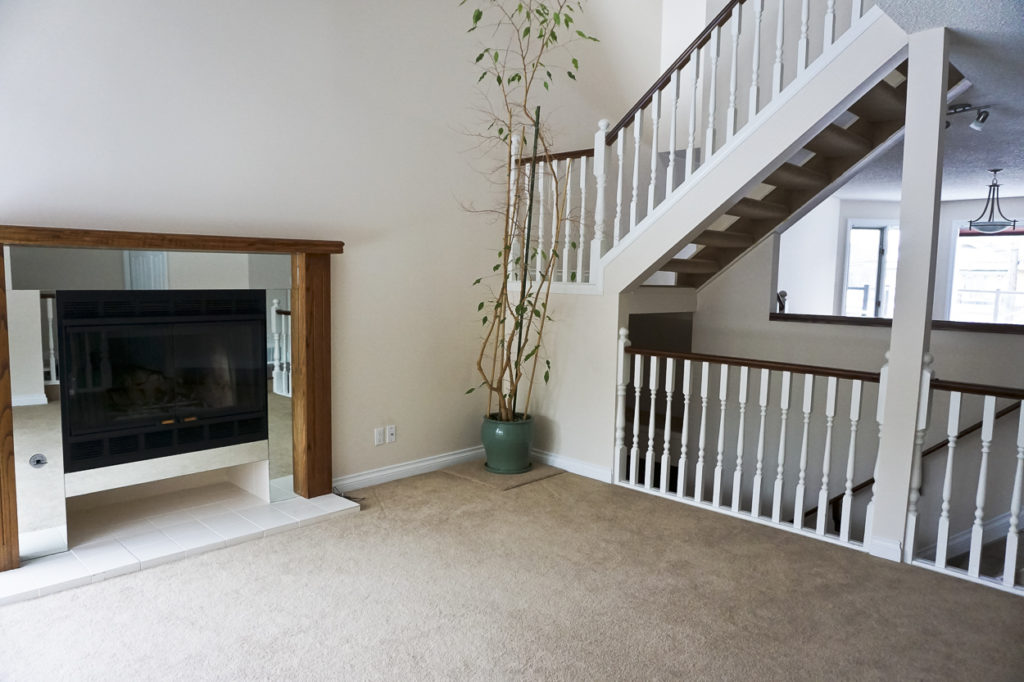 We lived in this space for phase 1 of the Ravine House reno – all our clothes, bed, dogs' beds, tv, etc. fit snuggly right here. It was actually quite cozy with the carpet, but as you can imagine, we did not have a single fire.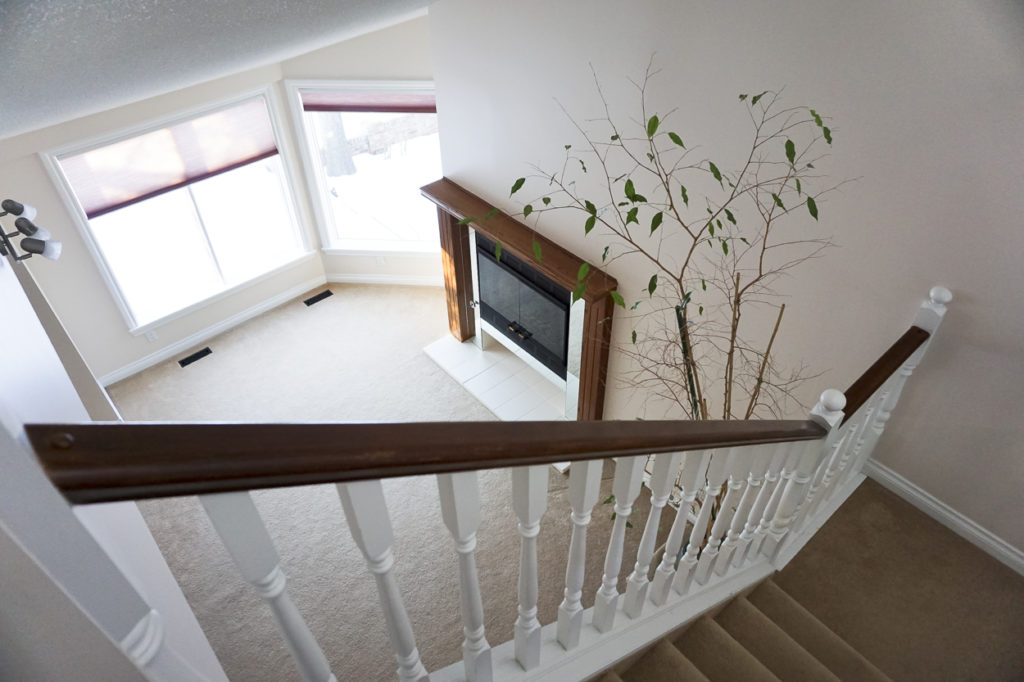 Once we moved upstairs, this space was free and ready for a renovation! We tore out the carpet, all the baseboards & trim, and, of course, the entire fireplace surround.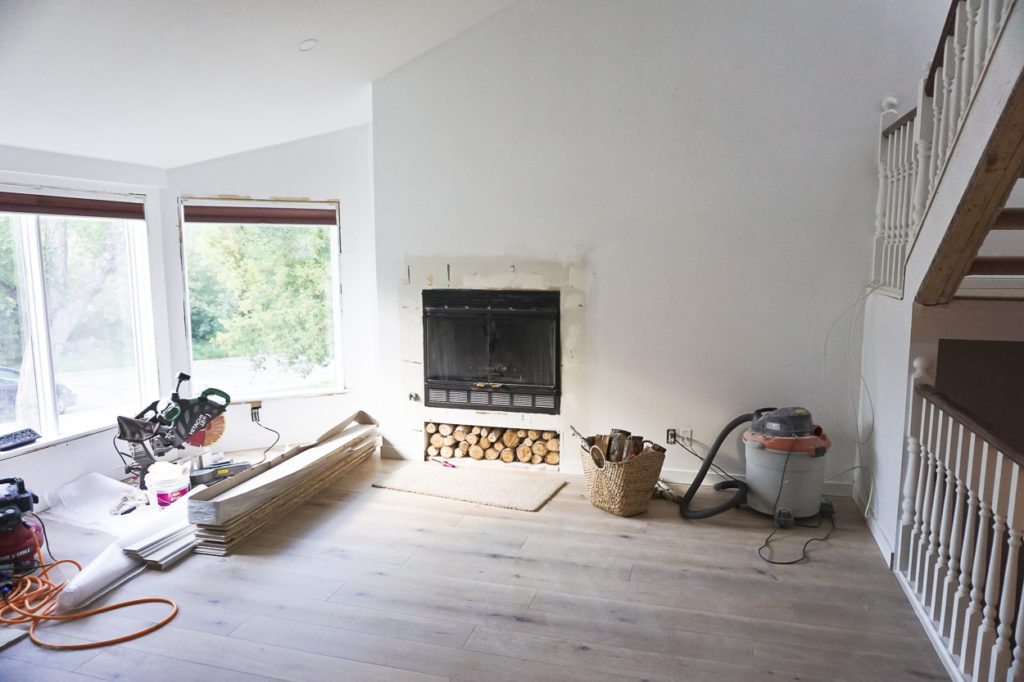 We scraped the popcorn ceiling, painted the walls Benjamin Moore's Simply White and then put down the same engineered hardwood from the upstairs (which will carry throughout the entire main floor and staircase eventually too!). Oh, and we installed these gorgeous LED potlights that bring in the perfect amount of light and completely disappear into the sloped ceiling. Love that!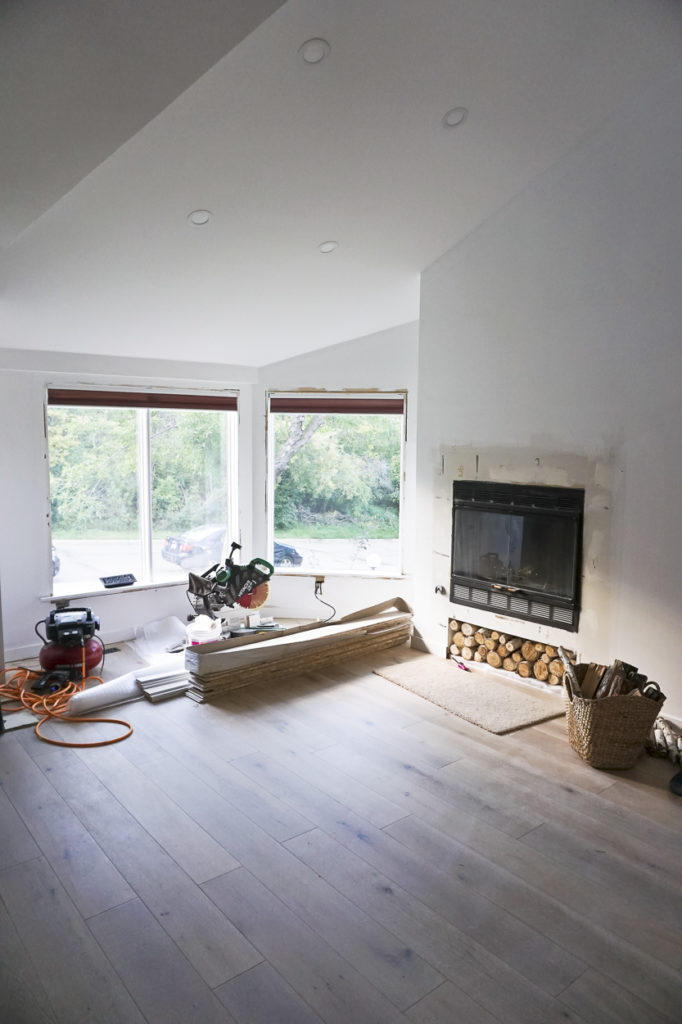 And then, we could focus on tiling our fireplace!! We visited our friends at River City Tile, who have an incredible selection and this gorgeous fireplace on display in their showroom that I am obsessed with. It's all done with huge concrete slabs but that was a little out of our price range. So they helped me come up with the next best thing – a tile that would have a big impact on the space! Here's how it turned out:
// Our Finished Fireplace //
We chose a huge (2′ by 4′ to be exact) porcelain tile that looked almost black. Trust me when I say this tile was so big Ryan needed another pair of hands (not mine) to install them. I wanted the smallest grout lines we could manage and black grout so that the fireplace looked seamless going from the floor up to the sloped ceiling. I love that the dark tile contrasts so vividly against the white walls and really highlights the ceiling height and angled line.
Here's the view from above: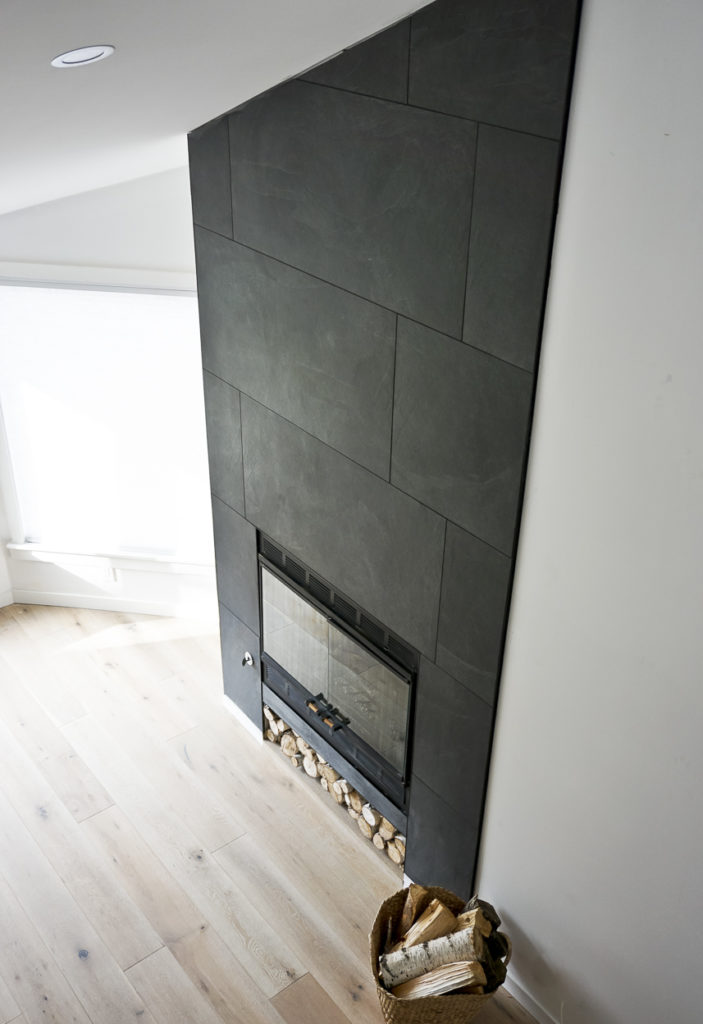 We left the hole underneath the fireplace so we could stack some of our birch logs (decorative logs – not for burning!). Shya loves spending time here and so do we. Even without furniture, we've already had lots of fires this fall!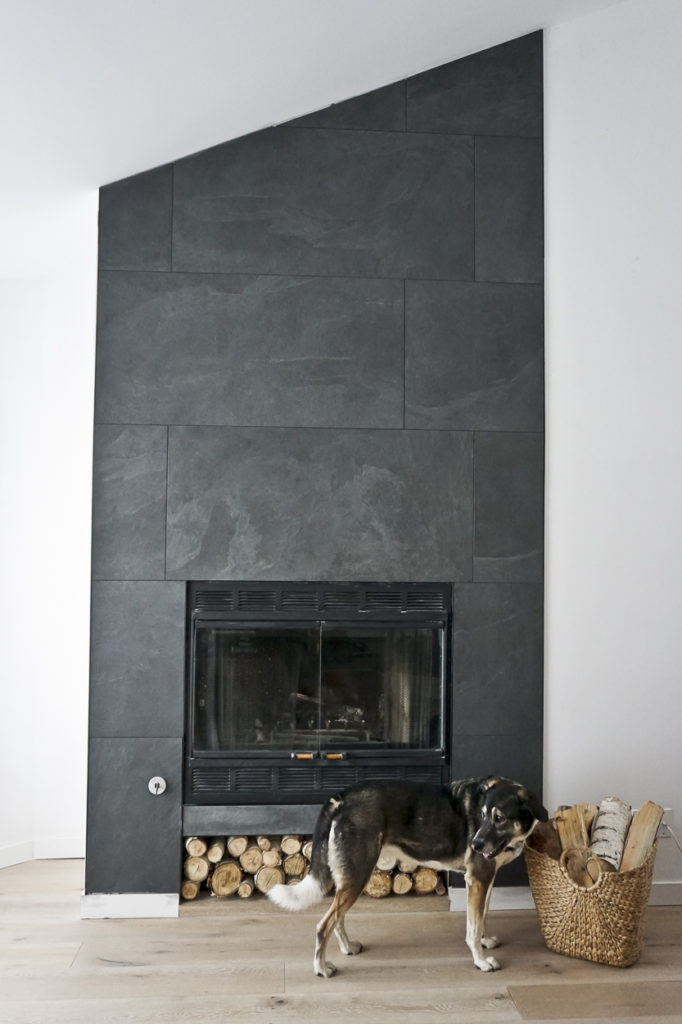 And now…we have an empty space with this gorgeous fireplace!! A blank slate! We decided that this space should be a more formal living room. No TV allowed since it just takes away from this beauty and challenges the furniture layout. Planning the rest of the space is a bit tricky. The furniture choice and placement will be important and I really want to get it right, so that's coming up next.
Check back soon for some of my ideas around space planning. And eventually, the entire living room design plan! I'd love to get it done before baby comes!
What do you think of our sleek black finished fireplace?! Do you like the design?! I'd love to hear your thoughts! XO