Summer is usually the time of year I read the most, but there's something extra special about cozying up in the fall with a good book. Especially this season with all the amazing novels that have hit the shelves! But don't worry, I've done the heavy lifting and scoured through a ton of reviews, winnowing down my top 10 fall books. These are definitely the ones I'm most excited about!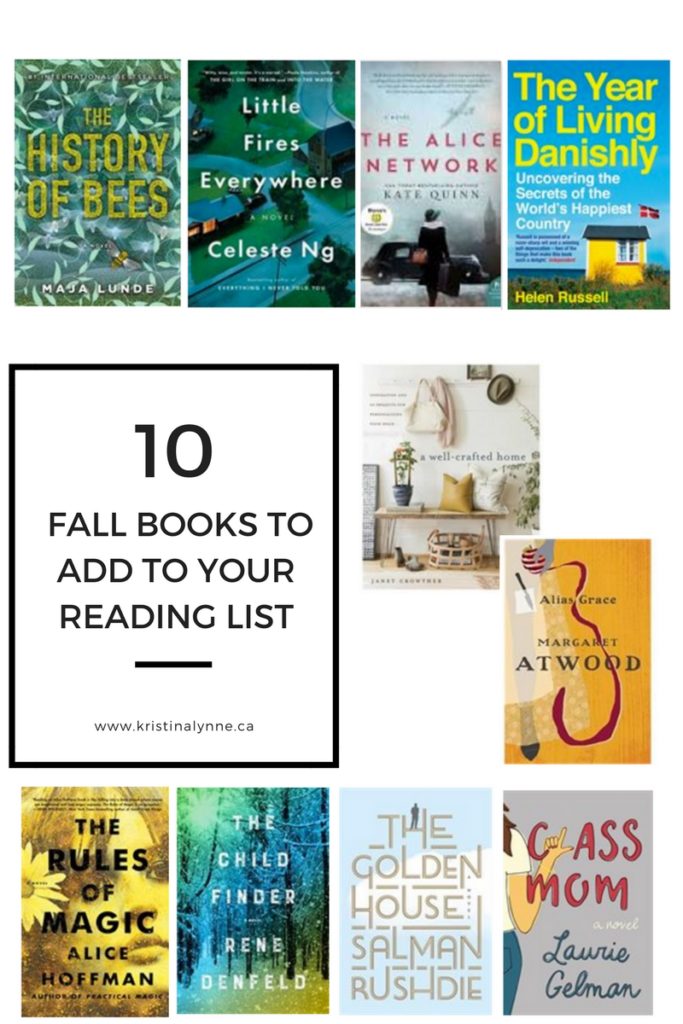 The History of Bees – This first fall read follows three generations of beekeepers from the past, present, and future, which already sounds so mystical. It's a rich story of intertwined relationships set against the backdrop of an urgent, global crisis.
Little Fires Everywhere – this one has been getting a lot of buzz! I read Celeste Ng's Everything I Never Told You and loved it, so I'm looking forward to seeing what her sophomore novel will bring. PS – Entertainment Weekly said it was the #1 must read book for the fall. Sign me up!
The Alice Network – Every season needs a good historical fiction and it looks like this is the one to beat! The premise about World War I spies reminds me of the Nightingale which was one of my favourite reads a couple years back.
The Year of Living Danishly – Is there a formula for joy? Apparently in Denmark! Follow this London native's exploration of the happiest country.
A Well Crafted Home – I had to include one home decor/beautiful coffee table styled book this go round! Sorry not sorry!
Alias Grace – I'm sure most of us have reread Handmaid's Tale after all the hype and success, so why not add another classic Margaret Atwood to the list. I read Alias Grace years ago and loved it, so I'd happily pick it up again!
The Rules of Magic – A prequel to Practical Magic right in time for Halloween?! It doesn't get much better than that! And I am a huge Alice Hoffman fan (currently finishing the Marriage of Opposites finally!) so she will always grace my reading lists!
The Child Finder – A harrowing and methodical search for a missing child may just be too much for this mama to take, but even so, this novel may just be the perfect suspenseful thriller this season!
The Golden House – This was a late addition to the list but I thought it was interesting with the current political climate. Set in New York City immediately after Obama's election, it's an incredible exploration of culture, class, immigration, and politics.
Class Mom – Sometimes these reading lists get a bit heavy so I thought I'd include a lighter novel that will garner a laugh or two. This fresh take on the modern mama is cleverly written and a fun escape.
Which fall books have made your list?? Anything I should keep my eye on?? PS – check out my summer reading list here and last year's fall must reads here!