Ok…excited doesn't even begin to describe the feeling I have planning out this nursery design!! This is seriously a dream come true for me to get to decorate a space for my own little one. I still have some time before I pop, but I've already started to order a few items now since they'll take longer to arrive. We also hit up an amazing sale the other weekend and got our crib! Just seeing it in the space got me antsy to keep going!!
In terms of the design, I debated whether or not to go outside my comfort zone and do something more colourful. But then, I realized I would regret not following my gut, and essentially, who I am. Nothing about a nursery plastered in bright colours appeals to me and that is just ME. I'm sure there are those who think a baby SHOULD have a lot of colour in their space but my thoughts are that life is so colourful in many other ways. Everything from the books I'll read him, the toys he'll place with, the world around him as we walk the dogs…life is colourful. I love that we can both come back to a space that is more soothing and restful…without a ton of colour.
And so, with that said, I am so excited to share the nursery design with you. It will be a mix of old and new (currently hunting down a vintage dresser), have a ton of interesting, warm textures and I'll paint the one wall behind the crib a deep navy/grey. When I visited Toronto, I found an amazing blanket that became the launching point for the design. It has all the right colours for me – soft creams, greys and a little bit of orange. This orange colour I plan to carry through in my wood accents and baskets.
I can't wait to show you the final outcome but for now, I have rounded up my favourite, must order items to give you an idea of what it will eventually look like!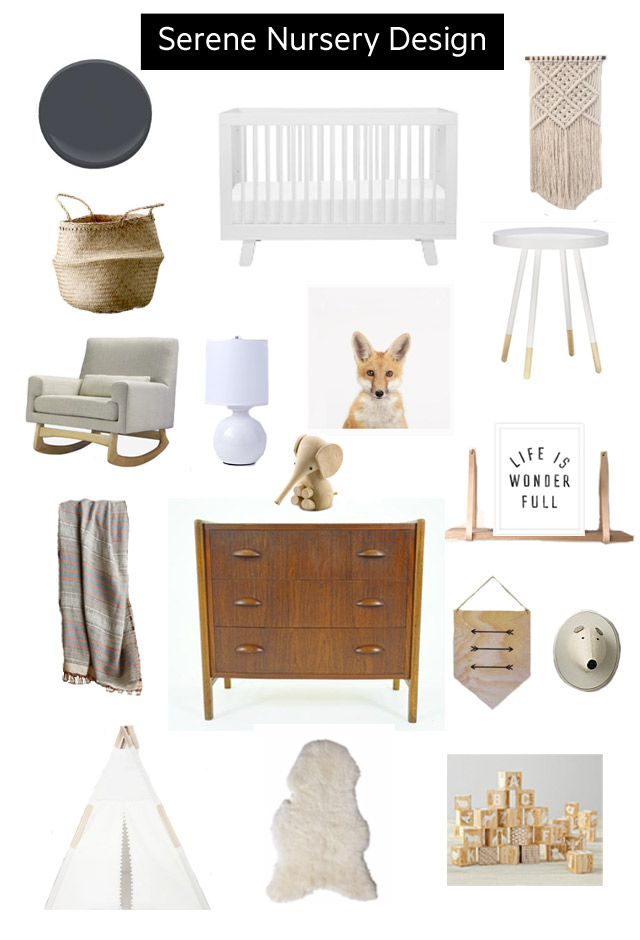 The Nursery Items: White Walls in Benjamin Moore's Decorator's White and Feature Wall in Raccoon Fur // Crib // Macramé Wall Hanging (I'll be ordering mine from a friend here in Edmonton – Fringe and Feather) // Side Table // Basket // Glider (Love this one but I have another old one that Ryan and I are repurposing) // Lamp // Animal Print // Wooden Baby Elephant // Life is Wonderful Print // Shelf with Leather Straps // Wooden Arrow Sign // Felt and Wool Animal Head // Vintage Mid Century Mod Dresser // The Blanket!! // Teepee // Faux Sheepskin Rug // Wooden Blocks

Some Other Thoughts:
I ordered my awesome rug through Wayfair and think it will look fantastic with this design
We replaced the standard lighting fixture with this one and it looks so soft and ethereal
I have a great Gallery Wall planned for above the change table/dresser. I will be posting that in more detail soon!
I am planning to add some more specific pieces once we decide on a name…and the baby shower has happened 🙂
What do you think of the overall nursery design and plan?! I'd love to hear your thoughts!! XO