You've seen the before, the guys have been demoing away and now, it's time I get rolling on the design and vision for our Oasis flip! I'm starting with the exterior design plan, which is a new step for me, since I ultimately pay more attention to the interiors. And while that part is coming, I thought it would be fun to share my inspiration for this sweet home…PALM SPRINGS! We visited this easy breezy city last fall and fell in love with every single exterior we saw. If I could have toured an infinite amount of open houses, I would have! That is my idea of a vacation well spent lol. Anyways, when we bought the Ottewell house, the street had a slight (yes I realize we're in the middle of Edmonton) PS vibe. And the home even more so.
And that's ultimately what inspired the overall design: a mid century mod, dessert Oasis 🙂 Here's what I am envisioning: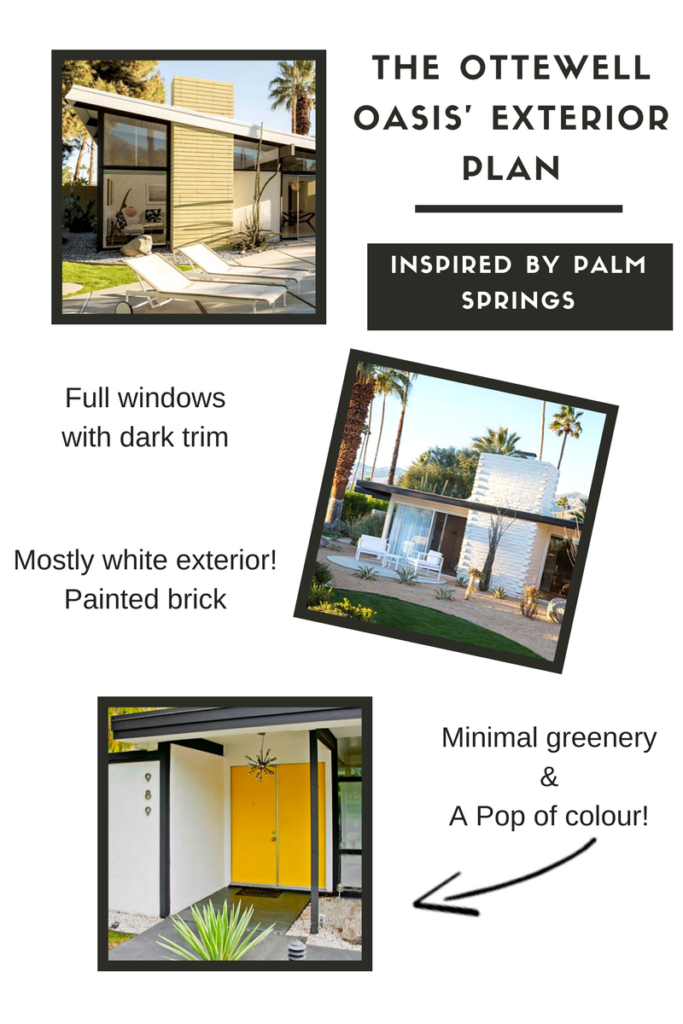 We are giving this home a huge facelift by painting the majority of the exterior a bright white. Then all the siding will be a soft grey, with black accents in the cladding and windows. Lastly, I'd love to add a pop of colour to the door, though it probably won't be yellow like above. I'm thinking a bluey grey maybe?! But you know…I don't hate the yellow…
In any case, it will definitely be a lot more cheerful and modern, which is exactly what this house needs! What do you think of our exterior design plan? Do you love Palm Springs homes as much as I do?! Take me back….