As we await our permits for the second storey (see that post here), Lady Laurier is patiently standing by. I, on the other hand, am impatiently planning away. I can't help myself! This project is just too exciting!!! And so, I started to gather inspiration for the kitchen design. We've done a lot of bright white kitchens in the past, and, come to think of it, quite a lot of black too. And while I still love that classic look, this time I'm feeling a bit of colour.
With green still going strong in kitchen design, I was initially drawn to a deep green cabinetry. But then I reminded myself that, while it's beautiful, it may not be the best choice for a flip. We need to appeal to a wide range of people and green may be going a little too trendy! So here's where I am setting my sights on the Lady's kitchen design instead: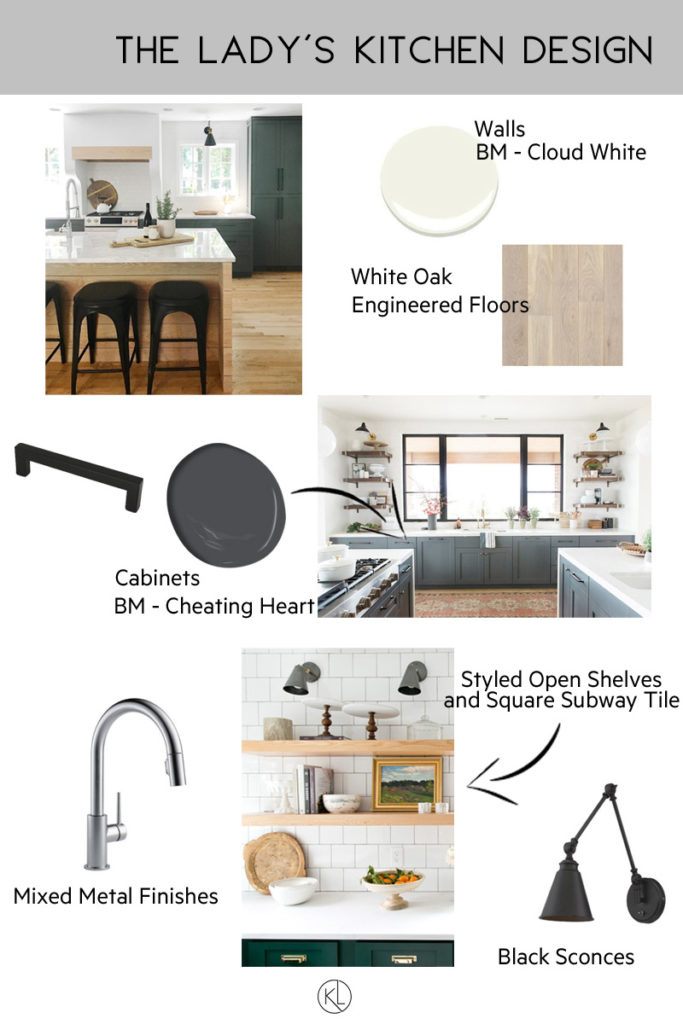 The Inspiration: An airy, relaxed kitchen where you can gather with those you love. A traditional design that feels modern and clean with darker cabinets but light accents. Natural additions like wood shelving and white oak floors will keep it warm and cozy. Picture 1 // Picture 2 // Picture 3
The Walls: BM – Cloud White. A warmer white that is timeless and perfect for the entire main floor (see my other favourite white paints here).
The Floors: With darker cabinetry, I want to create balance with lighter floors. I get so many compliments on the hardwood we chose for the Ravine House that I'd like to find something similar – a light, white oak engineered hardwood.
The Cabinets: I spent a lot of time researching great cabinet paint colours and settled on BM's Cheating Heart. I love that it shifts from a rich charcoal to a soft grey blue depending on the lighting. For the hardware, I'm going for a sleek black option.
The Finishes: I'm all about mixing metals (my guide's here), so I'll grab a stainless steel kitchen faucet and then carry the black of the hardware into the sconces. I'm still deciding if I'd like to add some pendants, but with double (yes double!!) islands, I might stick to simple pot lights. Finally, we'll be adding lots of open, wood shelving in this kitchen design!!! My favourite!!
What do you think of the Lady's kitchen design so far?? Any ideas I should consider?? I'd love to hear your thoughts in the comments in below!
Shop the Post here: